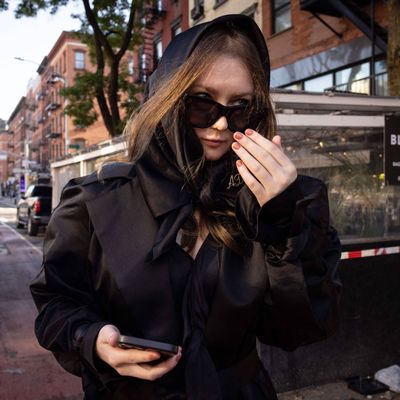 Photo: YUKI IWAMURA/AFP via Getty Images
Anna Delvey (née Sorokin) has been very busy since she was released from immigration detention Friday afternoon. In the five days since she moved from an ICE facility in upstate New York to an East Village walk-up, she has done an interview with the New York Times, posed for paparazzi while under house arrest, and debuted her take on ankle-monitor style. Did you expect anything less?
In 2019, Delvey was found guilty of a range of charges related to swindling over $200,000 from investors and banks, and she spent four years in prison. Six weeks after she was released early on good behavior, Delvey was arrested by ICE for overstaying her visa and has spent the past 18 months at a detention facility in Goshen, New York, fighting her deportation to Germany.
Being detained has not stopped Delvey from staging an elaborate comeback campaign: In the past year, she has appeared on several podcasts, "hosted" a lavish art show, stirred up some juicy drama on Instagram, and made her first foray into the NFT business. Now a judge has ruled that, even though he doesn't believe she's sorry for scamming wealthy New Yorkers out of hundreds of thousands of dollars, she's no longer a danger to the community.
One of the conditions of Delvey's release is she's that not allowed to post on social media, though finding a platform doesn't seem to be an issue: Her first night out of immigration detention was spent doing an interview with the New York Times. Sitting in a bare downtown one-bedroom, where she and her ankle monitor will be staying while she continues to fight her deportation, she told a reporter she's working on launching her own podcast, writing a book, and potentially getting into criminal-justice reform. She added that she's already hatching a plan for styling her ankle monitor. Apparently, "the possibilities are endless."
At least one thing Delvey said in that interview is true: She is certainly figuring out how to make that ankle bracelet look chic. The morning after she arrived at the apartment, she was wearing a very telling black turtleneck, smiling down at paparazzi from her rooftop, and apparently participating in some sort of photo shoot. On Tuesday, she emerged from her building to meet with her parole officer in a black satin ensemble and another headscarf, this one secured with a gold "AD" pin.
Where exactly is Delvey getting the money to fund her Manhattan rent and monitor-friendly wardrobe? Insider previously reported that she'd already used up most of the $320,000 Netflix gave her to adapt her life story into the TV show Inventing Anna to pay her legal fees, state fines, and bank restitution. Per "Page Six," she paid her $10,000 release bond using money she'd made selling her art on Instagram. She informed the Times that she paid for bail and three months of her apartment lease with her own money. When asked where the money came from, she replied, "I guess you'll have to ask the government." Glad to hear the city's favorite scammer has returned to downtown Manhattan.