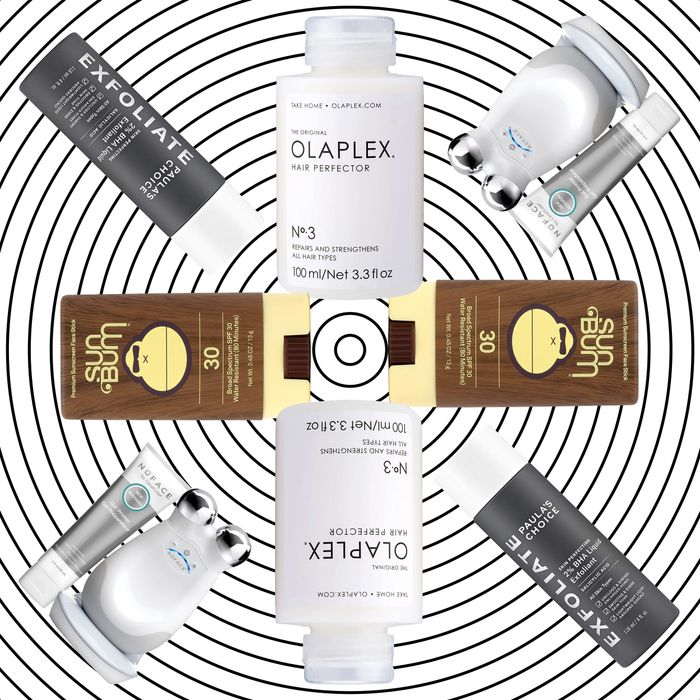 Photo-Illustration: by The Cut; Photos: Retailers
Prime Day can be many things — irresistible, unnecessary, exciting, excessive, convenient, affordable, or all of the above, all at once. The many, many deals might be a lot to navigate, but when it comes to beauty products, there are a handful that are the MVPs (Most Valuable Products) each year. Once you crack the sales-cycle code, you know when to actually invest in those luxury skin-care tools or that one product that celebrity you love swears by.
From cult-favorite products like the Laneige Lip Sleeping Mask to Olaplex hair products, we've collected the beauty deals on the ones that our readers add to their carts year after year — i.e., the ones we're actually shopping ourselves, too.
For an at-home facial
Everyone's favorite face tool is up to 25 percent off, which means at-home facials got a lot cheaper (and easier, too).
For plump and moisturized lips
If Sydney Sweeney likes this lip mask, then so do I. This K-beauty lip mask will soothe even the most cracked lips. It also smells (and tastes — you know you were wondering) incredible.
For a hair refresh
Maybe the most viral hair mask out there. No. 3 from Olaplex is known for rebuilding damaged bonds and making the hair look stronger and healthier. Plus, there are tons of TikTok videos showing you exactly how to use the product.
If your hair needs an extra boost
This is Billie Eilish's go-to hair product. Olaplex No. 6 is a great leave-in product that involves minimal work to strengthen, moisturize, and eliminate frizz in the hair.
If you need a new exfoliant
Behold another product that I began to use thanks to TikTok. This BHA exfoliant from Paula's Choice is a must-have for an easy skin-care routine. Made to unclog and reduce the look of pores, it is formulated to improve the skin's texture and has over 71,000 reviews on Amazon.
For the avid coffee-drinker
If you want pearly whites, this five-star-rated kit should be in your cart. It sells out every year.
For your beach bag
This face-stick sunscreen from Sun Bum is the perfect easy-to-use protectant you need. It can easily be stored in any bag and is perfect for reapplication during the day — even if you're not on the beach.
For a DIY blowout
A dryer and air brush in one makes for the ultimate voluminous hair.
To keep that sun-kissed look all year long
St. Tropez really knows how to do self-tanners. This bronzing water mousse dries after 60 seconds of applying and has little to no transfer.
To avoid picking at pimples
These pimple patches are the perfect way to deal with acne and avoid picking. Apply the hydrocolloid sticker and forget you have it on for at least six hours and see the results.
A go-to facewash
Made for sensitive skin, CeraVe's salicylic-acid cleanser works to gently cleanse the skin and leave your face feeling fresh and moisturized.
For an overnight experience
One of the best clean-beauty brands out there has most of its products on sale right now! Our favorite? This overnight mask. After one night of applying it in the evening and washing it off in the morning, your skin instantly feels hydrated.
For eyebrow growth
The amino-rich topical is one of our readers' preferred way to achieve fuller eyebrows. Simply apply once a day and start to see results in as little as six weeks.
For acne-prone skin
When it comes to an affordable and effective acne treatment, this is the one. It's gentle on the skin while still strong enough to fight breakouts, and it has over 4,000 positive reviews on Amazon.
If you're into "slugging"
While a little different than the slugging trend, snail mucin is proven to help hydrate your skin in a way that slugging does but without the heavy feeling it leaves on your face.
To achieve the perfect bushy-brow look
When it comes to brow products, in Anastasia Beverly Hills we trust. This clear gel is the perfect way to keep your brows in place all day long.
If you love a scented bodywash
Dark rum is one of the scents I love in a body wash. It's a superior combination! This Malin + Goetz one is made with glycerin and amino acids to hydrate and purify the skin while leaving it lightly scented.
For more from the Cut Shop team, follow us on Instagram and Twitter, where we share our best new finds, favorite styling tricks, and more.