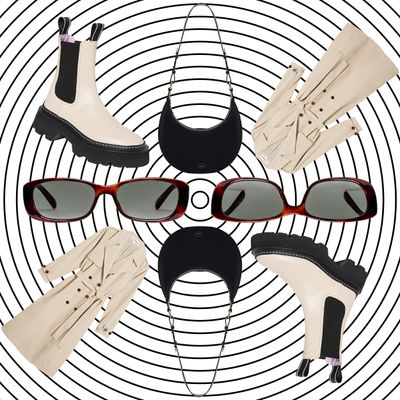 Photo-Illustration: by The Cut; Photos: Retailers
I search the seemingly never-ending product pages of Amazon during Prime Day to find the best deals like it's my job (because it is), which means I know what to immediately add to my cart and what to skip. No impulse buys here. Instead, just like their beauty selection, Prime Day really likes to focus all of its deals on specific products and brands.
Below, I've rounded up what you should consider if you're looking to shop smartly and save up a few bucks before gifting season starts full swing.
Reminder: Always select your size so you can see the real deal price.
Denim
Levi's are consistently the brand that I look forward to purchasing during Prime Day. This time around I'm stocking up on my go-to oversize but not ill-fitting pair.
However, now that Shopbop picks are available on the platform (the luxe retailer is having a sale of their own, by the way), brands like Frame and Pistola Denim also offer serious discounts on their denim.
Basics
You can never have enough socks, white tees, or casual button-downs. When it comes to basics, I like to buy inexpensive options. I don't believe in paying more than $30 for socks that my boots are going to stain, white tees that will gradually get yellow pit stains, or button-downs that will be covered by sweaters.
Skirts
While scouring through the maze that is Amazon, I've found skirt deals I shouldn't gatekeep.
If you're like me and you've been searching for the perfect midi or maxi skirt you can layer well into winter, here are a few solid options:
Undergarments
Look, if you're not blessed with a washer and dryer in-unit (or in your building), I understand putting off doing your laundry during the colder months. Just make sure you have enough undergarments so you don't have to wear your bathing suits mid-December (or at least invest in one of those foldable and portable washing machines.)
Sunglasses
As somebody who dropped way too much money on her latest pairs of glasses, I (and my bank account) appreciate a good discount when it comes to sunnies.
The shape of these Le Specs reminds me of my Versace glass frames, while the Oakley frames remind me of my dad and the Ray Ban's of V from BTS (duh).
Boots
You're still on time to stock up on your fall boots. From classic black boots to rain boots, most options are up to 30 percent off.
Miscellaneous
After spending way too many hours of my time on Amazon, of course I need to share a few selections that caught my eye even though I don't technically need them (but maybe you do!).
For more from the Cut Shop team, follow us on Instagram and Twitter, where we share our best new finds, favorite styling tricks, and more.