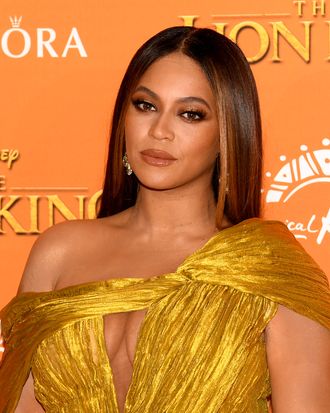 Photo: Gareth Cattermole/Gareth Cattermole/Getty Images for Disney
Right Said Fred may have been too sexy for their shirts in 1992, but in 2022, the duo are not too sexy to avoid being shut down by Beyoncé. After Right Said Fred members (and brothers) Fred and Richard Fairbrass claimed that Beyoncé hadn't asked them for permission to use "I'm Too Sexy" in "Alien Superstar," the singer responded with a rare statement, calling the claims "erroneous and inaccurate."
"Normally the artist approaches us, but Beyoncé didn't because she's an arrogant person," the duo told The Sun last week. "She just had probably thought, 'Come and get me,' so we heard about it after the fact when you did." Right Said Fred added that other artists, like Taylor Swift and Drake, approached them more directly. "To use our melody, they need our permission so they send us the demo and we approve it, and if so, we get a co-write credit," they explained. "With the Beyoncé thing, there are 22 writers. It's ridiculous, so we would get about 40 [pounds]." The brothers then said that they had decided to "let it go," because, "you are going to get into a conversation with someone who has a lot more presence and power and money than we do. And that won't go well." Oh, how right they were.
From the beginning, both Fred and Richard Fairbrass have been credited as songwriters on "Alien Superstar," something Beyoncé pointed out in her devastating response. "Permission was not only granted for its use, but they publicly spoke of their gratitude for being on the album," she said in a statement given to E! News. In fact, looking back at the band's official Twitter account, Right Said Fred has tweeted about being credited songwriters on the track at least three times. In one July 22 tweet (sent a week before "Alien Superstar" was even released), the group wrote, "It's nice to get a writing credit on the new Beyoncé album."
In her statement, Beyoncé also clarified, "For their song, there was no sound recording use, only the composition was utilized." (The brothers have previously expressed annoyance at the assumption that Beyoncé "sampled" their song when she actually interpolated the melody.) Then, she went in with the receipts: "Permission was asked of their publisher on May 11, 2022, and the publisher approved the use on June 15, 2022. They were paid for the usage in August, 2022." Ouch.
Right Said Fred has not directly responded to Beyoncé's statement, though the band has responded to tweets calling them out. And based on the responses, the band doesn't see anything inconsistent about bragging about the success of "Alien Superstar" while also claiming Beyoncé never reached out to them to ask permission to use their track.