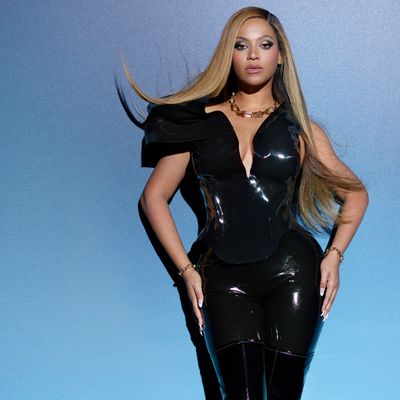 Photo: Mason Poole/Courtesy of Tiffany
We may not have the (Renaissance) visuals yet, but we do have … a new Tiffany & Co. campaign for fall. Stay with me! Her partnership with the LVMH-helmed jewelry brand started last summer, and each campaign shows us a different Bey. We've seen Bey on date night with Blue Ivy in the car, and at home serenading Jay with a Basquiat painting as the backdrop and wearing the iconic Tiffany Yellow Diamond. Today, she's in her "Summer Renaissance" era: dancing at the most fun-looking disco-themed party we've ever seen. She's wearing a Studio 54–themed gown, dripping in Tiffany jewelry, including their new Lock bracelet, which comes in four all-gender bracelet styles. The campaign was directed by Grammy Award–winning director Mark Romanek, who is known for iconic videos like "Free Your Mind," by En Vogue, "Are You Gonna Go My Way," by Lenny Kravitz, and "99 Problems," by Jay-Z, of course. It was styled by Marni Senofonte and Patti Wilson. And "Summer Renaissance" is playing in the background so it's sort of like a music video, right? Right??
Anyway, if you'd like to be like Beyoncé and try on the Lock bracelet, Tiffany has set up a pop-up installation in their Fifth Avenue flagship store dedicated to the new piece of jewelry. (Full disclosure: I tried on the pieces at the showroom last month and fell in love.) The immersive experience is housed in a blue cube and was created in collaboration with artist Francesco Vullo, who created a sculpture of locks. It will be displayed worldwide in Tiffany window displays until November 1.
They're available in 18-karat white, yellow, or rose gold and with or without diamonds. Visitors who purchase the jewelry at the pop-up will be offered personalized hand engraving (may I suggest, "Beyoncé, please,") from Tiffany artisans. (And it's for a good cause: Last year, Tiffany & Co., in collaboration with BeyGOOD and the Shawn Carter Foundation, pledged $2 million in scholarship funding for students in the arts and creative fields at HBCUs through 2024.)
Bey, our invitation got lost in the mail, but next time we'd love to be at your party.