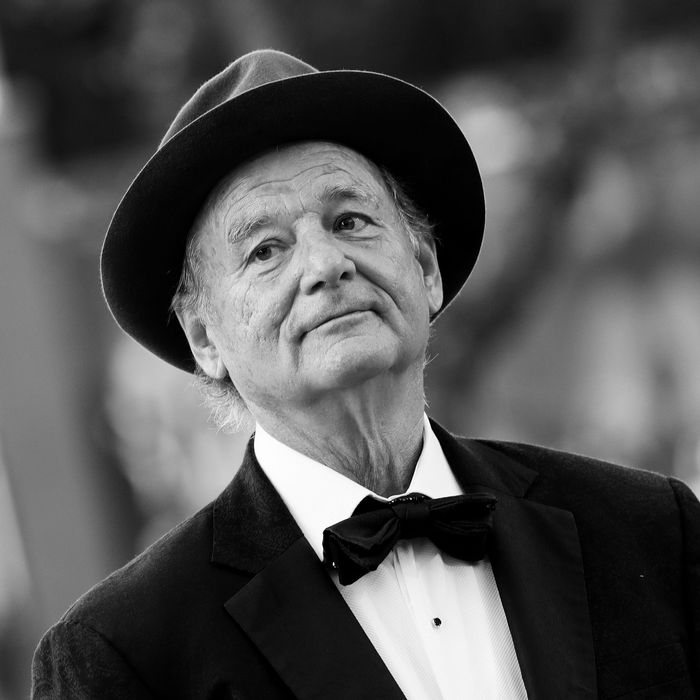 Photo: Vittorio Zunino Celotto/Getty Images for RFF
In April, Deadline reported that a complaint had been filed against actor Bill Murray for "inappropriate behavior" on the set of Being Mortal, a Searchlight film helmed by Aziz Ansari. Production on the movie was subsequently suspended after a letter sent to the cast and crew said that Searchlight was "made aware of a complaint" and "decided that production cannot continue at this time."
Following the reports, Murray confirmed that a complaint had been filed against him, implying that he had made a joke that was not received well on set. "I had a difference of opinion with a woman I'm working with," he told CNBC at the time, speaking from Warren Buffett's annual Berkshire Hathaway meeting. "I did something I thought was funny and it wasn't taken that way." The veteran actor declined to say what, exactly, this supposedly "funny" thing he did was. He went on to say that the studio "wanted to do the right thing. They wanted to check it out and investigate it and so they stopped the production."
Murray added that he and the unnamed female colleague were in touch and "we're trying to make peace with each other." He continued, "I think that's where the real issue is. We're both professionals, we like each other's work. We like each other." If they can't resolve their issues, he said, "there's no point in going further working together or making a movie as well." However, he seemed hopeful that production would resume on the project, adding, "I think we're going to make peace with it. I'm very optimistic about that. You have to be."
A few weeks later, the actor told CNBC that the complaint had been "quite an education for me." He said that he'd been thinking about it for the past few weeks and had come to a new conclusion. "If I don't see that, you know, the world's different than it was when I was a little kid. You know, what I always thought was funny as a little kid isn't necessarily the same as what's funny now. Things change and the times change, so it's important for me to figure it out."
Now, a new report from Puck attempts to shed light on what may have happened, according to several anonymous sources who claim to have knowledge of the incident. According to the report, the woman worked on the set's production team and is significantly younger than Murray. She and the actor were reportedly standing near a bed that was part of the set when he started kissing her body and straddling her before kissing her on the mouth (both of them were wearing masks). Murray apparently later said the entire incident was a comedic bit.
Per Puck, two reports were filed: one by the woman and one by another staffer who saw what happened. After Searchlight suspended production, Murray reportedly arranged a meeting with the staffer and their lawyers. They allegedly agreed that Murray would pay the woman $100,000 and she would maintain her confidentiality and waive any legal claims against the movie's producers. Being Mortal does not appear to have resumed production.
This isn't the first time Murray has been accused of behaving inappropriately on the set of a movie. He has had several public feuds with his colleagues, including producer Laura Ziskin, who worked with Murray on 1991's What About Bob? and said that he broke her sunglasses and threatened to toss her into a lake during filming. Richard Dreyfuss recalled Murray throwing an ashtray at him on the same set. The daughter of Groundhog Day director Harold Ramis wrote in her memoir that Murray grabbed Ramis's collar and threw him against a wall during an argument they had on the 1993 film's set. Charlie's Angels director McG claims that Murray once headbutted him during production (Murray denies this), and he had a rumored verbal altercation with Lucy Liu while filming. Liu gave her own account of the incident last year, saying on a podcast that Murray started to "hurl insults" at her, using what she called "inexcusable and unacceptable" language. She said in the same interview that she and Murray have since reconciled and that she has "nothing against Bill Murray at all." Of the altercation with Liu, Murray told the Times of London in 2009, "Look, I will dismiss you completely if you are unprofessional and working with me."
Since news of the Being Mortal report broke, other actors have shared unflattering accounts of Murray's behavior. Actor Seth Green said on the YouTube show Good Mythical Morning that Murray picked him up by his ankles and dangled him over a trash can when he was 9 years old after Green sat on the arm of Murray's chair on the set of Saturday Night Live. Geena Davis also referenced two separate incidents with Murray in her new memoir, Dying of Politeness, including meeting Murray in a hotel suite in the '80s where she says he "insisted" on touching her back with a massage device. "I said no multiple times, but he wouldn't relent," Davis wrote, adding that "the other men in the room did nothing to make it stop." When the two of them starred in Quick Change together, Davis says Murray screamed at her for being late to set during a wardrobe adjustment. "There were easily more than 300 people there," she wrote, "and Murray was still screaming at me for all to see and hear."
Ansari, who wrote the Being Mortal script adaptation from Atul Gawande's nonfiction book — the film will be his directorial debut, starring himself and Seth Rogen — was the subject of a viral 2018 article describing a questionably consensual sexual encounter its author had with him. Ansari has maintained that the woman's account of the night was true but that he had understood the situation differently, and he apologized when she told him how she felt. He has since released two Netflix stand-up specials and a third season of his show, Master of None.
The Cut has reached out to Murray's reps for comment and will update when we hear back.
This post has been updated. An earlier version incorrectly stated that Davis and Murray costarred in The Accidental Tourist.