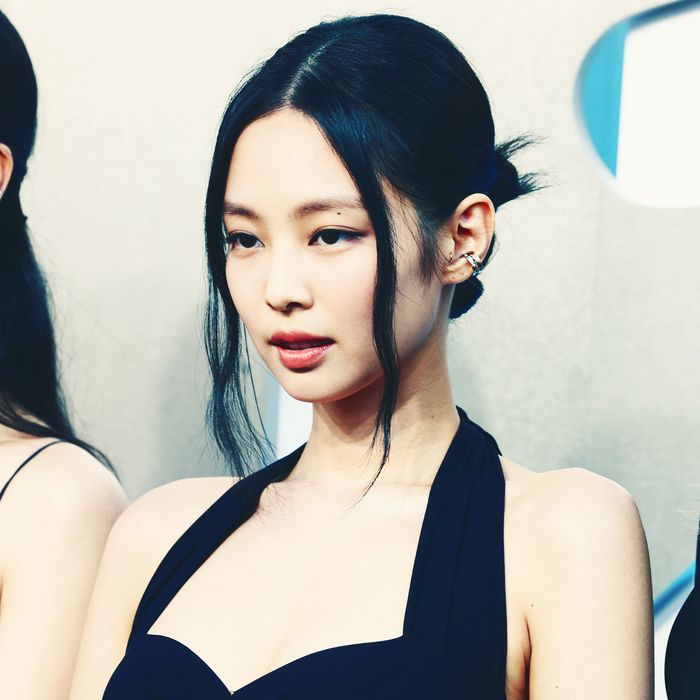 Photo: Arturo Holmes/FilmMagic
There's defamation drama in K-pop world: In August, private photos of Jennie Kim — more commonly known as Jennie, and a member of popular girl group BLACKPINK — allegedly leaked online, including images of Jennie with fellow K-pop star V (Kim Tae-hyung) of boy band BTS. While none of the leaked photos were sexually explicit in nature, they nevertheless made waves on Twitter and Telegram, fueling rumors that the two were dating.
Under South Korea's stringent defamation laws, individuals who post defamatory or malicious gossip (even if said gossip is true) can be subject to prosecution, including fines and prison sentences. On Monday, BLACKPINK's management company, YG Entertainment, confirmed in a statement that they were taking "all possible legal action" over the leaked content, which they allege resulted in "personal attacks" and "sexual harassment" levied at Jennie. Per the BBC, YG filed a lawsuit against the leakers in September and have asked police in South Korea to investigate the incident. "Photos that were circulated online were illegally released, regardless of the intentions behind them and without the consent of the individual involved," the company said. Billboard reports that Big Hit Music, BTS's management company, has also filed a criminal complaint over the posts, alleging that they contain "ill-intentioned rumors" and "false information."
Here, everything to know about the photo leak and the fallout:
The leaked photos allegedly depict Jennie with BTS singer V, sparking rumors of a romantic relationship between the two.
While neither YG Entertainment nor Big Hit Music have explicitly confirmed which leaked posts they're addressing, many outlets speculate they're referring to images of Jennie and V having dinner, traveling, and taking selfies together in matching Winnie-the-Pooh shirts. Per the BBC, one leaker claimed the photos were originally posted on a private Instagram account, with either Jennie or V writing "You're my other half" in the caption. One photo allegedly contains an image of Jennie in the bath, though her body isn't shown. Many fans have speculated the photos are fakes or composites, owing to the fact that the stars' faces are reportedly blurred or partially obscured.
YG Entertainment has warned fans against "indiscriminate sharing" of the images.


In Monday's statement, YG says they initially refrained from commenting on the situation but changed their minds following "the recent mass production of rumors, personal attacks, sexual harassment, and invasion of privacy" they say has been directed at Jennie since the leak. In South Korea, where individuals maintain legal rights over their images, those who post or repost leaked images can face prosecution; YG has warned fans against "indiscriminate sharing" of the images.
One of the alleged leakers denies receiving any legal notice and has doubled down on the veracity of the images.
The BBC reports that two of the accounts associated with the leaks have reportedly been shut down, with YG asking fans not to further distribute the photos. One alleged leaker, who posts under the name Gurumiharibo, denies having received "any legal notice" from either management company and insists that the images are authentic. "If somebody wants to sue me for defamation and/or spreading untruths, I will be willing to provide relevant evidence of my claims under the name of the law," they reportedly said in a statement in an online chat room this week. Neither Jennie nor V has personally commented so far.