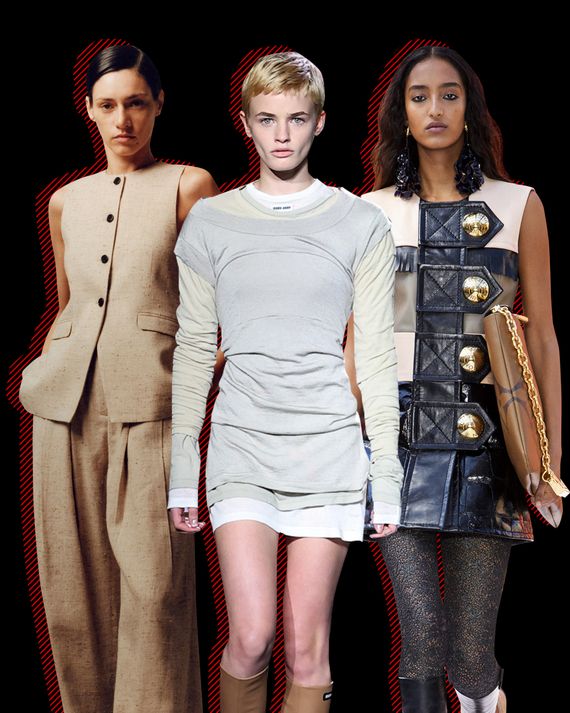 Photo-Illustration: by The Cut; Photos: Courtesy of Co, Miu Miu, Louis Vuitton
One standard of fashion is to create a look that people instantly want to wear. I don't mean a one-off design like Jonathan Anderson's shrunken polo-knit dresses for Loewe, however playful, or the novelty of Daniel Roseberry's gold-embellished denim for Schiaparelli, however relatable.
I mean an entirely new proposal that takes in shape and considers everyday fabrics. This is actually something hard to achieve, but two designers did it this season: Junya Watanabe, with his belted poncho coats in lightweight men's fabrics like gray pinstripe, and Miuccia Prada, with a dazzling Miu Miu collection based on a T-shirt.
There's no telling how many women, of any age, will look at Prada's triple-layered T-shirt minidresses in shades of gray or beige and shown with low-heeled, open-toe boots and say, "I want to look like that." Prada extended the proposal to include zip-front windbreakers worn as dresses or as a loose, unzipped layer over a T-shirt set and a tube skirt.
One reason that Miu Miu, as well as the Prada label this season, gets so quickly under the skin is she doesn't design collections around a theme. Rather, she designs with a woman in mind. That has long been her approach, but lately it has given her collections a disarming blast of reality. The director and performer Miranda July walked in the Miu Miu show with a pixie haircut, wearing an antiqued brown leather car coat with pouch pockets (these turned up on a lot of runways) and a layered T-shirt mini. Another older woman, also with short hair and in sunglasses, had on pants in saddle-brown leather with a button-up shirt in dusty pink, also in leather. They looked cool, as did models in gray or brown-washed denim pantsuits or in bra tops and skirts slung with wide leather fanny belts. But the point is they could all step off the runway and into the street and still look interesting and, above all, themselves.
In a reflection of that quality — or her practically or Patrizio Bertelli's genius for retailing — Prada repeated the penny loafer she first showed a season or two ago with socks.
The costume curator Olivier Saillard once observed that the T-shirt is the most ubiquitous and contemporary of styles, even modern, and yet he wondered why high-fashion designers didn't embrace it instead of the far-fetched styles they usually do. Prada has provided the modern answer to that question.
The spring 2023 shows ended Tuesday with the gift of a blue-sky day and compelling fashion not only from Miu Miu but also Louis Vuitton and the Los Angeles–based label CO, by Justin Kern and Stephanie Danan, who have set up a showroom in Paris — a block or two from The Row — rather than New York. Danan says they've captured new clients from across Europe, in particular in Denmark, Sweden and Norway, where CO's minimalist aesthetic seems a good fit.
Among the best looks in the collection was a suit in a textured black crepe, the jacket with a slightly nipped waist and the skirt easy and somewhat full. "It's getting hotter and hotter," Danan said, "and we want looks that don't feel so heavy and structured." Yet the beauty of the suit is that it had just enough structure somehow. Also strong were a black knit tank dress shown with a spare black leather jacket and a strapless summer gown in crinkled ivory crepe.
From certain angles, the set for Nicolas Ghesquière's Vuitton show, in a courtyard of the Louvre, looked like a carnival ride — a merry-go-round or the Tilt-a-Whirl, both fitting metaphors for the fashion world. The set, which featured video cameras zipping along wires and huge, revolving mirrors that resembled DirectTV dishes, was the work of the artist Philippe Parreno and the Hollywood production designer James Chinlund.
The clothes were pure Ghesquière. This collection was a powerful retort to a frankly muddled teen-spirit show last season and a lavish, decadent storm of historically based clothes a year ago. Ghesquière kept things short, youthful, and a touch futuristic with opening styles in a black-and-white (or brown) pleated fabric with tubular, sci-fi looking pieces appearing on the hips or framing the neck. Think of a ruff or perhaps a traditional African collar.
Manipulating scale was a thread in the collection. There were zippers and pulls of varying sizes, bows and pouch pockets, too. But Ghesquière used scale cleverly and minimally and seemed conscious of reflecting the tendency nowadays to elevate ordinary objects. Indeed, the clothes and the accessories had a strong sense of being treated as prized objects, which is a valid expression. The fabrics were strange and distinctive, as you'd expect from Vuitton, and the accessories were total eye candy with great-looking small pouch bags (ablaze with the "LV" logo) and a fabulous, rather large envelope-style bag to tuck under your arm. I don't remember when Ghesquière has showed so much jewelry — chunky bangles and necklaces with multicolored stones — but it, too, tilted toward the future.