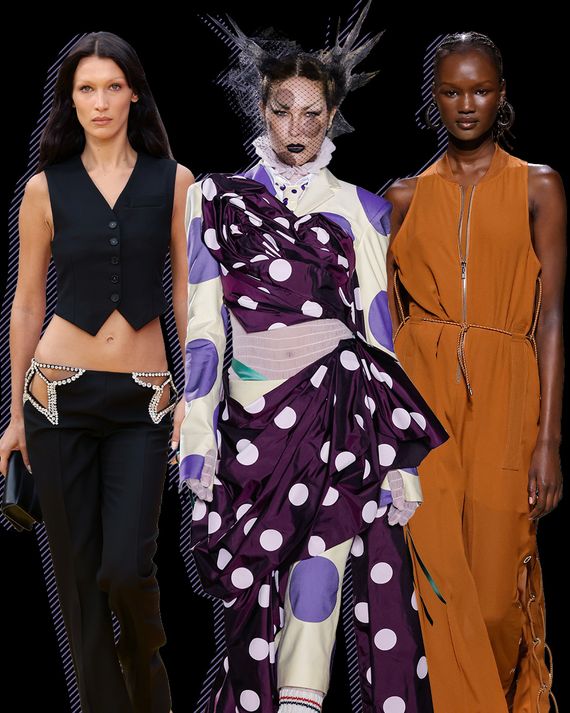 Photo-Illustration: The Cut; Photos: Getty Images
If you're going to announce your return to Paris Fashion Week after a two-year absence, who do you call? Why, Brienne of Tarth, of course. To say that Game of Thrones actress Gwendoline Christie loomed over Thom Browne's runway in the majestic Opéra Garnier is an understatement. All six feet, three inches of the actress, together with a tent-size robe of gold embroidered couture silks, held the audience in her thrall. I would have given anything to see Janet Jackson's face — the pop star was front and center — but I was too busy laughing at Christie's fairy-tale-glamour shtick.
This has been an utterly ridiculous Paris season, in the best and worst sense. And it's not over yet: The spring-2023 collections wind up later today with Chanel, Louis Vuitton, and Miu Miu. But, to recap, we've seen Demna's mud show and the dubious delights of Coperni's spray-on dress. Just think: One day, you may be able to get your tan and your party outfit at a salon near your deli. It's not an impossible dream, as this week has made unexpectedly clear.
There's a huge longing among designers here to avail themselves of change, to be more open, more creative, and more delighted. Indeed, the gap between those who seized the post-pandemic moment and those who cluelessly sputtered (Valentino, Givenchy, and Chloé, to mention just three) is considerable.
Browne has done clever presentations in the past, such as the movie he shot in Utah with Lindsey Vonn skiing in his clothes while the rest of his collection was silhouetted against the snow. But despite Browne's witty takes on strict sartorial elegance and his sausage-dog bags, he's never exactly let his hair down. Monday's show saw Browne scamper, with Christie's help, through the Cinderella story and then leap into an American-prom and country-club segment, with pastel polka-dot suits and coats, and bright-red or green swing skirts and tight sweaters (and Olivia Newton-John on the speakers), before cruising into punk.
So he loosened his corset and we let out a belly laugh. That was the change at Browne, not so much with his aesthetic. The show also evoked for me a rite of passage: leaving home. Near the end, a group of men held a make-believe convertible that a model pretended to drive down the runway. It wasn't an American Graffiti moment, though. It was Paris, and she was going toward Christie and a gaggle of dancing girls in their super-fabulous clothes — to a new life.
Hermès caught the sexy train for spring. Hermès? Unless whips and riding boots are your thing, you wouldn't normally think of the House of Birkin for sheer, body-skimming dresses soaked in the sunset colors of the Med. But its women's designer, Nadège Vanhee-Cybulski, has cabin fever, like everyone else. Or as she said, "I really wanted to celebrate going back to the outside and feeling the wind, the heat, and the sweat on your skin." Vanhee-Cybulski riffed on an image of trekking in a desert — hence the discreet use of hiking materials like cords and grommets (as details on pants) and the giant pile of sand in the middle of her set. The semi-sheer dresses — some with zippers that could be partially opened — displayed her skills in a fresh way. Other designers would probably show multiple variations of a two-piece black leather dress with a tease of cords over a bare midriff. Vanhee-Cybulski did it once and let it smolder among the horsey and scarf-print separates.
Jerry Seinfeld and Jeff Koons were in the audience at Stella McCartney, on the cobblestones in front of the Pompidou Center. Some of her roomy pantsuits and blazers, tank tops bibbed with chains and worn with skinny pants, and jumpsuits recalled earlier collections, but I bet the clothes now are better made. They looked it, anyway. This was a smart, no-frills Stella collection juiced with color and aimed at a woman more interested in a visual sharpness and an English air of cool than trends.
Another designer whose clothes struck a fresh chord is Chitose Abe. Her Sacai collections often leave me cold; the shapes can seem pointlessly complicated. But I loved her opening volley of black jackets (with sliced-open sleeves à la early Comme des Garçons) over crisp-white billowy-sleeved cotton shirts and miniskirts or skinny pants with pleated and flaring hems. Military-inspired separates like a sleeveless pleated top with matching pants or a khaki field jacket with the shoulders lopped off kept up the balance of masculine functionality and feminine breeziness.
"We want to do things the best way we can," Olivier Theyskens said in the courtyard of his studio, where he presented his remarkable collection of hand-done dresses in blurry patchworks of lamé and chiffon. "And we do it the way we want. If there's something that doesn't look nice, we correct it. We don't think the clothes have a position somewhere."
Theyskens's refusal to scramble for "position" in an industry that once fêted him — at Rochas and Nina Ricci — is refreshing. Six people made the patch dresses — from bias-cut strips of fabric that were reassembled, dyed, or treated and then worked directly on the body, the patterns and colors to produce the most effective results. They bring to mind stained-glass windows, in hue and delicacy. Theyskens also created a gorgeous black leather appliquéd all over with small, irregularly cut pieces of leather, and a new kind of patchwork dress, with a seam coiling around the body. "I did a wedding dress for someone with that technique," he told me. "It's a way to evolve."
Ye brought his brand to the Paris shows on Monday evening. His brand is Yeezy, of course, but it's also chaos, Sunday choir music, provocation, complaints that become self-promotion, and an ability to rope in editors and writers against their better judgment. Although the collection was done over the past two months, according to Shayne Oliver, who worked with the Yeezy studio, the show was promoted as "a secret" event. Call it a disruption.
The truth is most people connected with the industry are curious about a potential happening. They go in faith. But for all his visual skills and obviously good instincts, Ye should have done better — on all fronts. He kept the audience there for two hours. Anna Wintour left after an hour, apparently for another engagement, and so did John Galliano. Before he showed any clothes, Ye, wearing a T-shirt that said "White Lives Matter" — he had no explanation afterward for why he wore it — went on a five-minute monologue about why he feels he doesn't get enough respect from the industry and that he's "the leader."
And when the many bald-headed models finally did appear, you could hardly see the bulbous jackets and cutout jersey dresses. There was no runway lighting. Anyhow, the clothes looked pretty similar to Yeezys past, which made me wish to see more of the hand of Oliver, a founder of Hood by Air.
As one guest aptly put it, if you're going to stage a disruption, it helps to make your stuff visible.
We are not quite at the end of this most peculiar season. Nonetheless, I'm giving the last word to Seinfeld. He and his wife, Jessica, were out on Monday night with some friends at a small comedy club here. He was invited up on the stage for an impromptu session.
"This makes no sense," he said. "It's not necessary. I'm not changing. I'm just fine in America. I came here for Fashion Week." He cast a look. "You don't need a whole week."