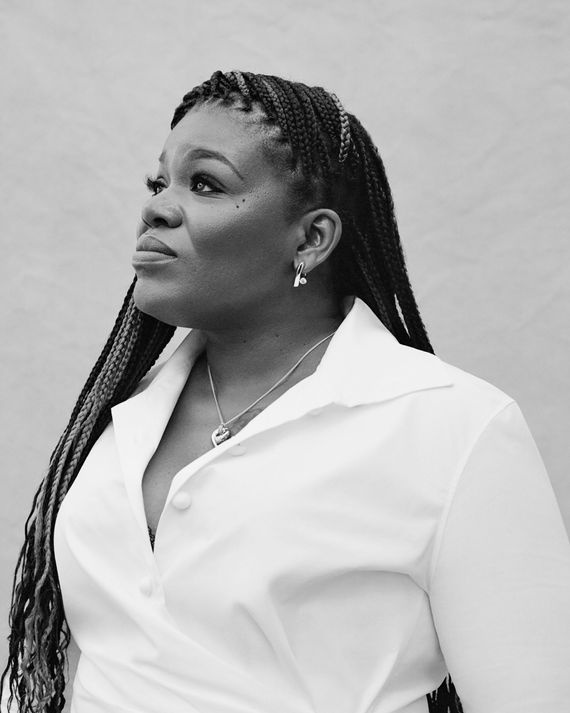 Tory Burch
Poplin Wrap Shirt,
available at toryburch.com
.
Tabayer
18K Fairmined Yellow Gold
Oera Pendant and Hoop Earrings,
available at tabayer.com
.
Photo: Kennedi Carter
This article was featured in One Great Story, New York's reading recommendation newsletter. Sign up here to get it nightly.
Just three days after Cori Bush arrived in Washington, D.C., as the first Black woman to represent Missouri in Congress, election deniers descended on the Capitol. The January 6 insurrection was convulsive in a way Bush couldn't fully fathom, yet she felt prepared. "I wasn't afraid for my life or anything," she says. "I come from protests; it ain't no big deal." She was more concerned for her staff than for herself. "I was like, I may go down, but I'm gonna go down fighting using staplers, printers — whatever was needed was gonna have to fly through the air." She laughs, but it's serious.
It's remembering this welcome to Congress that most animates Bush, draped in a red raglan-sleeved tee with her signature acrylics intermittently punctuating her words, over a video call. In that moment, she says, she remembered her promise to her district: "I told the people of St. Louis, 'If you elect me, I'll be ready on day one.'"
She kept her word, and that same day she introduced her first piece of legislation directing the House Ethics Committee to investigate Republican Congress members who challenged Donald Trump's election loss and incited what she calls a domestic terror attack. "I couldn't look at the fact that, 'Oh, you're a freshman; you've been here less than 72 hours,'" she says. "It was, 'Hey, we have the people with the know-how to get this done,' and that's what we did.'" She appeared on Rachel Maddow that night while the Capitol was on lockdown and spoke on the House floor. She didn't leave until 4:30 the following morning.
Bush's name recognition shot up quickly. She's since become a star of "the Squad," establishing a progressive platform that includes Medicare for All, a $15 federal minimum wage, reproductive rights, and criminal-justice reform. In less than two years, she's created a base of power in an institution ruled by those with seniority and deep pockets by simply carrying out the duties she promised her community she would. Though she's been deemed controversial at times — she clashed with former president Obama over his comments that lawmakers could lose voters if they endorse defunding the police — Bush's staying power became apparent when she breezed through August's Democratic primaries, which all but secured her a second term.
Marking how far the congresswoman has come is a new memoir, The Forerunner: A Story of Pain and Perseverance in America, out on October 4. The book is at once piercing and gripping, threading together wrenching tales from her journey to D.C. that illustrate Bush's grit and focus.
While she's spoken before, and often, about her activism and pastoral and nursing backgrounds, in Forerunner she is even more vulnerable, revealing the bad, ugly, mad parts of her life in hopes her colleagues and others in positions of power take note. Because though she's a walking embodiment in the halls of Congress of the idea that anyone from anywhere can ascend beyond the limitations forced upon them, not everyone everywhere understands what those limitations are. What it's like to live on food stamps. To be uninsured with a medical condition. To work a $9 an hour job in adulthood, narrowly surviving. To know what single motherhood is like, the loneliness of it all. To not know where you'd live tomorrow, sleeping in your car with two babies staring up at you for answers you don't have. What it's like to be sexually violated, not once but three times, by men you trusted. Healing from abortions. Navigating trauma.
It feels wrong to label the recounting of rape, domestic violence, bouts of homelessness and living in poverty as "beautifully" anything, but in their simplicity, Bush's words are beautifully devastating. The why behind her memoir hovered throughout our conversation — because, really, why would anyone want to air the painful bits of their lives, which some spend thousands on therapy and meds trying to cope with or bury? "People need to see that authenticity," she tells me, "and know that people they're sending to Congress can relate to their pain and struggles."
The calling stirred up on a Saturday night in 2014. Bush had just returned home from a date and was laid up in bed, scrolling through Facebook, when she saw a photo of Michael Brown spread out in front of Canfield Green Apartments in Ferguson, six minutes from her apartment. The 18-year-old's death at the hands of a white police officer ignited protests across the nation and elevated the Black Lives Matter movement. In Ferguson, it got more heated after a jury decided not to bring charges against the officer that November. There was rioting and looting and buildings were set on fire.
Bush joined the front lines, putting her background in nursing and clergy to work. In one breath, she'd clean and dress wounds as part of a crisis-response team she helped organize, and with another, she'd pray for community members. Before long, Bush had become a leading voice in the BLM movement, and many began encouraging her to run for office. The daughter of a former mayor and alderman, Bush had witnessed the weight politicians carried and vowed it would never be for her. But the rousing energy of the demonstrations jolted her into a mind-set of, "I can do more, I need to do more," Kelli Bush, the representative's baby sister, tells me, recalling how her she-ro was crushed seeing people hurting. "It was her breaking point."
First, she tried to unseat Republican Senator Roy Blunt in 2016 and didn't make it past the Democratic primaries. Two years later, she tried a run for Congress, challenging prominent 20-year Democrat Lacy Clay, and lost again. Then 2020 happened. George Floyd was murdered at the hands of yet another white police officer. America was in a squalling state of chaos, and Black America, specifically, was forced to relive another trauma and sink again into communal grief. In Missouri, where Black people are five times more likely than white people to be killed by police, the timing was ripe for Bush. People were desperate for a leader who struck the right balance of activism, leadership, and faith. She ran again and beat Clay decisively.
In Forerunner, Bush points to Bernie Sanders as a key influence. "With his wild gesticulations and unapologetic manner, he'd shown me that I didn't have to temper what I believed, even in a staid environment," she writes. "From Bernie, I learned that I could run as myself." He was the "model" she wanted to follow, she adds, because he "believed that the kind of change I wanted to see in my community was not only possible but also necessary — a moral mandate."
She also credits her unflinching resolve to growing up in the church. In bible study and Sunday school, she was reminded of "the figure of the forerunner — that person who blazes a clear path where there was none before." A forerunner, she explains, endures life's hardships and, with that understanding, strives to improve outcomes for others. Those who have worked with Bush describe her as authentic and principled and a justice-seeker, someone "who has experienced the pain her constituents deal with directly, and brings that with her every day," fellow progressive House member Ilhan Omar says. "When you have fluency in your constituents' day-to-day struggles, you see problems with more urgency."
In Bush's First Congressional District, about 129,000 of the 711,000 people live below the poverty line — which is more than the 12 percent national average — and only 34 percent graduate from college. At times, supporting them requires Bush to hit the pavement with activists. Other times, it means introducing a bill or supporting a policy in alignment with her district's needs, like the recent student-loan-debt-relief plan, which she tells me is a "start."
"If I had the opportunity to get $20,000 taken off of my student debt, it would have changed so much in my life," she says. Before paying off her debt, a $500 monthly minimum student-loan repayment was Bush's reality. She first took classes at Harris-Stowe State University, a local HBCU, but dropped out after one semester. After having two children — a son, Zion, in 2000, and a daughter, Angel, in 2001 — and working in education making $9 an hour, she went back to school. She started and completed a two-year program at Lutheran School of Nursing with a yearly tuition of about $10,000 minus expenses. She took out loans and received a Pell grant.
While commending the White House's efforts, Bush feels that the more than 45 million Americans with varying-size student loans might not see the Biden administration's move as a victory. "Did it help everyone? No," she says. "Did it help enough people? No. But did it help a lot? Yes." As Republican lawmakers continue to fight the forgiveness plan altogether, Bush hopes for more. She says the issue cannot be handled with a one-size-fits-all approach because student-debt cancellation is a racial- and economic-justice issue. Black graduates typically owe about $25,000 more in student debt compared to white graduates four years after finishing school, and they also owe 12.5 percent more than what they initially borrowed. Black women shoulder nearly two-thirds of the $2 trillion of total student debt. "I want to see all student debt canceled," Bush says. "I just know how hard it is to walk through life with that burden."
As she worked on her memoir, Bush tells me she was intentional about addressing attempts to shame her for the hurdles she overcame. During her run against Clay, for example, his team sent a mailer that questioned Bush's reliability. It noted that she had her nursing license suspended: True. She couldn't afford the renewal payment and writes that his campaign "had no idea what it meant to be low income and resource-poor," that "these matters were the consequences of living in poverty." It also pointed to her three evictions; these were the results of an assault by an ex, debilitating nursing-school costs, and a landlord kicking her out because of her activism.
So when the COVID-era federal-eviction moratorium was set to expire before Congress went away for summer recess last year, Bush, now in a position of power, chose to channel those past pains into action. She saw the moment for what it was: Members of Congress "are just disconnected because they can be," leaving the vulnerable to fend for themselves. She felt uncomfortable going home when many families in her district and across America could lose theirs in hours. "I was trying to show myself that I belong, that I can do this work," she recalls. "So it was just like push, push, push, push, go, go, go, go go." Bush stayed behind, organized, and camped out on the steps of the Capitol. Other progressives joined in on the five-day demonstration, including Omar, Alexandria Ocasio-Cortez, and Ayanna Pressley. Soon, Bush was on every local and national media outlet. Leaders down the road from the Capitol could no longer ignore her. She began having conversations with Biden, Kamala Harris, Chuck Schumer, Nancy Pelosi, and representatives from the Treasury and the Progressive and Black Caucuses.
Bush tells me it was important for her to testify from her personal experience to what those 11.4 million renters were up against. "If we don't tell Biden exactly what's happening — for somebody like him, who wasn't a homeless adult, somebody needs to tell him what that's like," she says of her conversations with the White House. "Just as a farmer needs to be able to have that conversation with the President to tell him what it's like to be a farmer over in this part of the country, and what this type of crop with this type of rain, and blah-blah-blah — somebody has to tell him what that's like. Because otherwise, he won't know, and he can't really meet the needs of those folks if he doesn't know." (The White House didn't respond to requests for comment for this story).
Feeling the pressure from her protest, Biden extended the temporary ban on evictions. The episode solidified Bush's stature as a relatable legislator, one who unabashedly dons the unique attributes that make Black women and girls across America tell her, You look just like me, to which she tells them, in varying ways, I'm just like you. Here was the first-ever BLM activist turned member of Congress being her full self — tattoo across her chest, acrylic nails, boxed braids — taking on the White House and party leadership, and winning.
Her presence in the House "is an extension of the work I do locally," she tells me. And she has continued to stand firm by her beliefs, even when it means breaking from her party and leadership. Like when she voted against the bipartisan $1 trillion infrastructure bill, which would have benefited Missouri's bridges and highways but lacked a promised sweeping social-policy package that included climate and housing investments, Medicare expansion, a wealth tax, and free community college. Progressives had been "bamboozled," Bush said at the time of the walk back. That claim was provocative enough to make the House delay the vote.
"Some of my Democratic colleagues were like, 'No, Cori, you need to listen to the president and you need to do this.'" she says. She told them, and the White House, that she couldn't abandon her constituents, who need those social programs. "There is no other house member of Congress that they can turn to; they only have one, and it's me. And my work cannot be for some, my work has to be for all, and so I'm speaking up for those who have felt voiceless.'" The bill eventually passed both chambers of Congress, however, and Biden signed it into law in November.
Last September, for the first time, Bush shared a story during a House Oversight Committee hearing that she'd previously kept private: As a teenager, she had an abortion after being raped at a church youth conference. In Forerunner, she describes her attacker as attractive and a few years older. She prefaces his assault in her assigned room late one night with strokes of adolescent church-girl guilt, writing that during that time, she mostly wore "coochie-cutter booty shorts" and "tight-fitting midriff tops."
In the memoir, Bush reveals she's a survivor of two more sexual assaults. There was a second rape two years later at the hands of another crush. That time, Bush managed to fight back and made her escape. Years later, she learned that the man had assaulted a 15-year-old and was in prison for statutory rape. Some solace, perhaps, that justice had finally come. But Bush wondered if she could've prevented it, writing, "If only I had gone to the police. I was devastated."
A third attack came at the hands of a pastor during the Ferguson uprising. As Bush did more TV spots, her neighbors feared she'd bring the protests to their door and complained to her property-management company, which evicted her. The pastor told her he had a house for affordable rent. As he gave Bush a tour, once in the bedroom, he flung her on the mattress, pulled down her underwear, and forced his way inside her. Disabled by fear, her face awash in tears, her mind toggled between disbelief and outrage. When consciousness crept back to her body, she ran for help. Once at a hospital, Bush learned the pastor had lawyered up just an hour after the attack, calling people he knew were with her to claim it was just rough sex. She writes that the police didn't believe her version of events, and months after performing a rape kit, the hospital concluded that it could have been either rough sex or assault.
"Even though I wanted more and there should have been more, and I was pushing for more, I didn't expect much," Bush tells me. "I didn't expect to be believed." When she went before a judge to get a restraining order against the pastor, the judge told her, "Victims and perpetrators have the same rights" and denied the request. That experience, she says, is indicative of how women are treated in society. "Perpetrators get to win," she says. "They win seats of power because the power structure — the patriarchy — has been in place for such a long time. Until we start having more women and people who identify as women in seats of power, this will continue."
Given her wrenching past, it hit Bush hard when the Supreme Court overturned Roe v. Wade in June. She was at a local Planned Parenthood roundtable — the same location where she'd had two abortions — when the decision came down. "I cried," she recalls. "First, I couldn't believe it, even though we knew that day would come." Missouri's attorney general, Eric Schmitt, whom Bush, after a long pause, described as "not a good person," immediately enacted the abortion ban statewide. She quickly rallied to make sure her community knew what it meant for them. At a local press conference, she urged patients with scheduled appointments to instead call clinics in Illinois. "We had to do some really quick work to make sure that people were getting taken care of," she says.
Three weeks after the June 24 decision, Bush worked with Senator Tina Smith to introduce a bill to protect access to abortion medication through telehealth services and mail-order pharmacies. Bush was inspired, in part, by a second abortion she'd had in 1995, when she was 19 and in a committed relationship but feared they'd be unable to financially cope with a baby. To afford the abortion, Bush had to wait a full pay cycle, almost missing the cutoff time for the procedure. With this legislation, she tells me she wants "to remove so many of those barriers for people." A day after introducing the bill, Bush hit the streets outside the Supreme Court in protest and was arrested alongside abortion-rights activists and other progressive members. "What I admire about Cori, and what I think makes her unique, is her organizing background," Smith says. "She's not five steps removed from her organizing work — it's fundamental to her governing philosophy."
Bush also has another bill in the works that would provide abortion seekers doula care, support for travel and child care, and mental-health services. Her frustration that these measures are even necessary is palpable. "Where is that sperm legislation?" she quips, but with intense conviction. "Like, why aren't we regulating sperm? You know, because sperm is busy. If I get pregnant right now, I can't turn around and get pregnant by somebody else three months later — I'm pregnant for the rest of the year. But sperm can get 12 folks pregnant in a day."
"And I know people feel like, But you're a pastor; you're supposed to be against abortion," she went on, slowly shaking her head no. "What we should be against is making people vulnerable — putting them in positions to become even more vulnerable and putting their lives at risk."
With all she's combated in her first term, Bush worries even more about the America her children are coming up in. It's a concern that has hit her personally and professionally. With her rising national stature, the frenzy of haters and trolls has intensified. Some of that loathing has come at the hands of hecklers who call and write in with death threats to her and her family, which has led her to spend thousands of campaign dollars on private security. It doesn't bother her when people try to slight her for that move. "I want to stay alive to be able to take care of my kids and to continue to do this work," Bush says. "I want my children and my family to be safe. There are people who know who my sister and her children are — she gets threatening messages on her social media."
She's also received hostility from colleagues across the aisle. In her first month in office, Bush complained to Pelosi about Marjorie Taylor Greene. The Georgia Republican, who frequently donned a face mask that read "TRUMP WON," verbally attacked Bush in the halls of Congress shortly after she named Greene as one of the representatives who should be investigated and sanctioned for colluding with election deniers. In her complaint, Bush said Greene, who openly supported QAnon, had endorsed the executions of Democratic politicians and directed harassment toward both the BLM movement generally and Bush specifically. Pelosi moved Bush's office away from Greene's.
The idea that people in Congress can be full of vitriol for their colleagues, and by extension, those they represent, unsettles Bush deeply because it's those same people in power who appear to be conniving with those trying to destroy American democracy. She worries that the GOP members and Trump supporters who revel in tearing down supposed enemies and calling for civil war are encouraging real-world violence, like the failed attack on an FBI office by a gunman who'd called for "patriots" to kill federal agents on Trump's Truth Social app. The foundation for such attacks was laid on that day four, when "different members were getting up and giving their speeches on the floor … one member was talking about how those were her people outside, and 'I stand with them,'" Bush recalls. "I'm thinking to myself, The people outside believe that this election was stolen, and you're saying that those are your folks and you stand with them?"
January 6 was just the beginning of exposing hate from people in top positions, she says, pointing to the recently leaked Oath Keepers membership list, which included hundreds of law-enforcement officers, military members, and politicians. Biden has recently taken a stronger, partisan stance against Trumpists, describing some of them as semi-fascist, which Bush enthusiastically supports. "It's calling out the lies," she says, which threaten not just democracy but those trying to protect it and live in it — or at least what it's meant to be.
Through all of this, Bush emphasizes, her focus hasn't shifted. Despite being the House's newbie, she's built a strong base of influence out of empathy and a thirst to stand in the gap for those who got her to D.C. Their stories and struggles remind Bush of her duty to be their reflection in the people's House, to stand firm on their behalf. She's committed to bringing real-life insights to colleagues, those in leadership and in the White House, who can have a tendency to legislate mechanically, with the luxury of not knowing or neglecting the battles of everyday folks. The same ones Bush can never ignore because she bears the same scars. "The people closest to the pain," she says, echoing an adage from her friend and colleague Ayanna Pressley, "should be closest to the power."