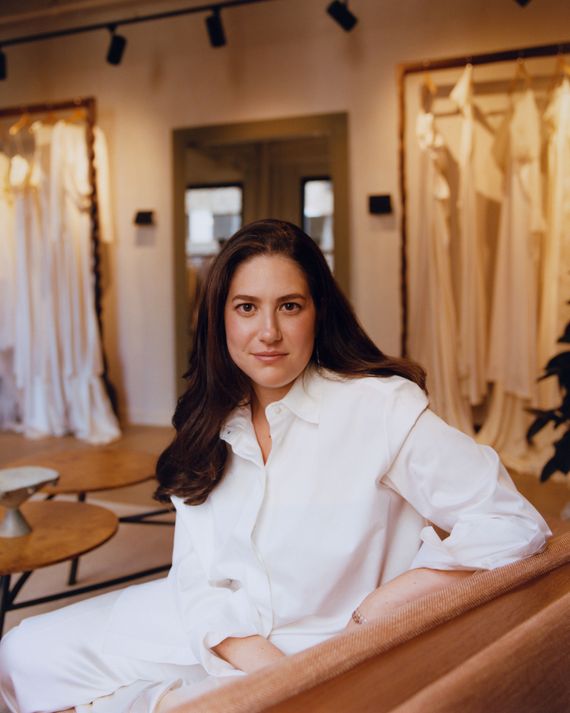 I like to think that I maintain a relatively safe distance from the wedding-industrial complex. My parents eloped, I'm single, and I can count on one hand the number of ceremonies I've attended. Yet if you were to put a Danielle Frankel bridal gown in front of me in a lineup, (or, more likely, share a photo of one on Instagram), a funny thing would happen: I'd be able to identify it almost immediately and maybe even like it.
I cannot say the same about almost any other bridal designer. I could not tell you the difference between an Oscar de la Renta gown, a Vera Wang gown, and a Carolina Hererra gown, nor would I care to. Of course, this is not a reflection of the quality or success of these brands, but rather the fact that Danielle Frankel, 33, whose full name is Danielle Frankel Hirsch, has developed her own standout aesthetic, one that is growing increasingly popular among women her age because it feels more modern and fashionable than what their mothers and grandmothers wore down the aisle — for example, a corset worn with flared tuxedo pants; dresses that are see-through; and colors other than the traditional bleached white — but isn't too out-there or avant-garde that they might disapprove. Many of these women happen to be my friends, or friends of friends, and perhaps yours too.
Carving out a niche in a $60 billion industry is no small accomplishment for someone who started their business five years ago at age 27 — out of an actual closet in the Garment District, as Hirsch tells it. But having developed her skills on the design team at Vera Wang, and as a bride-to-be herself with plenty of friends also in the market, she saw an opportunity in 2017 to do something different. At the time, there seemed to be a dearth of exciting, new talent in a category that has been slow to change if not completely stagnant. And she positioned herself as the fashion-girl favorite, taking home the second-place prize for the CFDA/Vogue Fashion Fund in 2019, despite being the only bridal designer to ever participate. That same year, she designed a look for Zoë Kravitz's wedding — a fishnet dress covered in pearls, which Kravitz wore casually over a bra and bike shorts to the rehearsal dinner. (A handful of Danielle Frankel's looks could be worn down the street in addition to the aisle.) And business has grown rapidly ever since, doubling in size and revenue each year (there are now 15 employees on staff) and becoming profitable in 2021 without the help of investors. Next year, Hirsch hopes it will be twice as big, projecting numbers in the eight figures.
This summer alone, Danielle Frankel pieces — which range in price from $6,000 to $10,000; custom starts at $25,000 — were featured in three different Vogue weddings, one of which happened to be that of actor Alexandra Daddario, who ironically played the bride with cold feet in White Lotus. "My first impression was, 'wow, wow, how cool," Daddario wrote in an email of when she first discovered Danielle Frankel's designs on Instagram. (Celebs, they're just like us!) "I had never seen wedding dresses like this before."
Cool is not exactly a word you hear often at bridal salons. Maybe beautiful or elegant or something indecipherable uttered through tears, but not cool. The fact that Danielle Frankel offers brides something in between Audrey Hepburn and Chloë Sevigny, with the trendiness of high fashion and the craftsmanship of couture, is what sets it apart. And 2022 is shaping up to be the brand's biggest year yet. Next week, it will open the doors to a new, 4,200-square-foot studio and atelier, which occupies the entire floor of a building on the same block as the "closet" Hirsch started out in. I visited before any clients arrived to better understand the appeal. Why are so many women flocking to the brand for the most important day of their lives?
Samantha Andriano, a social-media and brand specialist living in New York, always imagined that shopping for a wedding dress would be the "most luxurious experience." There'd be Champagne and lots of oohs and aahs over a rack brimming with dreamy options. But this was not the case when she began looking for dresses in 2019. "I was majorly disappointed on my first few visits to showrooms," she recalls. "Dim lighting, rushed appointments with multiple girls eyeing the dresses I had in my hands. And everything was too classic or simply not my style; I felt like a paper doll wearing one of those cutout dresses from a book."
Emily Holland, a stylist who got married in 2018, expressed similar dissatisfaction with the selection she found at showrooms. "I wasn't finding anything that really spoke to me," she says. "I wanted something timeless and simpler."
Both found sanctuary at Danielle Frankel. For starters, the space was actually inviting. Candles flickered, tea was served, and they had the room all to themselves, ruling out any competition or comparison with other brides. "Half of selling the dress is the experience," says Hirsch, which is why she has invested so much into making sure her clients feel safe and taken care of. The new space, which was designed by Augusta Hoffman, looks something like a modern-day princess's wing in a castle, boasting two bridal areas almost the size of my studio apartment and thoughtful touches like tapestries, plush couches, and custom-made wood clothing racks.
"With bridal, you're selling a product to somebody that is probably the most expensive retail purchase of their life," Hirsch says, so everything has to feel elevated. And brides need a lot of space to make such a big decision. "You have to think about what's happening in the moment of that client's life," she continues. "There's a lot of emotion and family politics."
In order to keep the peace, only one guest is allowed to visit the studio with the bride. Appointments are booked at least a month in advance and are hard to come by. A one-hour consultation costs $150, which is unusually high for the industry. (Some appointments are free or less than $100.) But the level of service Danielle Frankel seeks to provide is unusually high as well. As the business has grown, Hirsch can't meet with every individual bride herself, but she tries to interface with as many as she can, and what you're paying for is her and her team member's full, undivided attention. "You see people at their best, truly, and then sometimes … not their best," says Hirch politely. "We work with them through both."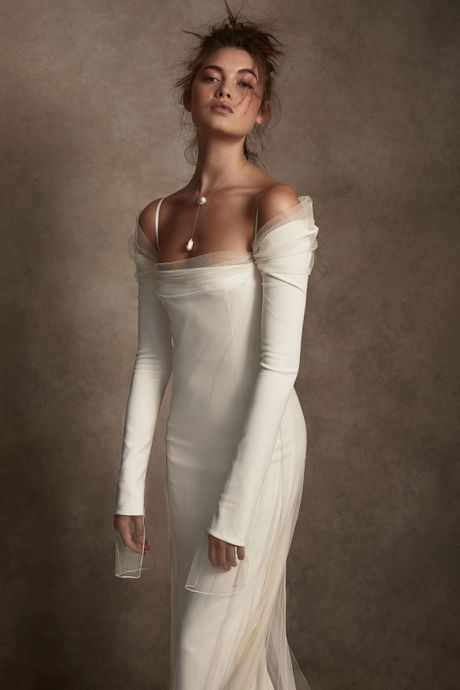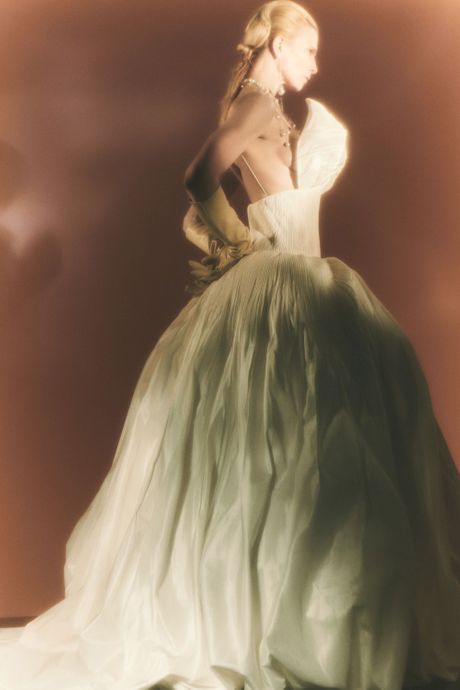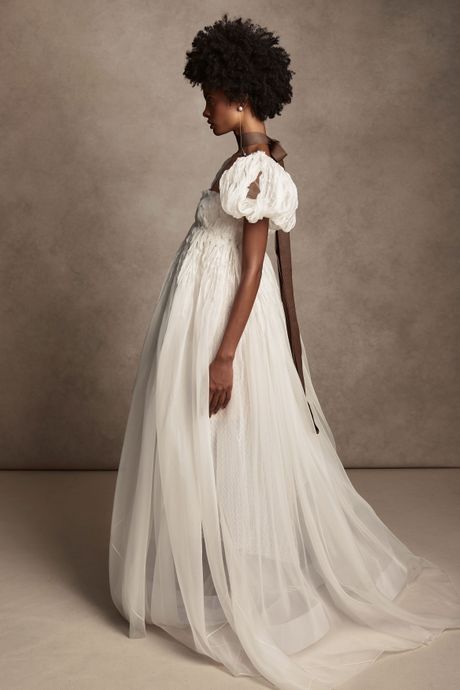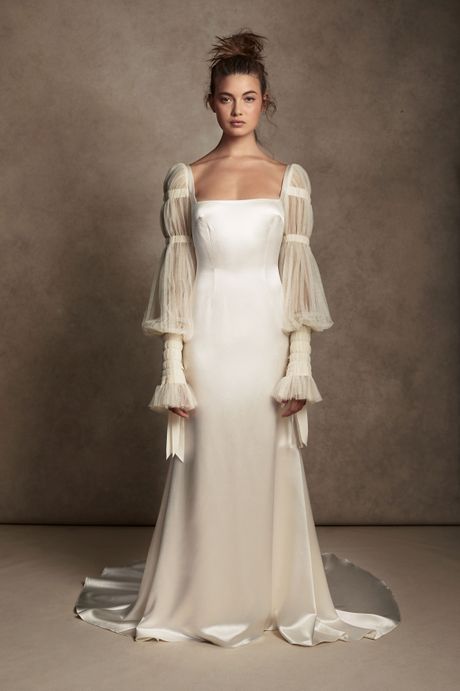 Each dress in Danielle Frankel's core collection — there are currently 10 evergreen styles, and sizes go up to a 24 — has its own individual name and personality. "We'll be like, 'Oh that girl? She was totally a Leona girl. Or, she was a Leith girl, and you would have died," says Hirsch of the conversations that happen daily in the studio. Members of her team say they know every bride's name, and that matching them with the right gown is another sort of marriage. Unlike other bridal salons, they won't pick anything out for you, or pressure you on any particular style, but they will be honest with you and make suggestions. "It was very laid-back," said Daddario of the process. "They wanted me to love the dress and wanted it to feel like it was 'mine.' But they also had an opinion, which I was grateful for."
Andriano had her eye on the Rosalie gown in particular, which she'd seen on Instagram and screenshotted. It has princess-cap sleeves that aren't too poufy, with a soft, corseted empire top, plus a flowing organza body that is darted and hand-twisted, giving the appearance of wispy wrinkles or liquid-y pleats. "Her designs seem so modern but still romantic and even a little bit bohemian," says Andriano of the look, which she said made her feel like she'd walked out of an Old Masters painting. Despite its volume, it was airy, unburdened, and sheer in "all the right places."
Although Danielle Frankel's designs may seem easygoing and simple on the outside, Hirsch is a highly technical designer, and she thinks just as much about the bones of a garment and how to manipulate fabric as she does its style. The way she loosely darts a gown, for example, or adds lace to the hem of a silk tuxedo jacket, can make it feel less precious, almost deconstructed, and not so austerely stiff and perfect, but also more precious in that it feels one of a kind, with a personal touch.
If a bride decides they want to go through with the purchase, they get measured by a member of the atelier staff and also have the opportunity to make it look and feel exactly how they'd like. (Design edits cost more.) Do you want "Bridgerton boobs"? Are you adding sleeves? Opening up the back? Where do you want your bustier to hit? This is where Hirsch and her team's sensitivity and technical skills come in handy as well.
"I was heard," says Telsha Anderson-Boone, a New York boutique owner who got married in a corseted Danielle Frankel gown last year. "My thoughts, body, and requirements were not only considered but respected and applied — each time."
One way Danielle Frankel has expanded is by growing wholesale, with accounts at Net-a-Porter and MyTheresa. But 80 percent of the business is still direct-to-consumer, with one-third of clients opting for custom, which proves the value of its in-person experience. With bridal, growth is also a tricky thing — too much exposure can actually be detrimental. "A lot of women, if they see a gown a lot of times, they're not going to want to wear it because it doesn't feel special to them," explains Hirsch. "So once we have a gown that does really well, we have to take it off the rack." The Ruby dress, for example, which has gathered tulle sleeves and a very recognizable Renaissance-esque look, had to be retired after 200 brides wore it over the course of 18 months. (You've probably seen it on Instagram.) This is just another way Hirsch provides "emotional protection" for her brides, as she calls it.
Each year, Hirsch designs a new collection of dresses, but she will not be participating in New York Bridal Week this month, and she doesn't follow the traditional calendar. "Being a bridal brand categorizes us as something different than fashion, and that is a challenge on its own," she says of the choice. She feels frustrated that, despite putting out a thoughtfully designed, highly technical product that actually sells, she's not seen as a designer in the same way that her peers in the fashion industry are. "I want to be considered when you talk about American fashion today and the emerging designers," she continues. "But because we're in this bridal category, it differentiates us."
Last fall, Danielle Frankel introduced a capsule collection of lounge pieces that were not strictly bridal. But Hirsch says she's learning to be okay with the lane she's carving out for herself because it feels more personal and meaningful. "I make a really special product where I'm connecting with people on a deeper level," she says. "At the end of this process, we've been through so much together. We're a part of this very important moment in this person's life. When we get those photos or a thank-you note or whatever, it feels very, very good."
"I wish I could get married five more times to wear five more of Danielle Frankel's dresses," said Daddario at the end of the day. Adding: "To the same man, of course."