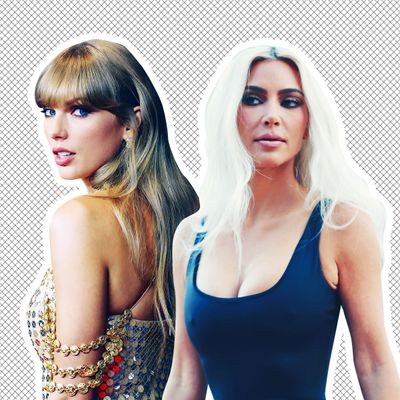 Photo-Illustration: by The Cut; Photos: Getty Images
Last Friday marked the auspicious release of Midnights, Taylor Swift's tenth studio album, after months of elaborate rollouts. In a weekend of fanfare and endless sexy-baby discourse, it was easy to miss that last Friday was also Kim Kardashian's 42nd birthday. While dropping highly anticipated music on the birthday of one of your most infamous enemies could be pure coincidence, I absolutely would not put it past Swift — a woman obsessed with revenge — to curse Kardashian's birthday.
Given reports that Kardashian's party was a total bust, it seems Swift might have succeeded. On Saturday, Kardashian explained on her Instagram Stories that she'd initially planned to celebrate her birthday by flying to Las Vegas on Kylie Jenner's infamous private jet, eating at Carbone, and "going to a fucking Usher concert" at Park MGM. But after the pilot informed her they couldn't safely land the jet in Vegas because of dangerous weather conditions, the evening began to devolve. "It looks like our Carbone party and @usher concert isn't happening and we are heading back home," Kardashian wrote on her Stories, per "Page Six." Back in L.A., she and her entourage, including a full-blown camera crew, had an alternative birthday dinner at In-N-Out, where Kardashian, dressed in a silvery bra top and a feathery boa, filmed herself ordering food, biting into a burger, and informing an offscreen party guest that cheese fries are "so good."
After dinner, Kardashian et. al got back on "the party bus to nowhere" and did Jell-O shots. If you think that sounds bleak, she apparently spent the following night having a three-hour dinner with Ivanka Trump at the Polo Lounge in Beverly Hills. Per TMZ, it's unclear if the two were having a business meeting or a birthday celebration (they both have October birthdays), but either way, it definitely sounds cursed. Meanwhile, others have pointed out that Swift named the evil daughter-in-law of her "Anti-Hero" video Kimber. If Swift wants us to fear her capacity for revenge, it's working!