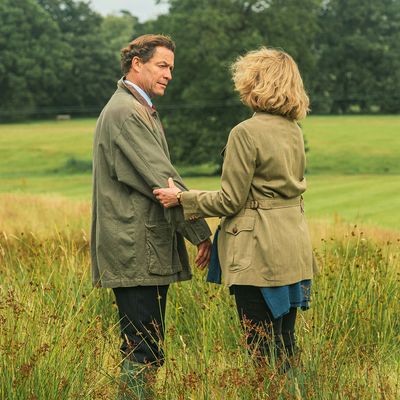 Please clap!
Photo: Keith Bernstein/Netflix
For the past couple of weeks — months, years even? — Buckingham Palace has been panicking about the forthcoming season of The Crown. This fifth season, set to release November 9, covers then-prince Charles's divorce from Princess Diana. Given the public revelations of his longtime infidelity and Diana's complaints about his casual cruelty, the split tanked Charles's popularity. But flash forward two-plus decades: The queen has just died, and King Charles's reign of fussiness has only just begun. Fearing that certain viewers believe The Crown to be a true-to-life work of documentary nonfiction, certain high-profile Brits (palace aides, Dame Judy Dench, former PM John Major, who also stands to see some old scandals resurface) are anxious about the implications for His Majesty's reputation. They are agonizing over the Netflix drama's prospective content, while here at the Cut, we are celebrating an auspicious day. For roughly as long as Charles has been sweating the The Crown, this publication has been humbly requesting that Netflix put "Tampongate" in the show, you cowards. Now it appears the streaming platform is actually, finally, doing it.
According to actor Dominic West, who plays Charles in The Crown's fifth and sixth seasons, he and Olivia Williams are re-creating Tampongate, the 1989 phone call in which Charles and Camilla — unaware that they were speaking on an illicitly tapped line and that their exchange, in a gross breach of privacy, would eventually leak — engaged in some reasonably chaste, if off-putting, dirty talk. I'm reprinting the splashy bit below, in full, for posterity:
CHARLES: Oh, God. I'll just live inside your trousers or something. It would be much easier!

CAMILLA [laughing]: What are you going to turn into, a pair of knickers? [Both laugh.] Oh, you're going to come back as a pair of knickers.

CHARLES: Or, God forbid, a Tampax. Just my luck! [Laughs.]

CAMILLA: You are a complete idiot! [Laughs.] Oh, what a wonderful idea.

CHARLES: My luck to be chucked down a lavatory and go on and on forever swirling round on the top, never going down.

CAMILLA [laughing]: Oh darling!

CHARLES: Until the next one comes through.

CAMILLA: Oh, perhaps you could just come back as a box.

CHARLES: What sort of box?

CAMILLA: A box of Tampax, so you could just keep going.

CHARLES: That's true.

CAMILLA: Repeating yourself … [laughing]. Oh, darling, oh, I just want you now.
When a transcript and audio of the conversation hit headlines in 1993, it whipped up quite a frenzy. The Crown's previous Prince Charles, played by Josh O'Connor, flat-out refused to do Tampongate, to our great dismay. But West was game, telling Entertainment Weekly that the tampon-call reenactment helped him take a more "sympathetic" view of the relationship.
"I remember thinking it was something so sordid and deeply, deeply embarrassing," West, who lived through Tampongate, said. "Looking back on it, and having to play it, what you're conscious of is that the blame was not with these two people, two lovers, who were having a private conversation. What's really [clear now] is how invasive and disgusting was the press's attention to it, that they printed it out verbatim" — oops — "and you could call a number and listen to the actual tape."
I agree and would also note that, though Charles always worries ahead of a new Crown release, the show has historically taken a far more sensitive view of him and his relationship with Camilla than audiences typically see depicted onscreen. For whatever it's worth, I don't think Charles — if he's reading — should spend too much time fretting over this one. As we here at the Cut have consistently maintained, the "I love you so much I'd settle for being your tampon" sentiment is sweet at its core, demonstrating a high level of devotion that arguably helps humanize him. It's the rumored episodes of volatility, like that time Charles allegedly grabbed his valet by the throat in a rage, that may be riskier.