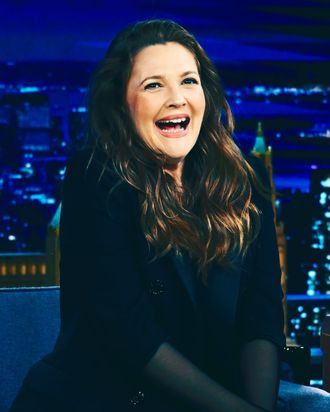 Photo: NBC/Todd Owyoung/NBC via Getty Images
Drew Barrymore would like you all to know three things: (1) She does not hate sex, (2) she hasn't had an "intimate relationship" since her 2016 split from Will Kopelman, and (3) she doesn't need sex to be happy. This is what celebrity feminism looks like.
A month ago, Barrymore went viral for her unimpressed reaction to Andrew Garfield's claim that he had abstained from sex for six months while filming Silence. Personally, I found her reaction to the news during an episode of The Drew Barrymore Show — she said, "I was like, Yeah, so?" — pretty funny. But according to the actor's recent blog post, some viewers saw her lack of enthusiasm as proof that she "hates sex." After setting the record straight on her thoughts on the "talented and cool" Garfield's decision to abstain from sex — "For him, that must have been challenging" — Barrymore decided to use the post as an opportunity to explain her views on sex. And why she's not going out of her way to have any.
Growing up, she wrote, "I did not have role model parents and engaged with people in grown up ways since a tender age!" But getting married, having two kids, and then getting divorced "rocked me to my core." Her priorities, she explained, have changed: "I have had the pleasure of shifting my focus when it comes to love for myself and my two daughters. I know that does not include a man nor has it for a while."
Barrymore continued, "Since entering life as a single mom, I have not been able to have an intimate relationship." This, she wrote, was a personal choice she had to make to process her divorce and move forward: "I needed to stay celibate and honoring and in some sort of state of mourning of the loss of a nuclear family that I swore I would have for my daughters and to find grace and acceptance and what our new normal of a blended family would be." This, she said, has allowed her the "pleasure to actually work on myself and learn what parenting is" and has reframed how she views intimacy as "something that makes you feel good about yourself!"
While Barrymore is open to the possibility of a relationship in the future, it's not a priority. "I'm not a person who needs sex and has to go out there and engage with people on that level," she wrote. "For the record, I do not hate sex! I have just finally come to the epiphany that love and sex are simply not the same thing."
Now can we please let Drew Barrymore be celibate in peace?