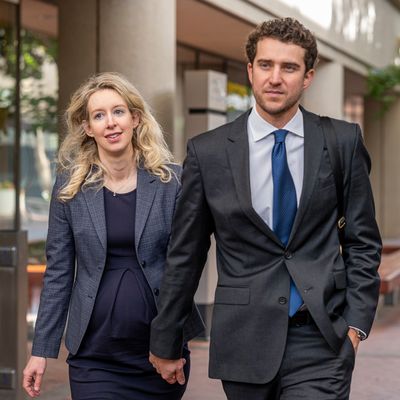 Elizabeth Holmes and Bill Evans in court on Monday, October 17.
Photo: David Paul Morris/Bloomberg via Getty Images
If you thought that Elizabeth Holmes's courtroom drama would be over after she was found guilty of four counts of fraud in January, think again. The disgraced Theranos founder appeared in court on Monday as part of her team's effort to get a new trial and shocked reporters with what appears to be a very visible baby bump. She has yet to comment on her potential pregnancy, but in a Dropout-worthy twist, a witness testifying did.
The dramatic moment reportedly occurred as part of Holmes's fight to get a new trial, which currently hinges on former Theranos lab director Dr. Adam Rosendorff. Rosendorff was a whistleblower who exposed Theranos and testified at length in her original trial. He also visited Holmes's home in August, apparently looking for closure. Bill Evans, Holmes's partner, submitted filings claiming that Rosendorff expressed regret and concern during his visit — Rosendorff spoke only to Evans and did not see Holmes — supposedly telling Evans that he felt manipulated by the prosecutors in the case. Rosendorff disagreed with Evans's recollections in court, emphasizing that he "didn't want to help Ms. Holmes" and still believes that "she needs to pay her debt to society." However, as reported by Oxygen, he also expressed sadness that Holmes's son "would spend the formative years of his life without his mother" if she went to prison. And then he dropped this bombshell: "It is my understanding that she is pregnant again."
If this sounds vaguely familiar, that's because it is. Last year, Holmes informed the court that she was pregnant with her first child, resulting in her fraud trial being pushed from March to August. She welcomed her first son, William Holmes Evans, in July 2021 and famously brought a diaper bag to court, a move many criticized as an attempt to use her status as a new mother to get out of a fraud conviction.
For her part, Holmes reportedly refused to answer questions outside the courtroom on Monday. Judge Edward Davila said that he will be making a decision on Holmes's request for a new trial in the next few weeks. She is currently scheduled for sentencing on November 18 and could face up to 20 years in prison.