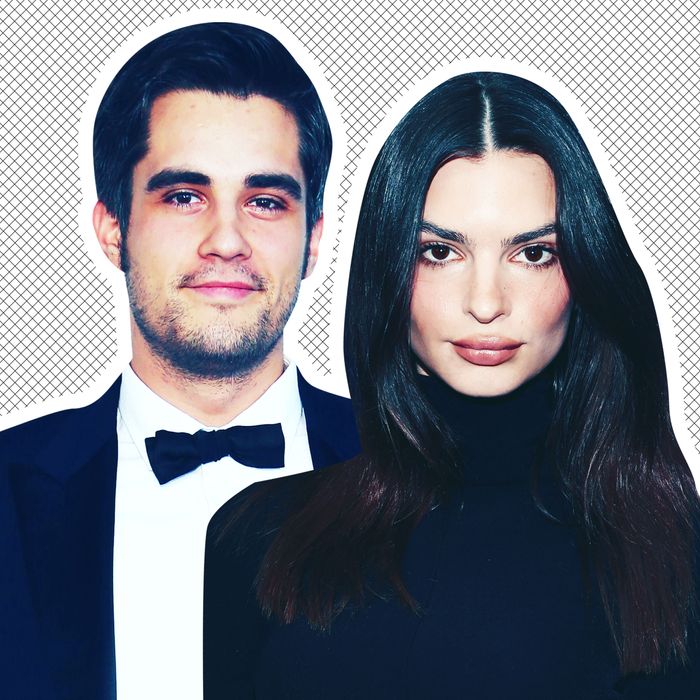 Emily Ratajkowski's love life has been the subject of much speculation since her divorce from film producer Sebastian Bear-McClard. In recent weeks, multiple outlets have suggested the model-writer has been seeing Brad Pitt, with sources telling E! News the pair were "casually" hanging out and "Page Six" warning us all to "stay tuned" for "Bradajkowski," all while details of Pitt's increasingly dark legal battles with his ex-wife Angelina Jolie — and his alleged abuse of her and their children — came to light. Thankfully, Ratajkowski was recently spotted canoodling with a DJ in New York, hopefully sparing us Bradajkowski.
Per "Page Six," Ratajkowski and a "mystery man" were spotted kissing on Friday in New York City, where they "clutched each other's heads." The man has been identified as Orazio Rispo, a 35-year-old DJ, the son of a luxury Realtor, and apparently the former owner of the shuttered Halcyon record shop in Greenpoint. He has reportedly DJ-ed for the likes of Uma Thurman and Princess Charlotte of Monaco; he's also reportedly chief strategy officer for SPROKIT, a mobile app that aims to reduce criminal recidivism. In photos obtained by the Daily Mail, Rispo and Ratajkowski appear to be kissing near some greenery, eating dinner, and riding off together on his motorcycle.
Ratajkowski officially filed for divorce from Bear-McClard last month after four years of marriage; the couple share a son, 1-year-old Sylvester Apollo Bear. Earlier this month, Ratajkowski told Variety that she is "newly single for basically the first time in my life ever" and that she is "enjoying the freedom of not being super worried about how I'm being perceived." Personally, I support this new development and any rumored romantic partner who doesn't stand accused of choking their own children.