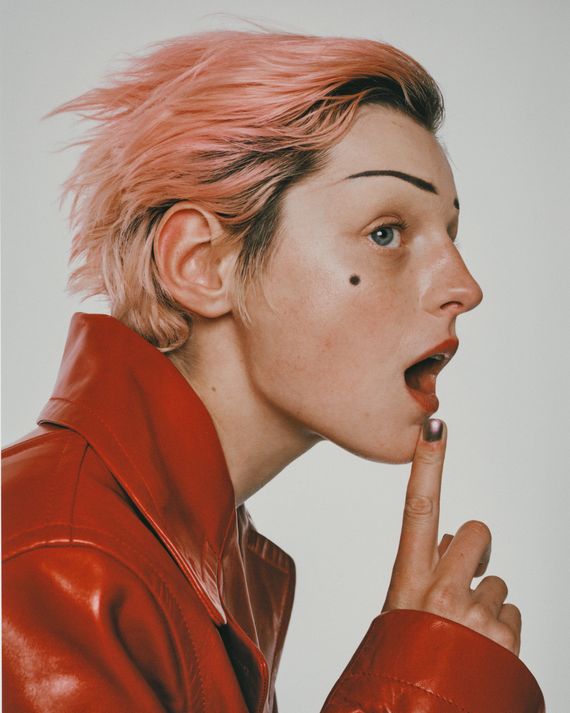 Bottega Veneta
coat,
available at bottegaveneta.com.
Photo: Emily Lipson
As fans have pointed out, there are three core requisites to Emma Corrin's work: Period piece? Check. Love triangle? Check again. A character attempting to release themself from society's unfairly restrictive expectations of a young person? Check, check, check.
So far, the 26-year-old actor has played a sexually frustrated housewife in post-World War I Britain, the jilted bride of a closeted policeman in mid-century England, and most famously a young woman thrust onto the world stage after marrying into one of the most powerful families on the planet circa the 1980s. And this fall, Corrin will deliver two magnetic performances onscreen, both of which already have awards season-watchers talking. First, they will star opposite Harry Styles and David Dawson in Michael Grandage's adaptation of My Policeman, in theaters on October 21 and streaming on Prime Video starting November 4. The film centers on a forbidden romantic entanglement: Corrin and Styles play a couple named Marion, a schoolteacher, and Tom, a policeman whose trysts with Dawson's Patrick, a gay museum curator, upend the relationship and lead to devastating consequences.
Then Lady Chatterley's Lover, a film adaptation of D.H. Lawrence's classic (and notoriously banned) erotic novel, will premiere in select U.S. theaters on November 23 and on Netflix December 2. Corrin plays Constance Chatterley, a woman who takes a lover (Jack O'Connell) after her husband's war injury prevents him from being physically intimate with her. It's another forbidden love story, but it still focuses on a young woman desperate to figure out what she wants and how she can get it. In every project they take on, Corrin manages to submerge themself fully into the role, erasing the line between themself and the character so seamlessly that you might forget you're watching an actor's performance and really start to believe they are that character. (Their sensitive, shellshocked portrayal of Princess Diana, for example, earned them a Golden Globe in January 2020, and an Emmy nomination later that fall).
Next year, they'll take a stab at something quite modern: Brit Marling and Zal Batmanglij's hotly anticipated FX series The Retreat, with Clive Owen and Harris Dickinson. But before then, they'll return to the stage as the titular character in Virginia Woolf's Orlando, a genre-bending, time traveling tale, on the West End in late November. During a brief break between shooting The Retreat and heading into rehearsals for Orlando (also directed by Grandage), Corrin sat down for a conversation with Diana Silvers for the Cut's October cover. The two actors met online, during the height of the COVID-19 pandemic, and formed a fast friendship when they sent each other curry recipes to try at home, and eventually brought their bond IRL. After being stuck inside for long enough — where the two young actors have bonded over their mutual infatuation with Love Island — Corrin tells Silvers they are ready to embrace this new phase of their career, which brings them to international film festivals and on the cover of this magazine. "Before I started acting professionally, I used to have such a long list [of roles I wanted]. And now I am enjoying seeing what comes around more," they say. "I like being taken aback and surprised by stories that I stumble upon."
Emma: Diana! You'd just gone blonde last time I saw you.
Diana: Yes, you were in New York and we watched Love Island.
Emma: The best!
Diana: Ekin-Su. Need I say more?
Emma: Highlight of my summer is Love Island. Every year.
Diana: But that's not what we're here to talk about! How are you?
Emma: I'm having my first break from work in ages. I just shot The Retreat. It was the longest thing I've ever shot. Seven months. We went from New York, to Iceland, to New Jersey, to Utah, which is crazy. What a wild place.
Diana: It's like another planet. I feel like Iceland and Utah are like their own separate planets.
Emma: But weirdly quite similar. The landscape in Iceland, you can see for ages, and there's mountains, and the expanses of landscape that are just white. And then Utah, it's like the same thing, but desert, which is really clever, because I think in the series they'll complement each other. They both look like the moon in weird ways. Just very empty, barren.
Diana: You went from The Retreat, then two festivals, back to back. First for Lady Chatterley's Love, then for My Policeman. I loved both.
Emma: We filmed back to back, and then it was my first film festival. The first one was Telluride, and that was the most stunning place I've ever been. It was so beautiful.
Diana: I have always wanted to go to Telluride. My parents went before I was born, and they got these ski posters from the '90s.
Emma: It felt really craft focused, which I think is such a blessing, because for a lot of festivals it can easily become not about the work and about what people are wearing, and all the flashiness of everything. Everyone there is such a film nerd. It is such a relief. I love talking about Chatterley, because it was such a brilliant experience shooting that.
Diana: It's a very intimate film, not just that it's about love, and lust, and all that, but just the way it was shot, because there are a bunch of intimate moments in nature.
Emma: We were filming in this estate in Wales, that was Clifford and Connie's house. It was on the same grounds as the river. So when you were standing at the house, you looked down that hill that Connie always walks up and down. At the bottom of that hill was the forest and the river. That really helped in creating that intimacy of that environment, and those two parts of her that are very split. The part of her that feels trapped in the house, and the part of her that feels so free in nature.
Diana: Those two things clashing are part of the human condition, especially as a modern person. We're so trained to be inside. We've become disconnected from what it means to be outside, but in the pandemic people realized how to be more grounded in nature.
Emma: The same goes for touch. I think that was a huge part of it that in COVID everyone felt that lack of intimacy not being able to hug family, or be near people you care about. Connie is so starved of any intimacy, physical intimacy. I wonder if studies have been done now about how people haven't realized how much we need that. We need comfort, touch, and intimacy as part of our mental wellbeing and stability.
Diana: There's a scene in Lady Chatterley's Lover, where you and Jack [O'Connell] are just naked and free, and it's raining, and you're laughing. You're so free. I was like, "Yeah, that's it." That's real intimacy when you're experiencing someone's spirit. You guys were naked, but it felt like their raw spirit was naked and bare, and this is just who they are. They're finally free.
Emma: I'm so glad that it didn't feel like gratuitous nudity. We spoke about that a lot when we started rehearsing. We always wanted any sex scene, or any part of the film, to be totally justified in their experience, and also to evolve. The last scene, when Connie goes to Scotland and she knows he's behind her before he's there, we filmed that quite near the beginning, and I'd forgotten. When I was watching it for the first time, it really got me.
Diana: It's the safety you feel when you are able to touch someone you love. You know what I mean? There's nothing else like it in the whole world.
Emma: Yeah. You understand why Connie does what she does. There's always been a part of me that felt so conflicted for Connie, and why she leaves Clifford. I remember speaking to Laure [de Clermont-Tonnerre], the director, about trying to make it really clear that she does try. She tries, and tries, and tries, and she just gets nothing in return, and starts losing such fundamental pieces of herself. We had to show that she and Clifford have this friendship, intellectually. I remember rehearsing it with Polly Bennet, this amazing movement character coach, and we talked about Connie's body being split. When she's with Clifford, it's waist up. Intellectually they can work, and there's a friendship. She later realizes that it's also severed her from any other feeling of her femininity, or intimacy. She's not getting that kind of recognition or comfort, which you really need. I don't think it's ever occurred to her that that's something that she needs. I think that's also an awakening in terms of her female pleasure, and that kind of thing.
Diana: I saw, in your performance, the shift starting to happen with how she presented herself. How she would interact with Clifford when she started to reground herself in her own identity and not so much his identity. She became a little bit more goofy, a little bit more sassy. She just became more dimensional, around him especially. You could see that he was not into that. So you're like, "Oh, he doesn't truly love all of her. He loves the parts of her that remind him of himself, and he doesn't really like the parts of her that aren't him." And Oliver Mellors, Jack O'Connell's character, just accepted her for all of her parts. He doesn't expect her to be anyone but who she chooses to be around him.
Emma: You're so right. Our cinematographer Benoit [Delhomme] was so cool. He did so much with a handheld camera, and all very spontaneous, which I think really worked. If there were unexpected weather changes, or if we found a stream, he'd just roll with it and be like, "Let's go now, let's shoot now."
Diana: Connie Chatterley has a strong grasp on her budding sexuality. She knows who she wants and she goes after it, taking a lover after her husband can no longer be intimate with her. But Marion, your character in My Policeman, settles for unsatisfactory sexual experiences with her husband, Tom, as he searches elsewhere for passion with Patrick, the couple's friend. Connie and Marion also both wait to have sex until after they're married. Sexuality is clearly a common theme between these two films and performances. And even in your season of The Crown, Princess Diana's feelings of wanting to be desired, by her husband at first, are central to the dramatic plot. As an actor, how did you approach portraying these varying degrees of sexuality restricted by marriage and heteronormativity?
Emma: There can be so much in a simple touch. In Chatterley, Policeman, The Crown, if you're going to find a common denominator there, it's that these women long to be freed within themselves, and recognized, and validated in their sexuality. It's amazing if you think about how they're all set at very different periods of time, and yet that is something that is sort of timeless, the need to be wanted, to be desired. They explore it in very different ways. Connie manages to find that freedom. It grounds her and brings her back to life.
But Marion never finds that. You really feel that there's this sort of sorrow within the older version of Marion about what could have been. By staying with Tom and loving him as a friend… I think they do love each other, Tom and Marion, which is so beautiful. I think the film really explores different kinds of love and how that manifests in marriage, and people's support of one another.
Diana: Marriage is a partnership. It's your best friend. Even when people's marriages don't work out, they're like, this is still my best friend, this is who I spent 20 years with. You can't just toss out a whole relationship because two people can't make it work, because it's really hard to make something work. It's not just a sexual thing, a marriage.
Emma: I'm sure people go through this all the time. Wondering, is this enough for me? Connie knows that it's not enough. Once she experiences herself with Mellors, and is seen in that way, she realizes that what she has with Clifford isn't enough. I think Diana always knew it wasn't enough. Marion, I think, doesn't know until she's older. It takes her a longer time. Which also shows that these things are so individual and everyone has different journeys with this kind of thing, with their sexuality, and with what they feel they need from a relationship, from a partnership. It's so personal. There's no one way of figuring it out. The nice thing about My Policeman is that it does show that, even though it's so tragic in a way, freedom can take your whole life until you're older to find, to know that you're ready to leave.
Diana: Marion knew her husband Tom and her friend Patrick were having an affair at the time it was happening because she reported Patrick. I always wondered, did she stay because she felt guilty? Because she knew she was responsible? Because she brings Patrick back into their lives…
Emma: Maybe. Once the report happens and both of their lives are completely turned upside down, I don't think it's ever what Marion intended. She was so naïve, and so hurt. I don't think that she thought that he would be arrested. But after it happened, and in the wake of that, I think that weirdly, she and Tom had to stay together, because they were the only ones who knew what they'd gone through. There's probably a certain amount of trauma bond in why they stayed together. Tom is so vulnerable, and so broken, and I think there was this part of Marion who thought, "Now he needs me."
We fall in love with someone, especially the first time you experience love in that way, and you're so desperate to receive it back, and you see her know subconsciously, from the get go, that Tom is not all there with her. Suddenly, when he's at his lowest point, when he knows that Patrick has been arrested and they won't be together, there's this dark but sort of justifiable part of Marion that thinks, "Okay, no, now he needs me. Now I can actually step up."
Diana: What do you think modern audiences can learn from these women you've played?
Emma: Michael Grandage, the director of My Policeman, talks about this a lot, that there'll be a generation of people who really relate to this, the not having the freedom to love who they wanted to love, and the repercussions for everyone involved in their relationships because of that. I think it will be incredibly cathartic or heartbreaking. It's an important story to show, and to inspire discussion and talk about.
My hope is that people of our generation, and younger generations, expect to see a very period piece, which it is. But also, I hope it will make people think about what progress has been made, and also what hasn't. Because obviously, in so many parts of the world, homosexuality isn't legal. And there are still so many restrictions on who you can love, and your sexuality. Even though it's period and pertains to a very specific period of time, the themes in general can be applied to a lot of places now, a lot of people now.
Diana: I think so many women, people, can relate. In Lady Chatterley's Lover, Clifford was so focused on her having a child and seeing sex as a means to an end, and not as something that can be for pleasure and not about reproduction. And I just had this thought of how symbolic it was that she got pregnant. She didn't go into that kind of affair, I think, with the intention of getting pregnant. It made her relationship with Mellors more meaningful because he wasn't like, "You are just an oven. Your body is simply here to create my next generation." Watching her explore sex and sexuality was really powerful. And it had a happy ending! It doesn't have to be some tragic thing because she made her own choice. She's successful in that she made her own choice and she took ownership of her body, and her life.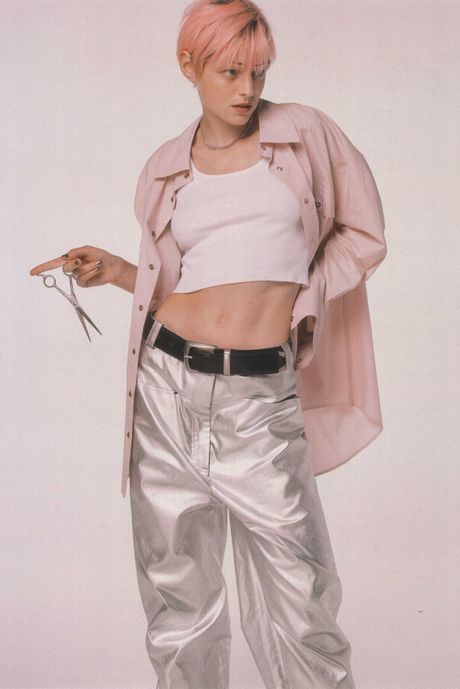 Emma: Yeah, it's all about her choosing. For herself. Which you realize that she hasn't done for the majority of the film. I think that can really make people think about choice, autonomy, bodily autonomy, and all those conversations which are so important at the moment.
Diana: What's your favorite time period to play in?
Emma: I really liked Chatterley.
Diana: You've been time traveling in your work.
Emma: I've been time traveling! It was fun to do something modern this year. The Retreat was so modern, and I got to keep a lot of my costumes, which I now wear all the time.
Diana: What do you mean, you don't want to wear an old gown into the village?
Emma: It was so fun doing Chatterley because we sort of messed with the time period. A lot of the clothes were modern. So you can buy them. I think they got a lot of them from very modern brands. Part of the reason we did that was that we knew that it could almost be timeless. There are references to the period of time, and the war, and everything else. But in Connie's clothes, certainly, there was this element of modernity, which was really fun. It also gave me the freedom to not feel too constrained by how women should hold themselves at that time, and that kind of thing.
Diana: Getting into costume is how I feel like I get into character, because I'm taking off my clothes, and literally stepping into someone else's shoes. Do you feel differently when you're putting on period clothes, does it evoke something in you?
Emma: Definitely. Especially if they're real period pieces. Your range of motion is different, and the way you hold yourself. I have to wear a lot of wigs, because my hair is short.
Diana: You had long, brown, luscious locks in Lady Chatterley.
Emma: So much fun! We started with her hair up and then gradually it went down, and down, and down. It's such a simple trajectory, but it works. And Marion's mousy, little brown hair. It was so Marion. Just very simple, and plain, and that was something that was definitely a conscious choice. We have great jobs!
Diana: You've worked with a couple of Skins alums in these movies too — Jack O'Connell in Lady Chatterley and Freya Mavor in My Policeman. Did you watch the show growing up?
Emma: Never seen it, which is so rare. A lot of my friends grew up watching Skins, and always reference it. But I had no idea! A load of people started out on that show, it was a big coming of age thing. Very sexy.
Diana: We had Degrassi, but that's Canadian. So, you just shot The Retreat, which is contemporary. Does the time period matter to you when you are reading a script and deciding what to work on? Do you want to explore more contemporary stuff?
Emma: It was fun doing something modern. But also, I would never choose a project based on that.
Diana: You're like, "I only do period pieces now, thank you."
Emma: I only do period pieces. Only with complicated love triangles. No, I think that it's that kind of thing where you have an awareness of it, especially if you're thinking about your career going forward, and what kind of stuff you want to do. But it would never be the sole reason.
Diana: I think you have a very timeless look and presence in that you can really just be in any place at any time. There's so much life in your eyes, and when I'm watching you, I can see you thinking, not about the lines, but the thoughts behind the character.
Emma: It's funny thinking about process. You get asked, "How do you prepare and stuff?" Initially, certainly when I was on The Crown and doing interviews about that, I would never know how to answer, because I was just starting out, and I had no idea how I prepared. It was funny doing that show, because I was surrounded by people who had been acting for such a long time, like Helena [Bonham-Carter] and Olivia [Colman], and they have such different processes.
Olivia very much rocks up and has that innate ability just to completely be in the character. She doesn't really rely on the material in the same way that Helena does, and does loads of research, and goes over lines religiously. I'm somewhere in between. I did a lot of prep for The Retreat, and I knew I had a really strong foundation. And I quite enjoyed — although I don't think the directors enjoyed this — leaving lines until the day of so that they didn't feel premeditated, and I was able to make them come from a place that felt real.
Diana: But I feel like our job is to be adaptable. I always do so much prep, but I still want to be fresh on the day. It's the beginner's mind, you let everything go so that you're able to change and be malleable for the next thing.
Emma: It really is about adaptability. You're so right. It's quite scary, but there's something about letting go.
Diana: You played Anna Delvey in Anna X on stage last year, which I heard was a hoot, and I wish I could have seen it. And you'll get back on stage soon when you reunite with the director from My Policeman, Michael Grandage, to star in Orlando, Virginia Woolf's 1920 novel about a character who lives for more than 300 years, and changes their gender during that time.
Emma: Yeah, talk about what time period you want to play — all of them! [Laughs]
Diana: You're like, "I am not bound by period." [Laughs] Had you already read the novel before the play came to you? Maybe it's an easy answer for you, but what made you want to take part in the play?
Emma: I'd seen the film. I hadn't read the book. But when Michael talked to me about it before I received a script or anything was concrete, I read the book last summer and loved it. It's such an original piece of queer writing, and fluidity, and a big fuck you to binaries in general. Binaries not just in terms of gender, but also in terms of time, and in terms of perception and society. It's just so good. Virginia Woolf is an absolute genius.
Diana: So ahead of her time.
Emma: So ahead of her time! It's crazy. I'm so excited. The stage is always really grounding. The rehearsal room in particular is a really magical space. It's such a safe space, I feel so at home there, I guess, because I started out doing theater. Sometimes, the last take of what you shoot is the best because you get to a point where you can let go and explore different stuff. There's so much fun to be had with that on stage because you get to a point in the run where you feel so at ease.
Diana: It's like muscle memory. I think most actors start out with theater. Learning your lines, memorizing the entire play. You have your binder, and you pace back and forth at home for two days learning the play. It's so freeing. The last thing you're thinking about is, "Do I know my lines?"
Emma: It's so different from film. They're such different beasts, and require so many different parts of you. A lot of the skills you need for film are so much about navigating the stamina for the shoot and the dynamics on set. That applies to theater as well. But there's so much sitting around and waiting on film sets. There's something really nice about having a bookended period of time when you're doing a show and performing for two hours. You just act. There's no stopping and starting.
Diana: The audience plays a part, whether they realize it or not. Their energy informs the room and dictates the mood.
Emma: There were some days for Anna X, which is a very modern play, when we had matinees where the audience was a bit older. The energy was so different. You could just tell they weren't completely buying into it. It really affects you on stage, you feel like you're battling. You feel like you have to prove something. On a Friday, Saturday night when people have a few drinks, we realized that the drunker the audience was for Anna X, the better it would be, because it started in a club, and it was really modern, quick, and funny. Friday and Saturday night audiences were always a blast. But the Thursday matinees, we'd just be like, "Oh, help us!"
Diana: How do you expect modern audiences to respond to a new staging of classic material? Do you ever think about that?
Emma: We'll just do it. I found that Neil Bartlett, the writer, is so clever, and he's integrated a lot of literary and film references. He's reflected Virginia Woolf's sort of stream of consciousness type writing. It's very fluid. I was like, "How do you adapt this for the stage?" I don't think it's surprising that no one has, because it's so difficult. It's also very different from the film, which I think is so good, because obviously that was so iconic, and Tilda Swinton in that role is so iconic. Initially I was like, "God, do I even try…" When I read the script, I was like, "Oh, this is a completely different thing and very original in itself, which is so exciting." It's an opportunity for people who love that book, and who love that story to see it done in a completely different way.
Diana: You can feel close to the world you're creating, when the world is really small. Are there specific roles that you are eager to play? People or stories you haven't tried yet?
Emma: Before I started acting professionally, I used to have such a long list. And now I am enjoying seeing what comes around more. I like being taken aback and surprised by stories that I stumble upon. There are so many talented people knocking about at the moment making really, really good stuff. There are so many first time filmmakers who have made such incredible stuff in the last few years.
Diana: As a young actor, what's the best piece of career advice you've ever received, and who was it from?
Emma: I have to go back to my journals to find good advice. Boundary setting has been a huge lesson for me in the last year. Learning to advocate for yourself in this industry, no matter where you are in your journey, is really important. Know that you have choice, and know that you have a voice. I'm still learning. It's very hard to be assertive.
Diana: And both of us are people pleasers. Makes it harder.
Emma: It's a blessing and a curse. It can serve you very well in life, but in this line of work, it can really end up being dangerous. You end up being walked all over. There's a lot to be said for drawing a line, being assertive, and there's a lot of power to be gained from that, and not in a bad way.
Diana: It regrounds you. You're planting your feet.
Emma: When you get into this industry there's a conception, probably because it's true, that you have to sacrifice a lot of yourself, what you want, and what you're comfortable with to get ahead. Historically, that has been true. We know how that's been taken advantage of, particularly by men. Now more than ever, there's a lot of power in creating boundaries, and speaking up, and recognizing what you want and need, and how to articulate that. But it's much easier said than done. "Emma, you don't mind working 18 hour days?" I'm like, "No, obviously, I'm fine!"
Diana: And 10 18-hour days later you're like, "I don't think I can work another 18-hour day…"
Emma: It ends up backfiring. Not being able to assert yourself on the limits of what you're able to manage as an actor in jobs that want to push you means that your performance is affected. And also, you forget that if you say yes to doing insane hours and stuff, which isn't necessary, then it also affects the crew. It's a trickle down thing.
People pleasing is actually not a good thing because you're not only damaging your own wellbeing and what you're prepared to do, but also you're damaging that of the crew, because you are the one who can assert those boundaries. Which is fucked up in itself. But it's an interesting lesson.
Diana: A more lighthearted question: what's your favorite way to spend a day off?
Emma: Probably walking somewhere with my dog, seeing my friends, and just being present, and still. I don't know if you find this, but I feel like in our work, we're always so go, go, go that it takes me so long to realize that I don't have to do things on my day off. I always get anxiety about filling my days, and actually I enjoy myself so much when I'm just not doing anything. Totally mindless. It's the best.