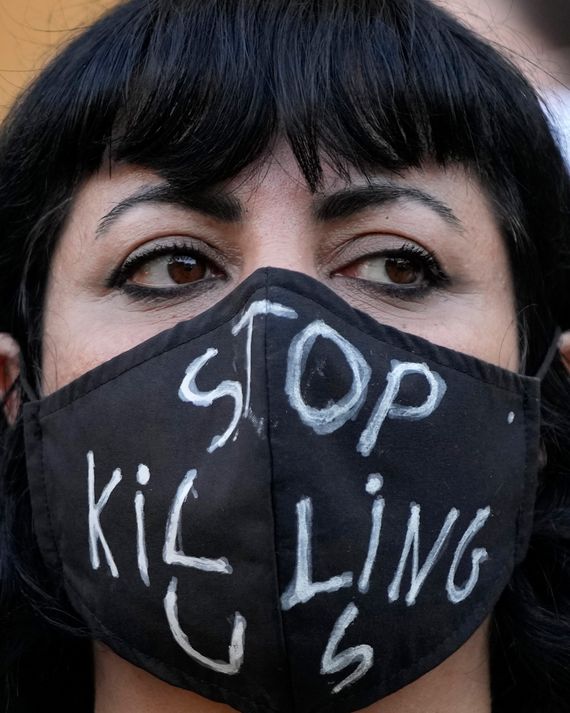 A woman in Lebanon protests the death of Mahsa Amini on October 2.
Photo: Hassan Ammar/AP
This article was featured in One Great Story, New York's reading recommendation newsletter. Sign up here to get it nightly.
Four weeks into this new Iranian revolt, I am thousands of miles away watching women burn their hijabs. I am watching people get beaten and riddled with bullets, protesters dragged into custody, parents weeping while their child lies dead in a hospital bed on the other side of a door.
I alternate between fierce pride and fear. All I want is to get on a plane, get to Iran, and join them.
I should be there. I was born in 1979, a child of the revolution, and my family was one of many that were torn apart in its aftermath. It has been 18 years since I lived in Iran and 40 years since my mother fled for her life with me as a toddler in tow.
Like me, thousands of hyphenated Iranians are experiencing the protests from afar. We're scrolling through our social-media feeds and messaging apps, gasping, cheering, and weeping as family and friends send us images and videos of demonstrations. These snapshots show women and, incredibly, girls standing firm against the will of their oppressors. They are also glimpses into the casual violence and torture being perpetrated against Iranians asking for a regime that will respect their personhood and lead the country out of crisis.
There are protests in at least 80 cities across the country, and the government has responded with brute force: Police have reportedly tossed tear gas into an elementary school, arrested children, and visited hospitals to round up any injured person they suspect of participating in the uprising. Since the protests began on September 16, more than 200 people have been killed, including 19 children, though the actual numbers are likely much higher.
For those of us who are far away, we feel both part of this moment and, painfully, far from it — a duality that mimics and shadows the reality of diaspora. Still, many of us who claim Iran as our homeland recognize ourselves in the faces of those marching, fighting, and facing down bullets. We are, all of us, connected — my Iranian sisters and brothers, their children and our elders, all those who have been relentlessly protesting the current regime.
In the United States, we talk about freedom, but this is how people claim it. This latest grasp at change started after Kurdish Iranian Mahsa "Jina" Amini died last month, when the morality police arrested her for "inappropriate attire" and allegedly beat her to death in custody. Her killing set off this uprising; she was the spark but not the cause. Iranians are angry and grieving after the devastation of COVID, after working lifetimes for piles of now-near-worthless currency and seeing their economy dying and gasping for breath. This is what happens after four decades of sanctions, a century of being used by monarchs and batted around by outside powers, first the British and the Russians and then the Americans. This is Iran after 43 years of an Islamic republic that plundered its resources, stripped its culture, and stifled its people.
Amini wasn't the first Iranian to die — certainly not the first woman. She was just one in a long, unbroken line of us who have been used and discarded by governments foreign and domestic. Today, while roughly 80 percent of Iranian women are literate and make up about 60 percent of college graduates, they're also suffering under the weight of widespread unemployment and underemployment. They're buckling under the scourge of mental illness and depression that comes with facing down a future that promises hardship, sickness, and poverty.
But it's not surprising that women have emerged as the greatest threat to the Islamic regime. Iranian women have been at the forefront of political movements in Iran at least since the middle of the 19th century. They were integral to the nation's first attempt to move away from monarchy at the turn of the 20th century. The men of the Constitutional Revolution focused on creating a more representative government, while the women assembled, protested, and marched both for a more progressive system and for their right to education and suffrage.
Their movement flourished for decades until the 1930s, when Reza Shah, the monarch, essentially outlawed women's right to organize. He wanted the country and its people to appear modern and forced his subjects to change how they dressed: Women had their hijabs and chadors, full-body coverings, ripped from their heads and pulled off their bodies. Women who chose to remain covered were barred from using public facilities and were physically harassed by police. In order to be safe, many chose to stay home, deciding to retreat indoors rather than risk humiliation outside.
This history is also intertwined with my family's story: My grandmother, for example, was one of three women admitted to the University of Tehran in 1938. In 1975, more than a decade after women won the right to vote and serve in elected positions, Mahnaz Afkhami, my aunt, was appointed to lead the newly created ministry of women's affairs. Within a year, she helped pass a package that included a guaranteed seven-month maternity leave, part-time employment for mothers after the birth of their child, and health care for every child until age 3.
There were also hundreds of thousands of women, religious and secular, who joined in the movement against the Shah, which exploded into the revolution of 1979. Among them was my mother, a leftist revolutionary who understood the power of a vast politically informed and dedicated people. For a decade, she helped organize outside Iran and raced back in February 1979, weeks after the Shah left for good.
Not long into that revolution, Ayatollah Khomeini and his sycophants took aim at women. The hijab and the chador became the law and a symbol of the regime, and yet women organized enormous days-long protests. At issue wasn't just the forced covering of women but the fear that rights for all people would quickly erode. My father's arrest and my mother's exile in 1982 meant that I learned about Iran's struggles from a distance — and I grew up thinking I would never be able to go back.
Then in the late 1990s, one by one, family and friends started to visit Iran again; in 2003, I got the opportunity to live and work there. Every day, I would take the bus to my office in central Tehran. I would pay at the front and then walk to the back door, squeezing into the small women's section in the rear of the bus.
When I chose to leave a few months later, I was sure it wouldn't be forever. Now, nearly two decades have passed, loved ones have died, cousins have grown from babies into adults, and almost everyone I had once worked with has either been imprisoned or exiled. It isn't safe for me to return, so I haven't.
As I was reporting for my memoir in 2018, I found myself circling my homeland and felt weighed down by the grief of not being able to enter. I swam in the Persian Gulf, off the coast of Dubai, and stared into the horizon; I drove up to Iran's border with Turkey in an effort to retrace our family's escape. My grief connected me to the country and to the people; my personal loss of family, language, and culture mirrored a larger loss, one that comes from generations of Iranians made hyphenated. But I know this: Everything comes to an end, even empires and despots, even grief and separation.
Whether it's the clerics now, the ayatollah who forced half the country to be covered in the 1980s, or the Shah who ordered his forces to rip the scarves from women's heads in the 1930s, Iran's rulers keep using Iranian women as billboards. Religious or modern, they treat our bodies as symbols to telegraph a message about who they are. Their intentions don't matter. In the end, it's all the same: They pushed us down, tried to bend us to their will, tried to keep us apart. Now women are burning their head coverings to demonstrate their authority over their bodies. Women are cutting off their hair because it's one way Iranian women mourn, a cultural expression of rage and grief.
What feels new about these protests is that the women aren't alone: Men and queer people, old and young, are following them and joining this nascent revolt. Iranians are speaking out as one, amplifying one another against religious leaders inside the country and waking up many on the outside. Whether this movement is brutally crushed, many of us believe that we have reached a fulcrum, a point when the end of the Islamic Republic as we've known it feels not only possible but inevitable.
In order for this to happen, protesters need help. At minimum, they need safe, secure, and reliable internet access. They're calling out for international witnesses. They're demanding that the Iranian diaspora, those who can return to Iran and those of us who cannot, put aside our differences and our own traumas and translate their message.
We know what we're seeing is a century of rage pouring out of their bodies, spilling onto the streets. We know because our bodies hold fury and grief, too. We recognize that this is what it looks like to have nothing left to lose. This is hopelessness made visible, channeled into a popular movement. This is what it means to want to live so badly you're ready to die.
Neda Toloui-Semnani is the author of They Said They Wanted Revolution: A Memoir of My Parents.