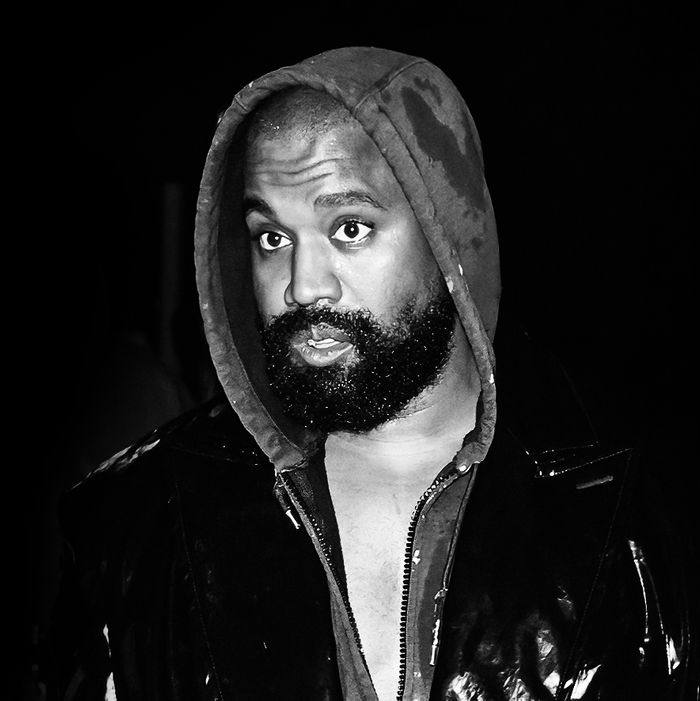 Photo: Gilbert Carrasquillo/GC Images
Weeks after endorsing the conspiracy theory that George Floyd died of a drug overdose during an appearance on the Drink Champs podcast, Ye, formerly known as Kanye West, apologized for his comments as Floyd's family reportedly gets ready to file a $250 million lawsuit.
Attorneys for Roxie Washington, the mother of Floyd's daughter, Gianna Floyd, announced plans to file a lawsuit against Ye on Tuesday, October 18, citing "harassment, misappropriation, defamation, and infliction of emotional distress." The announcement was in direct response to Ye's Drink Champs interview, in which the rapper and fashion designer went on multiple rants, doubling down on antisemitic conspiracy theories and praising Candace Owens's new documentary, The Greatest Lie Ever Sold. In the documentary, Owens accuses Black Lives Matter of being a scam and makes the unfounded claim that Floyd died of a fentanyl overdose, which Ye repeated in the interview. As noted by the Washington Post, the claim that Floyd's death had been caused by the fentanyl in his system was already refuted at the trial of Derek Chauvin, the officer who kneeled on Floyd's neck for over nine minutes. Two autopsies confirmed that Floyd died of cardiopulmonary arrest caused by the officer's actions.
A press release announcing the lawsuit, to be brought by Witherspoon Law Group and Dixon & Dixon Attorneys at Law, accused Ye of making false statements about Floyd "to promote his brands, and increase marketing value and revenue for himself, his business partners, and associates." Witherspoon attorney Nuru Witherspoon said Ye's statements were "creating an unsafe and unhealthy" environment for Floyd's young daughter. Attorney Kay Harper Williams, also of Witherspoon, added, "Free-speech rights do not include harassment, lies, misrepresentation, and the misappropriation of George Floyd's legacy. Some words have consequences and Mr. West will be made to understand that."
Ye's controversial Drink Champs episode has been removed from the official Revolt TV YouTube channel and is no longer available. "The recent interview with Kanye West contained false and hurtful information regarding the circumstances surrounding the murder of George Floyd," a rep for Drink Champs said in a statement, as reported by The Hollywood Reporter. "We apologize to the family of Mr. Floyd and anyone else hurt by this episode." (This move appears to have come after civil-rights attorney Lee Merritt tweeted that Floyd's family was considering a lawsuit.)
Ye has not yet publicly responded to the suit. He did, however, appear on Chris Cuomo's NewsNation show the Monday following his Drink Champs interview, where he again stood by his antisemitic views. During the interview, he appeared to dodge a question about his mental health. Ye has been public about his history of mental-health issues and bipolar disorder. Some have suggested he appears to be exhibiting symptoms of mania.
Almost two weeks later, after having been dropped by Adidas, Balenciaga, and CAA, Ye told paparazzi that he had been "humbled" by recent events. "When I questioned the death of George Floyd, it hurt my people," he said in part. "I want to apologize. Because God has showed me — by what Adidas is doing, by what the media is doing — I know how it feels to have a knee on my neck."
This post has been updated.