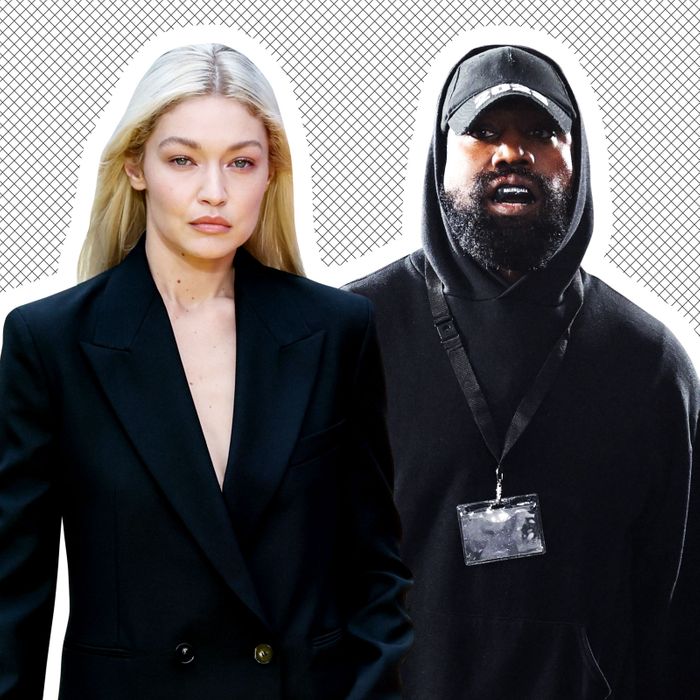 Photo-Illustration: The Cut. Photos: Getty Images
It all started with Ye's "White Lives Matter" T-shirts, which feature the slogan — categorized as "hate speech" by the Anti-Defamation League — on the back and a graphic of Pope John Paul II on the front. Ye himself wore the T-shirt, matching with guest Candace Owens, at his YZY 9 show during Paris Fashion Week. The message caused editors to leave and others to speak out against the harmful phrase online. DJ Venus X wrote, "This is not it. This is propaganda. This is violent."
"I'm fuming," wrote Gabriella Karefa-Johnson, stylist and Vogue contributing editor, on her Instagram Stories alongside a video of a Black model wearing the shirt on the runway. "Indefensible behavior." She expanded her thoughts in subsequent Stories, writing in part that while she thinks she understood Ye's intentions — "He thought it was duchampian" — she doesn't think it was effective. "He was trying to illustrate a dystopian world in the future when whiteness might become extinct or at least would be in enough danger to demand defense," she wrote in messages to a friend, screenshotted and shared to Instagram. "But the danger is that, this very premise, the idea that white supremacy is in danger of extinction is what justifies mass incarceration, murder en masse, indeed even the advent of slavery," she continued in her messages. Adding more context to the messages on her stories, she called the shirt "deeply offensive, violent, and dangerous."
Ye then began an indefensible bullying campaign against Gabriella Karefa-Johnson" on Instagram. In one since-deleted post, which featured a photo of what appears to be the stylist out and about, Ye wrote, "This is not a fashion person You speak on Ye Ima speak on you Ask Trevor Noah." He then posted a close-up of her boots and brought in Vogue's Anna Wintour, writing, "I KNOOOOOOW ANNA HAAAATES THESE BOOTS." Wintour was, coincidentally, at the YZY show and has yet to personally comment publicly about Ye's behavior.
But Gigi Hadid has. She commented on one of his many posts, sticking up for Karefa-Johnson: "You wish u had a percentage of her intellect. You have no idea," she wrote. "If there's actually a point to any of your shit she might be the only person that could save u. As if the 'honor' of being invited to your show should keep someone from giving their opinion..? Lol. You're a bully and a joke." Hadid also shared her support for Karefa-Johnson on her Instagram Stories, calling her "one of the most important voices in our industry" who could "school that disgraceful man in more ways than he knows."
Others spoke out as well. Hailey Bieber posted on her Instagram Stories, "GKJ ALL DAY, EVERYDAY. My respect for you runs deep my friend!" Ye also posted a message, supposedly from fashion designer Mowalola Ogunlesi, that implored him to have a "real conversation" about the shirt instead of attacking Karefa-Johnson.
Ye also took aim at Bernard Arnault, the man who heads LVMH, which owns Louis Vuitton, among other luxury brands. "Can't we talk about more important things like how late the show was or how Bernard Arnault killed my best friend," he wrote in a separate post, seemingly referring to Virgil Abloh. "Everyone's got a right to an opinion right there's mine." Supreme creative director Tremaine Emory shared Ye's post on his own Instagram page, calling him out: "I gotta draw the line at you using Virgil's death in your 'ye' is the victim campaign in front of your sycophant peanut algorithm gallery," he wrote. Emory then claimed that Ye once told his Yeezy employees that "Virgil's designs are a disgrace to the black community," suggesting they weren't as close as Ye insisted. "Ye tell the ppl why you didn't get invited to Virgil's actual funeral," he wrote. "Keep Virgil name out your mouth… Keep @gabriellak_j name out your mouth," he concluded.
Things got even more hectic later on Tuesday, when Ye posted another photo of Karefa-Johnson, claiming the two of them had met privately to hash things out. "GAB IS MY SISTER," he wrote in the caption. "IM NOT LETTING PEOPLE GO TO BED THINKING I DIDN'T MEET WITH GABRIELLE AT 5 PM TODAY FOR 2 HOURS THEN WE WENT TO DINNER AT FERDIE." (As Hadid pointed out in the comments, "It's Gabriella.") He also claimed that Wintour had arranged for Australian filmmaker Baz Luhrmann to film their meeting. He concluded:
WE APOLOGIZED TO EACH OTHER FOR THE WAY WE MADE EACH OTHER FEEL WE ACTUALLY GOT ALONG AND HAVE BOTH EXPERIENCED THE FIGHT FOR ACCEPTANCE IN A WORLD THAT'S NOT OUR OWN




SHE DISAGREED I DISAGREED WE DISAGREED




AT LEAST WE BOTH LOVE FERDIE AND FASHION
Vogue eventually came to Karefa-Johnson's defense on Tuesday, confirming in an Instagram post that she had indeed met with Ye:
Vogue stands with Gabriella Karefa-Johnson, our global fashion editor at large and longtime contributor. She was personally targeted and bullied. It is unacceptable. Now more than ever, voices like hers are needed and in a private meeting with Ye today she once again spoke her truth in a way she felt best, on her terms.
This post has been updated.