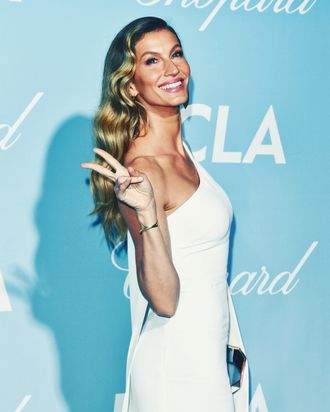 Dump him :')
Photo: George Pimentel/Getty Images
For many years now, I have sustained a passive but steadfast belief that Gisele Bündchen should dump Tom Brady. I do not have particular feelings about Gisele, nor about football, but her husband? With his MAGA hat in his locker and his buddy-buddy friendship with Donald Trump and his acceptance of like $1 million in PPP loans despite his nine-figure net worth and his long-standing refusal to eat even one single strawberry? The guy whose late-stage career choices subjected me to an endless loop of push notifications saying that Tom Brady might retire then had retired then took it all back, as if I asked? To quote Brady's fellow quarterback and professional enemy Ryan Fitzpatrick, "He just pisses me off."
Gratifying, then, to not only see Gisele do the thing, but also do it in a way that looks, from the outside, liberating: like she is simply over it, and you can see why. Gisele largely shelved her career and her legitimate concerns about her husband's health as he continued to play a dangerous, brain-damaging sport for way longer than probably anyone expected. (Brady, freshly recruited to the Tampa Bay Buccaneers, is 45 years old.) She says she has homeschooled their children in a bid to spare them excessive social upheaval as their allegedly not-so-available father embarks on a short-term stint in a new town. In her own words, "I moved to Boston." And now she appears to be moving on with her life, taking off her wedding ring and enlisting the energy healers and burning Brady's scent-memory from her SUV. She's leaving prayer-hands emojis under inspirational quotes posted by former monks on Instagram. ("You can't be in a committed relationship with someone who is inconsistent with you," amen, sister.) She is, according to People's sources, "done," and good for her.
Meanwhile, our celebrity QB, how is he doing? He is said to be hurt: in a physical sense, after injuring his shoulder in the game his new team lost on Sunday, and also in an emotional one. Gisele, according to another of People's informants, "is the one steering the divorce," placing Brady in the unfamiliar position of having to play defense. Apparently this isn't very fun for him, a guy so used to winning that he sometimes appears to view it as his right. "Think about it: Tom has had a very charmed life," says the source. "Things always seem to go his way. He works hard, he's a good guy, he hasn't had a lot of things go wrong in his life. This is awful for him. You can tell that this really, really hurts."
The dissolution of a 14-year marriage is surely painful for everyone involved. Still, the subtle "Nicole Kidman fist-pumping post-split from Tom Cruise" energy coming off of the coverage makes it hard not to root for one side in particular. I don't know much about Gisele. I seem to remember something about wearing a burka as a disguise, and I suspect she may actually be responsible for Brady's strawberry-free diet. I also think it is reasonable to want your partner to spend more time with you and your children, and less time murdering their brain on the field. As the tabloids have it, the tension over Brady's prioritization of his career has been simmering for something like a decade, and even the couple's friends are, allegedly, annoyed at Brady for going back on his promise to finally retire, bitch. Although neither party has commented on the situation directly, Gisele's recent interviews hint at her position.
"Obviously, I have my concerns — this is a very violent sport, and I have my children and I would like him to be more present," she told Elle in September. "I have definitely had those conversations with him over and over again." Adding that "he needs to follow his joy, too," bless his heart, she continued, "I've done my part, which is to be there for [Tom]." And now? "Now it's going to be my turn." Hell yeah. Get it.