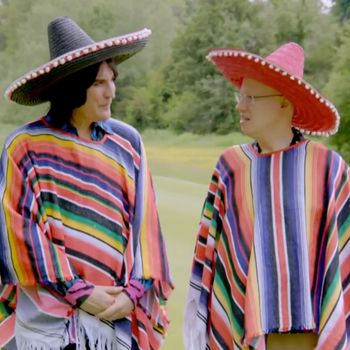 Great Britain is not known for having a wealth of Mexican cuisine, but you'd think that in today's world the people on Great British Bake Off would know how to eat a taco — or at least how to pronounce "guacamole." Sadly, based on the clips from GBBO's Mexico Week episode, this does not appear to be the case.
Backlash to the episode, which aired on Channel 4 this week in the U.K., began on Tuesday, when the official GBBO Twitter account shared photos of hosts Noel Fielding and Matt Lucas wearing ponchos and sombreros. The photos show what was their opening joke to the episode. "I don't feel like we should make Mexican jokes because people will get upset," Fielding said. "What, not even Juan?" Lucas replied. "Not even Juan." Ignorant dads everywhere are rolling on the floor laughing, I'm sure. The graphic was promptly circulated around social media, with many calling the joke racist.
I'm sorry to say it only got worse from there. In one particularly egregious scene, judge Paul Hollywood mansplained tacos to his fellow judge and one-time cat drowner Prue Leith, telling her that the key is the tortilla that has "got to be pliable," and talking over a plate of perfectly good tacos that have likely gone cold and mushy by the time he actually let her eat one. "For me, this is Mexican cooking on a plate," Leith said. "Can I have it for my lunch?"
For Mexico Week, contestants took a brief break from baking as they were tasked with making tacos, resulting in way too many mispronunciations of "guacamole" and "pico de gallo." At one point in the episode, Fielding asked Lucas if Mexico was "a real place," in what one hopes was an attempt at humor. "I think so," Lucas said. "I think it's like Xanadu." Haha? Even the show's Twitter account got in on the "fun." After the episode aired, the account thanked fans for tweeting along, adding that there was "plenty to taco bout." The theme also set the bakers up to create some questionable cakes in the second half of the episode. One contestant, Sandro, made a tres leches cake themed "It's a Fiesta," which for some reason involved paint splatters and a giant mustache.
Oh, Sandro, you may be hot, but this is not it.