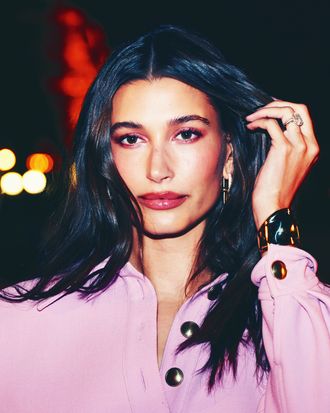 Photo: Pascal Le Segretain/Getty Images
Hailey Bieber is attempting to clear the air with regard to Selena Gomez. In the season-two premiere of the podcast Call Her Daddy, host Alex Cooper dedicated a large chunk of time to questioning Bieber about the long-standing rumors that she was involved with her now husband, Justin Bieber, while he was still in a relationship with Gomez. "We're all so far moved on from any type of drama," Hailey Bieber said, adding that she's "nervous talking about it because I don't want to stir anything up."
Hailey and Justin got engaged in July 2018, a few months after his breakup with Selena was first reported. Since then, fans have obsessively picked apart social-media posts, lyrics, and red-carpet appearances for evidence that there's lingering drama surrounding this (admittedly short) relationship timeline. Some avid Gomez fans have accused Hailey of "stealing" Justin — as recently as 2021, they camped out at the Met Gala to chant Gomez's name when Hailey and Justin arrived on the red carpet. In April, Hailey posted a TikTok video asking commenters to "leave me alone at this point." "Enough time has gone by where it's valid to leave me alone," she said, which some interpreted as a reference to her husband's relationship with Gomez. "Be miserable somewhere else, please." Sure enough, less than a month later, some of Gomez's TikTok followers assumed she was mocking Hailey's frequent skin-care tutorials by posting a silent skin-care video. Gomez clarified in the comments, writing, "Guys no idea what I did but I really am sorry. Zero bad intention. Deleting soon." The video appears to still be up on her TikTok page, but comments are disabled.
In this week's episode, Hailey responded to Cooper's extensive questioning: "I was never with him when he was in a relationship with anybody," she said. "I understand how it looks from the outside," she continued, attempting to confirm once and for all that there's nothing suspect about the timeline of her marriage, "but they were not in a relationship at that time." She said she didn't "want to talk on either one of their behalf" but said about Justin, "I know that it closed a chapter, and I think it was the best thing that could have happened for him to move on and be engaged and get married."
She added that Gomez "doesn't owe me anything," emphasizing that "there's no drama personally" and "it's all respect, it's all love." She also discussed the photos from the Met Gala red carpet in which she appears to be crying as people chant Gomez's name, saying she had something in her eye and put sunglasses on because they were "part of my look."
Gomez appeared to respond to the podcast in a TikTok Live on Thursday. While she did not mention Hailey or Justin by name, she condemned hateful speech online. "I think some of the things that I don't even need to be aware of are just vile and disgusting, and it's not fair, and no one ever should be spoken to in the manner that I've seen," she told her followers. "All I have to say is it's incredibly ironic that I would release something that is all about kind words 'cause that's exactly what I want. That's it." Seeming to reference the hate directed at Hailey, she added, "So it ain't comin' from me."
Gomez and Bieber seem eager to move on from the drama. A few weeks after Bieber's Call Her Daddy episode was released, Hailey and Gomez crossed paths at the 2022 Academy Museum Gala, where they posed for a photo together. In the pic, posted by photographer Tyrell Hampton on Instagram, there appears to be no bad blood. In fact, the two look almost close — they're even physically touching. Hampton did not provide context for the photo, only writing, "plot twist" in the caption.
Speaking with Cooper, Hailey addressed another aspect of her marriage that's been brought into the public eye far too much for my liking: their sex life. Previously, Justin has called sex with Hailey "pretty crazy," "pretty freaky," "kind of confusing," and, most poetically, "yummy." Hailey has been slightly more oblique but once suggestively confirmed that Justin has "good hands" and said they are a "married man and woman" who are "comfortable with their sexuality." In this episode, she added a few details, responding to several truly graphic questions from Cooper that included a "Would you rather?" that I won't repeat here. Anyway, I now know that Hailey and Justin's go-to sex position is "definitely not missionary" and that she "really likes doggy style." Here's an idea: How about no one asks either of them about sex or Selena Gomez ever again?
This post has been updated.