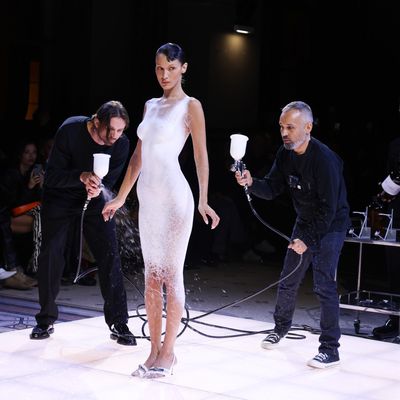 Photo: Pierre Suu/Getty Images
Last night, at the finale of the Coperni show, Bella Hadid walked to the middle of the runway — wearing only a G-string, holding her breasts — as two men began to spray her body with what appeared to be white paint. Sure, there were immediate connections to another moment in fashion history: Alexander McQueen's spring 1999 show, when Shalom Harlow's dress was spray-painted by robots. It looked similar, but this was different. It took about 15 minutes, but as the men finished spraying on a dress, a woman came and cut a slit and pulled down Hadid's sleeves to make an off-the-shoulder look. As Hadid walked away, the dress moved with her. Wait … what?
The story behind the spray-on dress started with a can of silly string and a man named Dr. Manel Torres. "I thought I could create a mist," he said in a 2013 TED Talk. "That was the eureka moment." Torres, who studied fashion design, had the idea to spray on a T-shirt (think of a spider web, he said) but he didn't have the knowledge to create such a product. He went to Imperial College in London, known for their innovations, with his thoughts. They liked his idea, and gave him resources: a lab and materials to play. After two years, and lots of trial and error, he started to get results.
In 2003, Torres created Fabrican — a liquid fiber, bound together with polymers, bio polymers and greener solvents, that evaporates when the spray reaches a surface, in this case, Hadid's body. According to Torres, the fabric feels like suede and can be manipulated like any other. Hence the woman who cut a slit into Hadid's dress. But that texture can change depending on what fibers are used (can be natural or synthetic fibers) and how it is applied.
Enter the Coperni designers — Sébastien Meyer and Arnaud Vaillan, known for their innovative designs like a glass bag — who created a design of their own. That design was realized using the Fabrican and 3-D technology, and built, in front of a fashion crowd and Kylie Jenner, on Hadid's body. It moved like a second skin, fitting her body seamlessly. In fashion, this technology can be used to make a whole dress, à la Hadid, or even to repair old pieces of damaged clothing. Their plan is to take this technology to the medical industry, being able to make casts or spray-on sterile bandages from aerosol cans.
"Fashion designers need new materials and fabrics to create products to address evolving lifestyles and consumer demands," wrote the show notes. "In the 21st century we should make it the first time that science and design really march together in close step, illustrating in this way their interdependence."
Bella Hadid posted a photo of the dress and wrote: "Only together we can make this magic. I am still speechless. She later posted another one that said: "No rehearsal, no nothing, just passion." No rehearsal?
Eureka indeed!