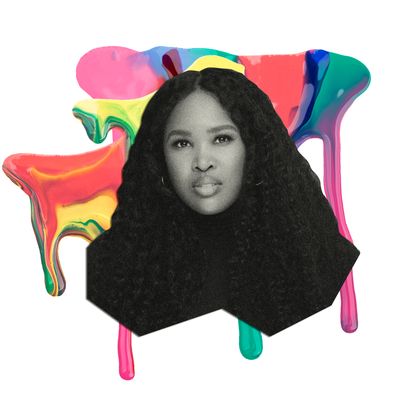 Photo-Illustration: by The Cut; Photo: Courtesy of Nikki Nelms
If you've seen the '80s action series MacGyver (or even the SNL spoof of it), then you'll know exactly why Nikki Nelms calls herself the MacGyver of hair. Her resourcefulness is unparalleled, and she creates a moment every time her clients put their hair in her hands. The best of the best rely on her skills, including Janelle Monáe, Zoë Kravitz, Doja Cat, and Yara Shahidi. Who did Serena Williams call on to style her hair for her final tournament? Nikki Nelms, of course.
For Nelms, hair is art. Like other great artists across mediums, she's honed her craft over time. She's been shaping and styling since she was in the third grade and got her first job at a salon in the ninth. Later, she balanced going to cosmetology school with classes at Florida State University. Now, along with being the go-to hairdresser for some of the biggest stars in the world, she's also an ambassador for the hair-care brand Maui Moisture. In her role, she shows the everyday consumer how its products can work for their daily routines and increases global awareness around the brand. Nelms travels all around the world on a regular basis but calls Brooklyn her home. While on a rare day off, she told us how she gets it done.  
On figuring out her path: 
Everything about my career has been easy, including how I got my first client. I guess that's how you know something is for you — it's like breathing to me, so it doesn't feel like work. When I was in college, that felt like work. It wasn't my thing. I remember feeling like I should go and become a "professional," like being a proper hairstylist was something you chose if your "real" career didn't work out. So at FSU, I had to put in a lot of energy to make sure I was getting what I needed out of it. But when I went to cosmetology school, it was the easiest thing I'd ever done. It felt like a scam for me almost, it was so fun. They had two shifts, morning and evening. I went to both of them and would've done an overnight class if they had one.
On (not) establishing daily routines:
I don't have the kind of lifestyle where I have a morning routine because no two days are the same. I've gotten to the point where I don't buy groceries in advance because I don't know if I'll actually have time to eat them.
On being prepared for last-minute work travel:
I do keep a simple toiletry bag packed and ready — I never unpack it. And I love to travel with my sample-size fragrances so I can leave my personal bottles at home. It's a total space saver.
On being selective:
I'm not one to do something just to say I'm working. I believe in having downtime and resting until something feels important. I lean into things that speak to me in a creative way versus jumping into something to look busy.
On the unique challenges of her job:
Scheduling is really hard sometimes because the clients I have tend to be working at the same time. If it's an awards show, then they all need to be there, so I have to split my time. I'd love for them to figure out cloning sooner rather than later so there could be three of me. I was just shooting a film in Mexico City and Merida for two and a half months and I felt bad because my other clients had projects.
New clients have a hard time understanding my process at first. People have a hard time trusting these days. They want you to prove that you're capable and they want you to show them first. We don't have a connection yet, and they want me to show them what I mean. It's hard because my creations live in my head. And that's not really how art works because trust comes from the feeling. I'm trying to get them to trust a vision that we can't pull from Pinterest because it hasn't happened yet.
On collaborating with clients:
I typically get the vision of what the shoot will be and their intentions from the initial mood board. I work in a strange way because I know the one style we should go with and my mind won't allow for anything else. I can literally see what will work the best. We can force it, go through a few options, and look for more, but there's usually one idea that fits. At this point, they trust me and they'll agree to go with it. Or we might tweak it slightly. I like to make original styles, and you can get that in their purest form if you go with the moment. I don't like to overthink and I don't want to be too influenced by doing a ton of research. My longtime clients and I have a connection and we can literally feel the same things. We don't even have to speak sometimes because we can just look at something and collectively know that's it.
On how she maintains balance and takes care of herself:
I have a couple of friends who are in this business but aren't hairstylists who I can vent to and release my feelings with. I keep my circle small, lean on the people in my circle for important conversations, and I make sure to get massages.
I try to find time when I'm not thinking about hair because it can consume me. I give myself breaks when I'm not thinking about someone's haircut. I keep some time for myself and do something creative that's not about hair, like thrifting, and the little things I like to do release stress, anxiety, and worry about the projects I have coming up. I have to be at my best for my clients. And I will only be good for them if I'm good to myself. Luckily, my clients and I are on the same page about this, so I don't have to feel bad for taking a break.
On ambition and recognition:
Out of the gate, I was ambitious and felt successful. I'm not as hard on myself as other people are. I try to take a more relaxed and realistic approach. I work as hard as I want to, even when others say I should slow down. If I'm not in the mood to slow down, I don't.
Every few months, I'll get an email about someone wanting to give me an award for being the "best new artist." So clearly they don't know I'm like a dinosaur in this game. I just ride my own wave, which is how I stay fresh and hardworking. That's how I stay successful and ambitious on my own terms. I do my own thing and look forward instead of to the left and the right.
On dealing with negative criticism:
Early on, I realized how people work and that sometimes their criticism isn't even based on them not liking a style. They might be going through something or that may be the way they're processing not being a part of something great. Jealousy comes out in different ways.
When I was in high school, my style was weird, but I really liked the way I dressed. Some kids would laugh, but then the next school year, they'd try the same thing. I realized then that's how they dealt with not knowing. So I believe in giving people time because sometimes they're just venting and using you as the target.
On the advice she'd give the next generation of stylists:
The only thing I worry about is whether the advice I needed at their age would still work. When I came up, things weren't expected to move as quickly. We didn't have social media that could instantly bring you visibility. But I will say work on your craft. Work on your skill set and learn everything you can about what you're doing. There will come a time when you need to be the expert. There are certain techniques that I've worked on for years. You want to bring more to the table than just looking like a stylist.
This interview has been edited and condensed for length and clarity.