The year is 2013, and 18-year-old me was obsessed with Miu Miu's spring-summer eyewear campaign. I needed to own a pair. Just my luck: My eyesight was starting to go downhill. So I did what any freshman in college working her first job would do: I spent all my hard-earned money on my first designer item.
They were my prized possession, and almost ten years later, they still are. After a college degree, a life-changing move, and six years in New York City, they became an extension of my face. When I talk about "cost per wear," these frames are the poster child for that term. However, my eyesight had different plans. I needed an updated prescription and some new frames that would match my farsightedness.
This time, I had the income to not feel as guilty about investing in another pair and the contacts to make the whole process easier. I made an appointment at LensCrafters.
Tip 1: Come prepared with certain criteria.
My criteria: I wanted a familiar shape but didn't want those little nose pads and didn't want metallic frames. Sometimes it's easier to know what you don't want than what you do. So come with a pair you already love, whether it's some sunnies you want to convert into eyewear or a pair from a very niche brand — your local ophthalmologist or your nearest LensCrafters can simply change the lenses of your glasses. (There might be an added fee, so always discuss that beforehand!) For example, before my appointment, I brought this new Miu Miu frame because (1) I already know the quality is superb, and (2) I know the brand's frames fit my face.
Tip 2: Know the names of shapes you like.
There are round, aviator, oval, cat's-eye, rectangle, square. If you're like me and you've spent the past decade staring at the same frames, you might not want to jump into a bold new shape from the get-go. Instead, pick a similar silhouette so you are reassured that, in case all goes wrong and you feel as though you look like [insert character who wears glasses you don't like], there will be a pair that will feel like a comfort blanket.
I went and tried on first these cat's-eye Bvlgari ones. While slightly bigger than current my Miu Miu ones, they still fall right under my eyebrows and frame my face nicely. However, they were too similar. The search continued!
If you're looking for your first pair, I would suggest you try on a cat's-eye shape since it's the right mixture of classic and bold. From there, you can decide which route you want to take.
Tip 3: Try on a shape outside your comfort zone.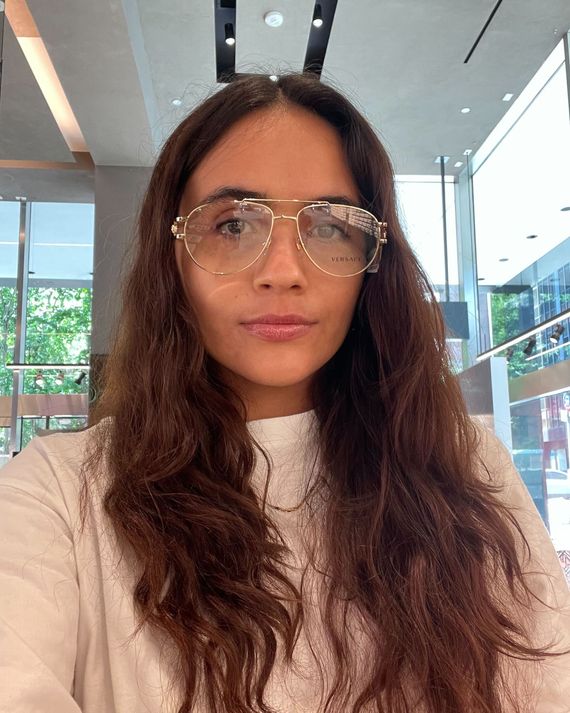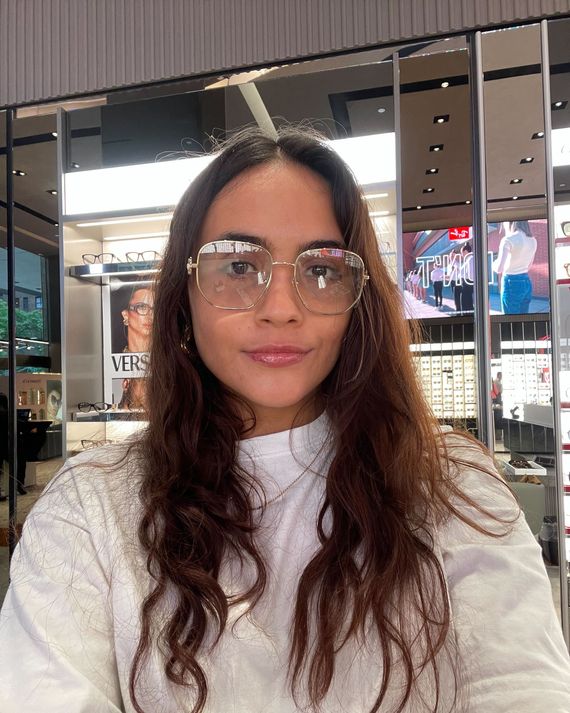 In my case, it's these creepy-dude glasses. (They are the No. 1 identifier of creepy characters in movies, am I right?)
Both of these Versace options were good in theory but not in practice because they hit my eyebrows at a weird place, covering them just slightly but not completely. I also discovered I didn't want to go the metallic-frame route.
Tip 4: Stick with ones you like. (You can always have two pairs.)
These checked off all my boxes: They didn't have nose pads, they weren't metallic frames, and I felt as confident and comfortable with them on as I did with my original frames. (Plus I felt like the kid from Stuart Little 2. And I didn't hate it.)
Will they last me ten years? Honestly, I'm not sure. But they have such a strong aesthetic that I can see them becoming part of my personality from here on out.
Plus, just as with shoes, it's okay to have two pairs. These are my fun pair, and the Miu Miu from Tip 1 (yes, I got those too) are my classic pair. When all else fails (and your budget allows), you just have to listen to what a great philosopher said once, "¿Por qué no los dos?"
For more from the Cut Shop team, follow us on Instagram and Twitter, where we share our best new finds, favorite styling tricks, and more.