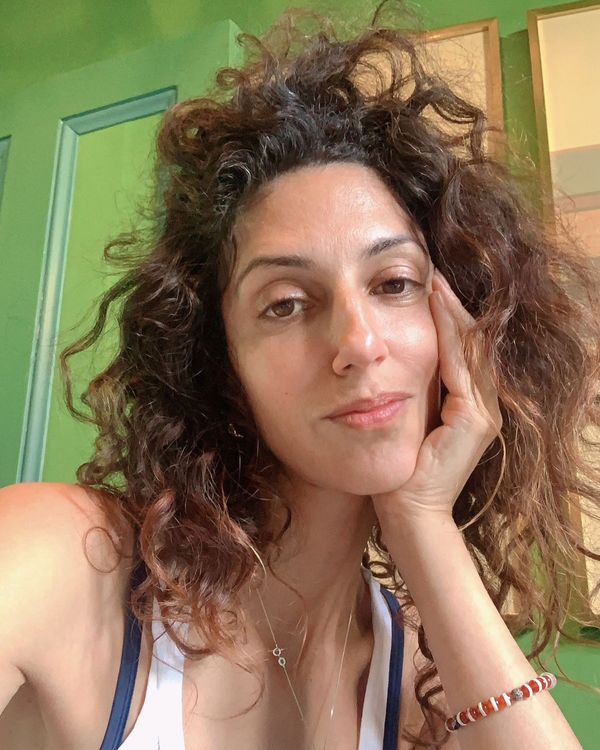 If "protect your energy" were a person, it would be Yasmin Sewell. For the founder of Vyrao, a fragrance company that sells scents, candles, and incense, as well as the mom of two boys, rituals are important. In fact, rituals are what prompted the once buyer turned perfumer to create a business based on energy healing, originally working with Louise Mita, founder of the Art of Energy, to create the products. Her latest scent, the Sixth, was made with perfumer Meabh McCurtin and psychic advisor Katt Nicholson.
While Sewell loves indulging in lots of luxury skin-care products, she doesn't necessarily believe a maximalist approach is the secret to good skin. What makes the most radical difference for her is rest. "I believe in a solid eight to nine hours of sleep every night," she says. Then, it's all about hydration. "People who don't have access to products, but simply start their day with drinking water can make such a difference."
Sewell starts her day around 6:30 a.m. and scrapes her tongue: "It's a holistic thing that I've been doing for, like, 15 years," she says. Following that, she downs three to four glasses of water. "I have purified water in my house, which is a very cost-effective way of being well and having great skin," she explains. Next, she burns incense. Some days, she goes for a rich and musky Witchy scent, other days she opts for Ember, a cedarwood scent.
She then gets into her eight-minute skin-care routine, which she considers quick but effective.
Here, Yasmin Sewell's eight-minute skin-care routine:
She starts with 111 Skin's Vitamin C Brightening Cleanser, a gentle exfoliating cleanser that reduces redness and hyperpigmentation. Her favorite way to apply it in the morning is with a nice face massage. "It just feels really good on my skin," Sewell says.
Then, she goes in with an active essence and active botanical serum from Vintner's Daughter. She could stop there; "just these three products in the morning get me through," Sewell says. But continues when she has time.
When she has a few extra minutes to spare, she reaches for her gua sha, a massage tool said to improve your skin's circulation. "My gua sha is a game changer," she says, adding that she sees an immediate and noticeable difference in her face when she uses it.
At night she indulges in more skin care:
She really likes vitamin c. In the mornings, Sewell incorporates Face Gym's vitamin C, an oil-in-serum formula blended with patchouli extract. "Oh my, this is the best," she says. "It really plumps up my skin, and I go to bed glowing."
Her holy-grail vitamin C product before bed is a sustainably sourced and ethical New Zealand–founded brand she recently discovered, Emma Lewisham. "Although I'm not sleeping for 72 hours, this cream is a bit like a mask," she says. "I put it on at night and it's incredible." The brand dubs the hydrating cream as "a tall drink of water."
While she loves trying new products, she is loyal to her all-time favorites, one of those being In Fiore's Fleur Vibrante Balm, which she's used religiously for the past ten years. "I use it on everything from my lips to my eyes during all seasons," Sewell says, adding that the healing balm is beloved by estheticians as well. "Everything about the product is just flawless."
On ritualistic evenings:
Sewell winds down by taking a bath in the evenings. "I do gua sha techniques on my body and give myself a face massage." She caps off the night by drenching her body and skin in oils, serums, and a spritz of her fragrance before lights out. "Recently I've been wearing my fragrance Georgette; it's for self-love," she says. "I named it after my grandmother and sometimes when I spray it after I've done my ritual, I just feel protected and like she's with me. It smells beautiful, like going to bed in roses."
On having good energy:
She is a big believer in clearing stagnant energy in the body and around us. "I believe that a huge part of healing and wellness is shifting and letting go of stuff." She does that by burning her incense and having "me time" to recenter.
On being a meditator:
 She's been practicing meditation for 25 years. "I haven't always done it every day," she says. "I'd always try to do that when I can. It's a bit harder when I've got kids and people around. If I haven't got the ability to take that time because it's too busy around me, I will just step back, take a few deep breaths, get some perspective, smell a rose, look at my garden for a minute, and just get into the present moment, which is what meditation really does. Getting that little moment of presence and sort of stillness inside is really not to be underestimated."
On inner healing being connected to having good skin:
Sewell's philosophy is if you are feeling great, your vibrations are high, you're giving up good energy, you've got good intentions, then you're inspired and optimistic. "Naturally, you do radiate and people do feel it," she says. "I think then, then yes, in turn your skin glows more. The more you smile, the more you move your body, the more you give out good energy and good vibes to people, I feel like everything changes. Your whole energetic field changes and everything opens up in the body. I also believe that that affects physical parts of the body."
On health and healing properties:
Between the lymphatic drainage system, adrenal system, and digestive system, how your body is moving and functioning affects your skin. To keep herself centered, Sewell drinks shots of fresh turmeric and ginger. "Turmeric is great for being anti-inflammatory," she explains. "I tend to eat really well; I don't have a lot of caffeine and I think I'm conscious of what I eat," she says. "I eat everything, but I understand balance."