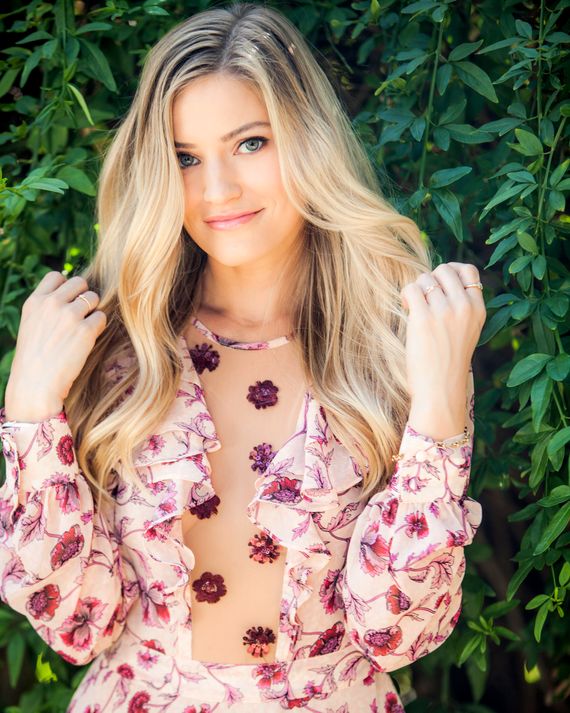 Photo: Courtesy of Justine Ezarik
In April 2022, YouTuber iJustine (or Justine Ezarik) experienced a life-changing blood clot. Ahead of World Thrombosis Day on October 13, she shares her story in order to bring light to this misunderstood, yet common, condition.
What began with a swollen arm turned into a near-death experience within days. As a young woman under the age of 40 — extremely fit, regularly practices martial arts, is an avid runner — , I can't say I was ready when I was diagnosed with a life-threatening blood clot. But that's what happened.
On any given day, I record videos for my YouTube channel, iJustine, to share my love of tech and new products with my 7 million-plus followers. I enjoy running, working out, and spending time with friends and family. I also have been training various martial arts like kali and Jiu jitsu. I have also transitioned that into my love of Star Wars by doing lightsaber training.
Does that sound like someone who would wake up one day facing a blood clot that could bring them to a near fatality? I didn't think so either.
While at a conference in April 2022, I noticed swelling in my arm. Assuming it was nothing, as most of us young, "invincible" people tend to do, I ignored it and went on with my day. Three days later, the swelling had increased, and veins began popping out. I'm very lucky growing up that my mom had taught us the signs to look for with blood clots, so I knew I needed to seek medical attention and immediately took myself to urgent care.
After an ultrasound, the doctors found a blood clot and transferred me to a larger hospital where I had a catheter-directed thrombolysis to dissolve the clot. What ensued after was mental turmoil, fear, and an experience that would alter my life as I knew it forever.
That Saturday, I found out only part of the blood clot had been dissolved, so I was sent back to undergo a second surgery to remove the remainder of the clot. By that night, I began experiencing chest pains, which is never a good sign after enduring a blood clot. Clots can often break off and travel in circulation to the lungs, which can lead to a pulmonary embolism (PE). After another hospital admission, I was released with instructions that I would be on blood thinners for the rest of my life.
As a result of of my specific type of blood clot, thoracic outlet syndrome (editor's note: a group of disorders that occur when blood vessels or nerves in the space between your collarbone and your first rib (thoracic outlet) are compressed, according to the Mayo Clinic), I will now need to have one of my ribs removed. Although my physical recovery journey has gone well and I've slowly begun to get back to the activities I love most — lightsaber training, running, and being active — the repercussions will last a lifetime. The uncertainty, drastic changes, and near-death experience has taken a toll on my mental health, and it has been a challenge to try and bring myself back to the person I was before.
But nevertheless, I am still trying to find some light in the darkness. As someone with a platform and the ability to reach so many people, I knew I had an obligation to share my story and spread awareness of this condition. According to the World Thrombosis Day campaign, up to 900,000 people in the United States alone are affected by blood clots each year. About 100,000 of those people will die, which is greater than the total number of people who lose their lives each year to AIDS, breast cancer, and motor vehicle crashes combined.
These numbers are staggering; how could they be unknown to so many people? Learning this, I was even more eager to find a way to spread awareness of the signs, symptoms, and risk factors. Many of my followers are young, and I know from experience that young people often overlook news related to health because we assume it won't affect us. However, when it comes to blood clots, this is not the case. Knowledge is power and if I can help arm others (all puns intended) with what I wish I had known then, and hopefully prevent someone else from facing a devastating blood clot, I'll have achieved my purpose.
When the World Thrombosis Day campaign gave me the opportunity to act as their U.S. Patient Advocate alongside Dr. Jean Connors, a hematologist at Brigham and Women's Hospital and Dana Farber Cancer Institute, I took the chance I had been looking for to spread this awareness. World Thrombosis Day is dedicated each year on October 13 to increasing awareness of the signs, symptoms and risk factors of this often overlooked and misunderstood condition.
As young people, we too often assume that potentially fatal conditions couldn't happen to us. But arming yourself with the knowledge to know when something is off with your body and advocating for what you feel you need when you seek medical care, can be the difference between life and death. To learn more about this leading cause of preventable death, visit worldthrombosisday.org.
This advertising content was produced in collaboration between Vox Creative and our sponsor, without involvement from Vox Media editorial staff.