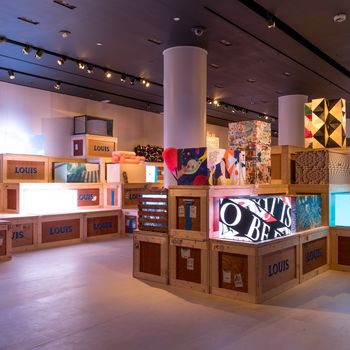 Photo: Courtesy of Louis Vuitton/ Jason Crowley/ BFA
The Barneys New York building at 660 Madison Avenue has reopened — but not for shopping. Louis Vuitton took over the building for its traveling trunk exhibition, "200 Trunks, 200 Visionaries." And when I say "took over," I mean painted over the whole thing in shades of bubblegum pink, orange, yellow, red and blue for a made-for-Instagram moment on Madison Avenue. There are even more photo-op moments inside the exhibit, so prepare to see it all over your Instagram feed until the end of the year. The exhibition celebrates the legacy of Louis Vuitton's iconic signature trunk. After spending time in Los Angeles, this is the show's grand finale, opening October 14 and running through December 31.
The question everyone kept asking me after I shared that I'd previewed it was, "Are there really 200 trunks?" Yes, there are in fact 200 trunks, and all of them have their own unique identity. When you enter the building, you're immersed in a special Louis Vuitton experience with color-blocked walls before you're greeted by the long LED-lit hallway that leads you into the exhibit.
The first room is a digital trunk surrounded by LED screens and a checkered rug; the next is a quiet room with a silver trunk opening and closing, revealing what looks a lot like a performance stage inside (the artist has designed stages for Jay-Z and Rihanna). Throughout the four floors, each trunk has a scannable QR code so you can learn more about the trunk and the artist. I didn't scan every code because I would've been there all day, but there were a few that caught my eye, including Ben Ditto's trunk, vacuum sealed and labeled with an "infectious waste" label because it is … actually infectious and made with sourced bacteria that result in a glowing-green color. There's also a Marc Jacobs graffiti-art trunk by Stephen Sprouse that evokes so much nostalgia from the SS 2001 Louis Vuitton and Marc Jacobs collab. And of course there's the music room, which features a trunk with a DJ board that has song options from Nina Simone to Jay-Z. From the innovation to the care behind the careful curation of the artists, the project is inspiring and fun.
It's free, and you can make reservations online here. Some advice: Be quick — the second TikTok sees this, I know it's going to get booked up. If you want to make an entire day out of it, you can also book dining reservations at Freds, on the ninth floor of the building, which is opening just for the exhibit. Plus I heard there are Louis Vuitton napkins, which are probably the cheapest souvenirs you can get. If you'd rather drop a bit more coins, visit the very cute gift shop that had everything from an LV-logomania teddy bear to LV-engraved gym dumbbells that have already landed on my Christmas list. But if you don't want to spend any money, your Instagram photos of you posing in front of a bunch of Louis Vuitton balloons will be souvenir enough. (Yes, there's a balloon room with a balloon trunk filled with LV balloons.)