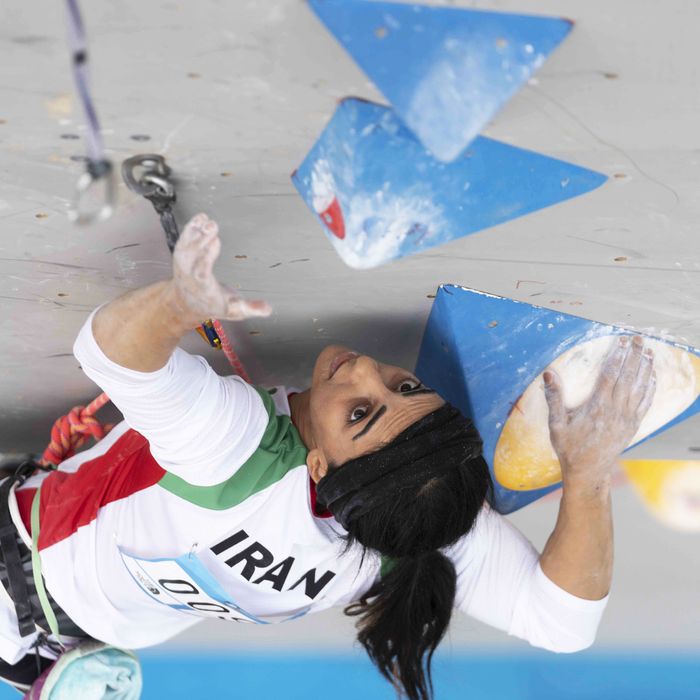 Photo: RHEA KANG/IFSC/HANDOUT/EPA-EFE/Shutterstock
Over the weekend, Iranian climber Elnaz Rekabi made international news when she competed in the Asian Championships climbing competition in Seoul without a hijab — a requirement for women living in Iran or representing the nation abroad. The image of Rekabi climbing with her hair clearly visible was celebrated as a show of solidarity with the women of Iran who are currently protesting the morality police and the Iranian government following the death of Mahsa Amini, a 22-year-old who died while in police custody. The protests have reportedly led to hundreds of deaths, though confirmation is difficult due to internet blackouts and government control.
Concern for Rekabi has mounted as government officials confirmed her return to Iran on Tuesday. Amnesty International tweeted that the organization was "alarmed" by the reports, noting that she could be "at real risk of arbitrary arrest, torture and other ill-treatment."
Ahead of her return to Iran, Rekabi posted a message on her Instagram Stories, appearing to apologize for her lack of hijab in competition. "Due to bad timing and an unanticipated call for me to climb the wall, my head covering inadvertently came off," she wrote, per BBC. Some speculation has arisen over the authenticity of this message and whether it was written under duress. BBC Persian reported Monday that Rekabi's passport and cell phone had been confiscated, and reporter Megha Mohan tweeted Tuesday that friends of the climber had been unable to contact her since she was seen with an Iranian official. IranWire reported that officials plan to take her directly to Evin prison upon her return.
The International Federation of Sport Climbing said in a statement that it was "trying to establish facts" of the case, CNN reported. "We have also been in contact with Ms. Rekabi and the Iranian Climbing Federation," it said. "We will continue to monitor the situation as it develops on her arrival."
On Wednesday, Rekabi returned to cheering crowds in Tehran, where she repeated on Iran's state television that not wearing the hijab was accidental. "Because I was busy putting on my shoes and gear, it caused me to forget to put on my hijab and then I went to compete," she said in an interview, per the Associated Press. "I came back to Iran with peace of mind although I had a lot of tension and stress. But so far, thank God, nothing has happened." Still, concerns about her well being persist.
Other Iranian women who have been accused of violating dress codes during international competitions have noted similarities between Rekabi's situation and their own experiences. "This was exactly the same thing that happened to me," Shohreh Bayat, an Iranian chess referee who sought asylum in the U.K. in 2020 after an official accused her of wearing her headscarf incorrectly, told CBS News on Tuesday. "This was the first thing that I was asked to do, to write an apology letter on Instagram."
This post has been updated.