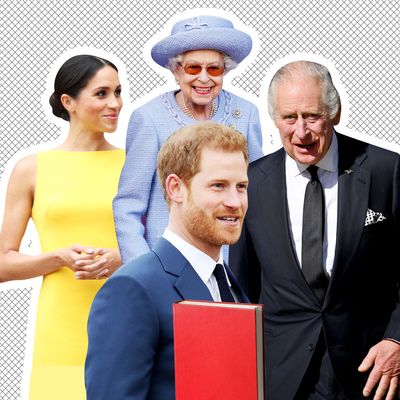 Apologies to palace aides.
Photo-Illustration: by The Cut; Photos: Getty Images
As forecast by a series of huffy pen-based incidents, the reign of King Charles III is off to a dramatic start. One month in, Charles faces the looming release of The Crown's fifth season (set to cover the dissolution of his marriage to Princess Diana and simultaneous nadir of his popularity) plus two projects by his son Prince Harry — a Netflix docuseries and an allegedly "explosive" memoir — that threaten to paint him in a less-than-flattering light.
While Charles's reputation grows increasingly fraught, Harry has been sowing anxiety throughout the palace. Harry's tell-all book, originally slated for a fall release, was subsequently pushed to next year. Initial rumors projected its arrival in spring 2023, though it's actually coming much sooner than that. On October 27, Harry's publisher, Penguin Random House, announced that the "highly anticipated" title would arrive on January 10, 2023. It even has a cover design ready — a close-up portrait of Harry's face.
Depending on whom you ask, Harry has spent the weeks since his grandmother's death racing to make last-minute revisions to material that now looked "insensitive" or coming to shaky grips with the implications of his actions. Some royal experts have recently speculated that Harry might shelve the book, but clearly that's not the case. According to Katie Nicholl, Vanity Fair royal correspondent and author of The New Royals: Queen Elizabeth's Legacy and the Future of the Crown, Harry may well be reconsidering some of what he's said.
"I think that he has wanted to tell his story for a long time," Nicholl says. "The fact is that the Sussexes left the royal family to become financially independent. If they're going to get into bed with the likes of Netflix, Spotify, and major publishers and get these big-dollars deals," those companies "are going to want their pound of flesh."
And it's that understanding that seemingly has all parties — the palace, Charles, and Harry — panicked as we inch toward pub day.
When was said memoir meant to come out?
Penguin Random House did not return a request for comment on the memoir's fate — nor did Archewell, Harry and Meghan's non-profit. But initially, Random House had timed the memoir's release to the holiday season, projecting late November 2022 as a target publication window. Given that the company only announced the project in July 2021, the turnaround was always going to be tight. In September, it appeared the pub date had again been pushed to around Easter 2023, owing to the necessity of editing certain chapters and adding new material after the queen's funeral. And now, it seems none of that was true, and we can look forward to a spicy winter surprise.
Do we know what it's called?
Yes. We know the page count as well. The 416-page memoir is titled Spare, as in "the heir and the," according to the Associated Press.
Do we know what's in the memoir?
In its announcement, Random House promised an "honest and captivating personal portrait" of Harry's "lifetime in the public eye, from childhood to the present day." Harry said he hoped that in telling his "story — the highs and lows, the mistakes, the lessons learnt" in his own words, sort of, he could "help show that no matter where we come from, we have more in common than we think." The book description Random House published to its website doesn't necessarily offer more clarity, but here it is in full for your consideration:
It was one of the most searing images of the twentieth century: two young boys, two princes, walking behind their mother's coffin as the world watched in sorrow — and horror. As Diana, Princess of Wales, was laid to rest, billions wondered what the princes must be thinking and feeling — and how their lives would play out from that point on.




For Harry, this is that story at last.




With its raw, unflinching honesty, Spare is a landmark publication full of insight, revelation, self-examination, and hard-won wisdom about the eternal power of love over grief.
At present, only people directly involved in making the book know which insights and revelations Harry crammed between its covers. As of August, the Sun and the Telegraph reported that Charles, Prince William, and the family's lawyers had not seen advance copies of the book. Given the tone of Harry's own statements to the press, the Windsors may have reason to worry. Since stepping back, Harry has described royal life as "a mix between The Truman Show and living in a zoo." He has confirmed his wife, Meghan's claim to Oprah Winfrey that someone in his family — certain royal reporters have pointed the finger at Charles — raised "concerns … about how dark [Archie's] skin might be when he's born."
The Daily Mail's informants have worried that Harry might "name the so-called 'royal racist'" and paint a damaging picture of his "fraught" relationship with the queen consort, Camilla. In "Page Six," unnamed publishing employees insist that the manuscript is "juicy" and includes "new stories in there about the past that Harry has not spoken about before, about his childhood" that "should make his family nervous." Speaking to the Guardian, royal historian Robert Lacey noted that Harry's ghostwriter — Pulitzer Prize winner JR Moehringer — "is a powerful and psychologically exploratory writer, so we can expect a powerful and psychologically exploratory book." Lacey pointed to Moehringer's work on Andre Agassi's biography, "a profound, serious, forensic demolition of his parenting, which goes beyond the normal ghostwritten books."
"It makes me think there is no point in even speculating what skeletons he's going to uncover," Lacey said of Moehringer, "because he is a skeleton exhumer. He is going to do the business."
This is all very ominous, and at the same time, I think we can make some educated guesses about what's in there. We can assume that Harry will talk about his mother, address the ever-present cameras and the aftermath of her death, speak to his life as a soldier in Afghanistan and his personal mental-health troubles, and spend some time on his marriage and the decision to leave the royal family. But while Meghan will undoubtedly appear in the memoir, the book's sole point probably isn't to litigate the couple's lifestyle choices.
"The book is about growing up a prince, and that's a narrative he's never really been able to tell himself," says Nicholl. "I think he's tired of people conveying his life through their own words: through sources, through friends, through aides. Now he has the opportunity to tell his story."
Except, as it turns out, that opportunity coincides with the death of his grandmother, with whom he reportedly maintained a close relationship. After the queen's death, various royal sources said Harry pushed back the publication date out of respect and, relatedly, to clean up the manuscript. Those alleged revisions have not quelled calls for Harry to abandon the project, though. "I expect, behind the scenes, there has been pressure on Harry to, if not cancel the book, then at least water it down," says Nicholl.
Was Harry ever really going to scrap the book?
Whether he ever seriously considered killing the book, only Harry and his team know for sure, though royal watchers have stirred up uncertainty around his finances. Harry is believed to have accepted a $20 million advance. If his contract has a termination clause and he were to scrap the book, he would have to repay that sum. Some royal experts have opined that Harry ran into precisely that predicament post-funeral. Tina Brown — former Vanity Fair editor, biographer of Diana, and author of The Palace Papers — has posited that if Harry moves forward with the memoir, he will blow up all possible paths back to his family.
"They are now in this bind, where they've taken all this money, and Harry has made this book deal where he's supposed to spill everything about his horrible life as a royal, but now he's actually tortured about it, because he understands there is no way back if he does it," Brown said during the Henley Literary Festival in early October. "The window is beginning to close, but I always thought, at some point, a deal would be made and Charles would have to pay back the advance to stop Harry writing this book." Others have agreed, with royal biographer Phil Dampier warning that Charles and William would find it "hard to forgive" Harry for any "controversial content."
If Harry were in the position of having to repay his advance, it stands to reason that Charles — who has a lot more money than his son does — would have to step in. "The one thing we know is that they need money, they want to make money, and leaving the royal family was largely about doing just that," Nicholl said of the Sussexes. The memoir is one avenue for income, and according to Nicholl, "It would be a big thing for him to have to pay back that advance and have to take the book off the table."
Some of Nicholl's sources have suggested that Charles may defer the question of HRH titles for the Sussex children until after the memoir and docuseries drop. Although Harry and Meghan gave theirs up when they left the ranks of the working royals, Archie and Lilibet are technically still HRH-eligible — but whether Charles grants them that status remains to be seen. It's not a "bartering" situation, Nicholl says, but the king takes titles seriously. "They come with a price, and that price is loyalty and discretion," Nicholl says. When Harry and Meghan negotiated their big step back, she adds, "they did promise to uphold the values of the institution. A lot of people would say it's up for question as to whether they've actually done that."
But ultimately, Harry signed a contract, the terms of which aren't publicly known. This is a huge title for Penguin Random House and a massive investment — one the publisher would not have been eager to drop. Walking away, Nicholl notes, wouldn't have made the Sussexes look very good either. "Cashing in and capitalizing on who they are and their royal connections is, whether they like it or not, a huge reason behind these deals being struck," she says, and at the same time, "we've seen very little of the output from these multimillion-dollar deals. Which is why the book and the delayed Netflix series are so important. If he pulls the plug on those, what's that saying about his business model?" 
Arguably, it's not just Harry's image that stood to suffer if he'd pulled out of the project. Say Charles were to repay the advance and kill the memoir. Provided that's even a contractual possibility, it could be taken as confirmation of rumors about the book's damning "truth bombs." What story is so bad that a person would pay $20 million to bury it? While the palace may have hoped Harry might abandon the memoir, it now looks clear that any adjustments to its release were made to accommodate hasty changes — and maybe for decorum's sake. (It feels safe to assume that Granny probably wouldn't have wanted Harry to drop a tell-all two months after her death.)
Hasn't some of that advance already gone to charity?
Again, only Harry knows the particulars of Harry's finances, but it was the proceeds from Spare's sales — rather than the advance itself — that were originally said to be earmarked for unspecified charities. Now, however, the book's website, PrinceHarryMemoir.com, and the BBC indicate that only some of that money will be donated. Per the publisher, Harry has already given $1.5 million (£1.3 million) to his Sentebale, and will give £300,000 to WellChild. In short, it's presently unclear what the exact plan is for the proceeds.
Is the book available for preorder?
It absolutely is — in the U.S., U.K., Ireland, Canada, Australia, India, New Zealand, and South Africa.
This article has been updated.