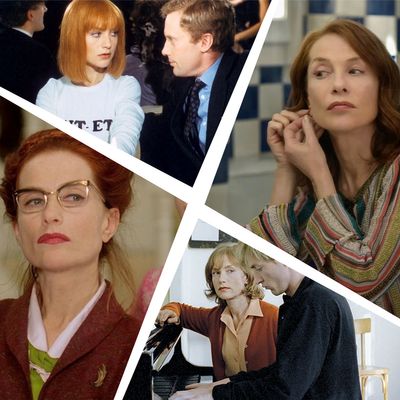 Photo: Courtesy of Film Forum
Isabelle Huppert is the moment. For three weeks in October, Film Forum is running a retrospective of the French actress's films, paying homage to her eclectic oeuvre. The series, partially culled from international archives and stacked with top-tier directors including the late Jean-Luc Godard, Michael Haneke, Hong Sang-soo, and Ursula Meier, is a name-drop of the greats. And who wouldn't want to work with Huppert? Many critics have argued she is the greatest actress in the world.
Since her debut performance in Claude Goretta's The Lacemaker, the prolific Huppert has starred in over 50 films, often gravitating toward complex, sometimes twisted characters who deal comfortably in moral ambiguity and unsentimental extremes. Huppert has embodied a schoolgirl turned killer; a sadomasochistic, self-mutilating piano teacher who strikes up a relationship with a student; a philosophy professor navigating marital separation; and a fashion elitist. She's acted in her native French as well as English, Russian, Italian, and even a little Arabic. Like her effortless, quintessentially Parisian style — maybe you caught her in a 2021 Balenciaga campaign with Justin Bieber — she flits easily from psychological thriller to dark comedy. And she's hardly impressed that you're impressed with her; excellence is just business as usual: "I have no personal style," Huppert claims. The César-winning actress says that, no matter the role, acting is "quite easy."
While New York celebrates Huppert's cinema and her opus of complicated female characters, she's busy in Tokyo, where she's currently starring in a production of The Glass Menagerie. But she's happy to receive her Film Forum flowers overseas. "I feel very grateful," she tells the Cut. We spoke to Huppert about her expansive film career and whether she'd ever join the Marvel Cinematic Universe.
Even as an accomplished artist, how does it feel having a retrospective? 
First of all, I'm really happy it takes place at the Forum. I love that cinema. My son who lives in New York loves that cinema; he always goes there. There are not many places like it in New York where you can see old movies — not so old but movies of exclusivity. I feel very happy and grateful.
The characters you play are known for being morally complicated, comfortable leaning into extremes and darker proclivities at times. You also recently played the cantankerous Mrs. Colbert in Mrs. Harris Goes to Paris, a lighter dramedy. What kinds of characters draw you in when you're considering a project?
All kinds of characters. I was going to say maybe I don't like when characters are too happy, but I'm sure you can have great roles with simple feelings and happy people, though it happens less in movies. Usually the best characters are the more complex, the more touchy; they play with the borders of good and bad. Those are the characters I'm usually interested in. But I'm not sure if it's true. Take, for example, Things to Come, by Mia Hansen-Løve. You can't say of my character, Nathalie, "She's bad" or "She's good." She's a woman who tries to recover from separation from her husband, but she does it in a way that's not too sentimental or soft. Humor is important no matter what role you do. Irony and humor, something that keeps a certain distance and makes the character — I wouldn't say dangerous but maybe something like that. And not too sweet. I don't think I'm interested in sweet people, though I am very sweet myself. I still need to find a director who will be able to film my sweetness in something transcendental.
Throughout your film career, is there a character you most enjoyed playing?
I can't pick one. My pleasure of being an actor is that I enjoy doing it; also it's not a big deal to do it. Most of the time, it's quite easy. It's not the end of the world for me. I enjoy mostly what it represents, what it is to do a film. It's really to play with the pleasure of the present moment. And the pleasure is above everything else, actually. It's about being there and being completely in the present time. It's something a bit magic, but you have to believe in the process of moviemaking for that.
Of the projects you've turned down, are there any you have regrets about? 
It's a very good question. Sometimes it's very easy to say no. Sometimes it's more difficult and you're not sure if you made the right choice. It's a risk to say yes, but it's also a risk to say no. You might miss something. Doing films is not something that's an exact science. What you have to rely on is the script itself, but a film can go beyond the script. Sometimes not.
As an artist, how do you deal with that regret? 
When I turn a role down, it's not so hard. What you don't do, someone else will do it. You can't leave behind an empty chair. Someone else will sit on it, and everything can happen. But after all, you know, it's only a film. You have more important matters in life.
Would you ever consider acting in a franchise or universe — like Marvel, for example? 
Yes, I'm sure you can do something interesting in these kinds of movies. I haven't watched many myself, but I wouldn't feel I was making such a radical jump. It's still acting; it's still moviemaking. Just a variation, and I've done so many variations in my life. Why not this one? Cinema can be infinitely small and infinitely big, but at the end of the day, there's something in movie acting which still remains the same. It's what I like about being an actress: the repetition. In any situation, in any kind of scale, you repeat something. Everyone thinks it's sort of a change and sort of a variation; I don't think so. You repeat something you like doing. Why not?
What on-set experiences have been most formative to you as an actor? 
For me, to do movies — of course you can call it an experience, but for me, it's something also so close to the process of life. I don't know about others, but the gap that people fantasize actors do, where you have life and then you do film, and you jump, I don't feel that kind of process when I make movies. It's more like a train that I jump on, and it's still the same train. I don't feel a big change. There's something really normal in what I do. Movies. It just happens.
You've worked with so many top-tier directors and have said in previous interviews that you enjoy taking risks with directors you trust. What filmmakers do you prioritize working with? 
It's an ensemble of many, many things. Sometimes you have a script; sometimes you don't even have a script. With Jean Luc-Godard, there was no script. With Han Sang-soo, there was no script. It's always different, the paths that lead you to a decision.
Do you prioritize working with women filmmakers? 
No. I don't do what you say. I've been working with many women ever since I've started being an actress, as many as men, since I've started. Priority? No. I think it would be unfair and stupid to say I will only work with women.
You're not only a film icon; you're also a style icon. How did you cultivate your sense of style?
I was happy to answer Balenciaga's request. It's a game. I like it. I like clothes. You don't have to take it too seriously. As an actress, even in a role, you play with a costume. It's the same if you do it for the red carpet. You play with something. I have no personal style. I like to do it because it gives the illusion that I have a style. But I have no style.