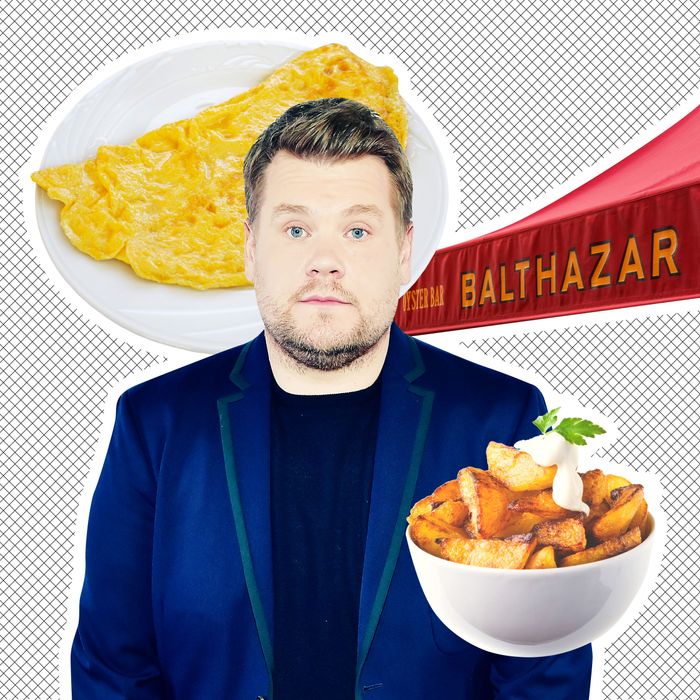 "I haven't done anything wrong on any level," he told the New York
Times
in an apparent reference to his recent ban from Balthazar on grounds of repeated rudeness.
Photo-Illustration: by The Cut; Photos: Getty Images
James Corden is many things to many different people. He is Bustopher Jones in Tom Hooper's chilling cinematic interpretation of Cats — regardless of whether he wants us to remember. He is former host of Carpool Karaoke and current host of The Late Late Show. He is "a hugely gifted comedian, but a tiny cretin of a man," in the opinion of restaurateur Keith McNally, who banned, then unbanned Corden from Balthazar last week on grounds that Corden had twice berated the Manhattan brasserie's staff in a spectacular fashion. As of last week, Corden was apparently unapologetic for whatever those incidents were, telling New York Times reporter Dave Itzkoff, "I haven't done anything wrong on any level." And now, he appears to be experimenting with contrition, having come to the conclusion that he "did complain," so he "might need to explain." Bit of an about-face, no?
On Friday, we contacted both Balthazar and a rep for Corden for clarity on the seemingly still-developing dram. (We've not yet heard back.) But to briefly recap, the flap began when McNally posted a pixelated photo of Corden's laughing face to Instagram on October 17, calling him "the most abusive customer to my Balthazar servers since the restaurant opened 25 years ago" in the caption. McNally offered two incidents in support of his moratorium on Corden's patronage. Per one manager's report from June, Corden had allegedly made an "extremely nasty" complaint to staff about a hair he'd found in his main course — after he'd already finished the dish — and demanded "another round of drinks this second. And take care of all our drinks so far."
Per another manager's report from October 9, Corden allegedly made a big stink at brunch after the egg-yolk omelet with Gruyère and salad that his wife had ordered arrived with "a little bit of egg white mixed with the egg yolk." Balthazar's kitchen then made a fresh egg-yolk omelet, according to the post, but accidentally sent it back with home fries rather than her preferred side of greens. The mix-up supposedly led Corden to lose his shit: "You can't do your job! You can't do your job!" McNally says Corden screamed "like crazy" at the server. "Maybe I should go into the kitchen and cook the omelet myself!" Free Champagne seemed to mollify the guests, according to McNally, but restored calm did not save them from retribution. Corden became persona non grata at Balthazar. Crime: acute (alleged) rudeness. And as McNally's post gained traction, it revived old (and unverified) rumors of other moments of Corden's shouty, belligerent behavior. Cue a mea culpa to McNally, who said on Instagram that Corden had called him and "apologized profusely" in a manner so "magnanimous" that McNally decided Corden didn't "deserve to be banned from anywhere." McNally revoked his 86 and decreed: "All is Forgiven."
Or it was. Until Corden sat down with the Times.
In his conversation with Itzkoff, published October 21, the comedian seemed not only to deny culpability for the incidents McNally described but suggest that the restaurant owner punched down when he aired his grievances publicly. During the interview, which took place at the Mark Restaurant by Jean-Georges, Corden and Itzkoff overheard another patron complaining to her server about the eggs she'd ordered. "Happens every day. It's happening in 55,000 restaurants as we speak. It's always about eggs," Corden reportedly quipped with a "conspiratorial glance" at his interviewer. "Can you imagine now if we just blasted her on Twitter? Would that be fair? This is my point. It's insane."
That would be a pretty wild thing to do, considering Corden is a celebrity with 10.9 million Twitter followers and his own network talk show, and the woman was just some rando on whom he eavesdropped over breakfast. But Corden, sounding torn between not wanting to talk about the egg-yolk omelet and wanting to minimize reports of his rage, waved away the criticism as bullying and proposed that, if asked, the restaurant's employees wouldn't even know what the fuss was about. He told Itzkoff, "I was there. I get it. I feel so Zen about the whole thing. Because I think it's so silly. I just think it's beneath all of us. It's beneath you. It's certainly beneath your publication."
Turns out it was not beneath McNally, nor did he seem to see any of this as silly. "I've no wish to kick a man when he's down," the restaurateur wrote on Friday morning in a third Instagram post featuring Corden's close-up face. "Especially one who's worth $100 million, but when James Corden said in yesterday's NY Times that he hadn't done 'anything wrong, on any level,' was he joking? Or was he denying being abusive to my servers? Whatever Corden meant, his implication was clear: He didn't do it. Although I didn't witness the incident, lots of my restaurant's floor staff did." Although McNally did not clarify whether the ban was going back into effect, he did note that "if the supremely talented actor wants to retrieve the respect he had from all his fans (all 4 of them) before this incident, then he should at least admit he did wrong."
"If he goes one step further and apologizes to the 2 servers he insulted," McNally added, "I'll let him eat for free at Balthazar for the next 10 years."
Over the weekend, McNally continued to post about well-mannered celebrity patrons (Ralph Fiennes: "ever the gracious customer") and Joan Didion's definition of self-respect — "The willingness to accept responsibility for one's life is the source from which self-respect springs." These may have been subtle digs directed at Corden, or they may have been unrelated examples of McNally's singular social-media style. In any case, Corden purportedly spent that time soul-searching. On his Monday-night installment of The Late Late Show, Corden explained that he'd amended his "never complain, never explain" policy (borrowed from the royal family?) after his father helpfully pointed out, "You did complain, so you might need to explain." Corden then apologized — mostly — for one of his Balthazar outbursts.
"When everybody's meals came, my wife was given the food that she was allergic to," he explained in reference to the omelet incident. (Apparently, a person can be allergic to egg whites but not necessarily to yolk.) "We sent it back. All was good. As her meal came wrong to the table the third time, in the heat of the moment, I made — I made a sarcastic, rude comment, right? About cooking it myself. And it is a comment I deeply regret." Corden denies any screaming, shouting, getting out of his chair, or using "derogatory language" but now realizes that making an "ungracious" and "unnecessary" remark qualifies as doing something wrong. Saying he never intended to "upset anybody ever," he continued, "I love that restaurant. I love the staff there. I hope I'm allowed in again one day, so when I'm back in New York, I can go there and apologize in person, which is something I will absolutely do."
As for the hair complaint, Corden waved it off as a vague memory potentially dating back to 2014. Vigilant readers of his explanation will have clocked that Corden's timeline isn't the only point where his account differs from McNally's — Corden has the omelet order getting screwed up three times to McNally's two. But the restaurant owner is prepared to overlook the discrepancies and put the beef to bed. "It takes a real man to do this," McNally said of the apology segment in a "LAST WORD" IG post Tuesday. "In the past, I've behaved much worse than Corden, but wasn't man enough to apologize. For this reason, I'm going to lift the ban on Corden and impose one on myself instead. I'm going to ban myself from Balthazar for 2 weeks. People who live in Glass Houses…"
This article has been updated.