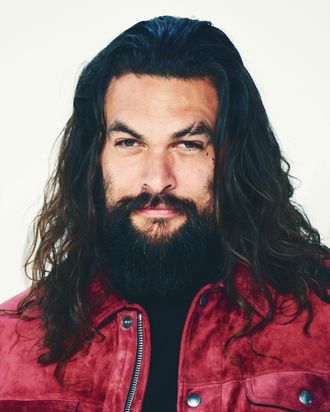 Photo: Mike Coppola/FilmMagic
To the surprise of absolutely no one, Jason Momoa's post-divorce life continues to be very chill. Over the weekend, he shed his pink scrunchie (temporarily, I hope) for a much more …complex accessory. In a recent Instagram post recapping his weekend, Momoa appeared on a boat, swathed in what I can only describe as a thong loincloth.
Tagging his canned-water brand, Momoa posted a carousel of the fishing trip he took on Sunday. It starts innocently enough. Here is Jason, posing in front of a rainbow; here are some of his friends, also drinking canned water. Then, there is an arresting shot of Momoa gripping a fish in his enormous tattooed hands, wearing nothing but a mysterious beige cluster of fabric wrapped around his waist. The following video provides more insight, revealing that this diaper-adjacent garment, which appears to have been MacGyvered last minute, has absolutely no ass coverage whatsoever. Behold, Jason Momoa's butt cheeks reeling in a big catch:
The how and why of this situation remains a mystery. Did Momoa lose his clothes in an arm-wrestling match with Lenny Kravitz? But, needless to say, fine by me. This is the only fish pic I would swipe right on, were I to come across it on Raya.