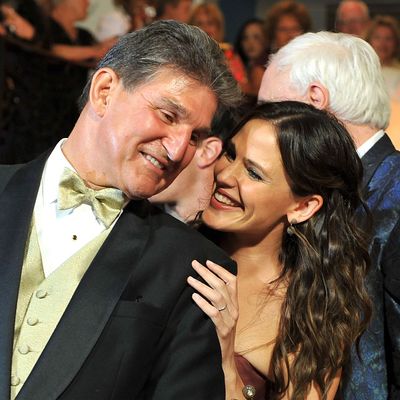 Photo: Theo Wargo/2010 WireImage for The Greenbrier
Next time Senator Joe Manchin does something absolutely enraging, like sabotage the Democrats' plans to fight climate change or refuse to codify Roe v. Wade into law, just know Jennifer Garner is probably already on the case.
"Believe me, when anything's happening, the whole world calls me and says, 'Maybe you should try Joe Manchin,'" Garner said in a recent interview with Town & Country, discussing her philanthropic work. "I'm like, 'I've got it, I'll talk to him. I'll talk to Lance, his chief of staff." Huh, now there's a celebrity-politician connection I would not have expected.
Garner and Manchin, it turns out, have known each other for over a decade. Garner is a West Virginia native and has worked with the senator in her capacity as artist ambassador (and board member) for Save the Children, campaigning for early-childhood-education programs specifically targeted toward low-income and rural communities.
Together, they've collaborated on promoting various West Virginia causes. In 2017, they co-authored an op-ed in the local Charleston Gazette-Mail paper, urging Congress to "oppose cuts to child care" and "early schooling." In 2020, Garner and Manchin co-starred in a PSA to encourage West Virginians to participate in the 2020 U.S. Census. And last year, she appeared in West Virginia alongside the senator and First Lady Jill Biden to encourage residents to get vaccinated. (Biden has also been active with Save the Children, and Garner supported Joe Biden in the 2020 election.) Manchin even called the actor the "first daughter of West Virginia" at the event.
Now, whether or not their past relationship means that Manchin would actually listen if Garner were to, for example, call him up and ask him to stop taking coal money, that remains to be seen. But, hey, it might be worth a shot.