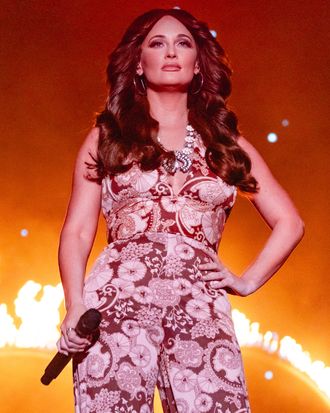 Photo: Rick Kern/WireImage
Kacey Musgraves really, really, does not like Ted Cruz. The country singer performed at the Austin City Limits Music Festival (ACL) Sunday night, and directly called out the Texas Senator in her set.
Musgraves, a Texas native, named Cruz during "High Horse," singing, "Cause everyone knows someone who kills the buzz, every time they open their mouth — Ted Cruz." Video posted to Twitter shows the crowd erupted in cheers as the singer continued, going into the chorus, which includes the lyrics, "I think we've seen enough, seen enough." And, yes, we've heard enough, too.
It's unclear what, exactly, Musgraves was calling Cruz out for, other than his general disagreeableness. (The Senator is known for being one of the most disliked politicians in Congress, after all.) But the singer has never been a fan of the politician. In February of 2019, after the Senator was caught flying to Cancun during a severe snowstorm that left many in Texas without power, she decided to raise funds for charity by selling t-shirts that read, "Cruzin' for a bruzin." At the time, she shared the link with followers on Twitter, adding, "Texas is cold, I can be cold."
Musgraves wasn't the only artist at ACL to criticize Cruz from the stage. The Chicks reportedly made fun of the Senator during their Friday night set, calling out Cruz, Texas Governor Gregg Abbott, and Supreme Court justices who overturned Roe v. Wade. They also endorsed Beto O'Rourke for Governor.