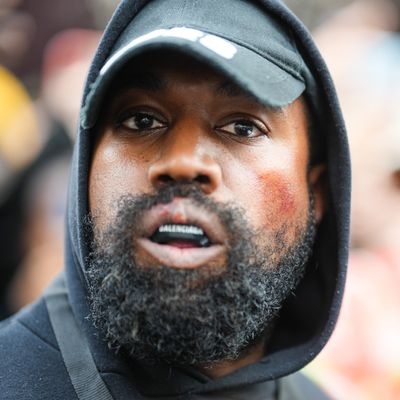 Photo: Edward Berthelot/GC Images
After debuting "White Lives Matter" shirts at his YZY 9 Paris Fashion Week show, publicly attacking Vogue contributing editor Gabriella Karefa-Johnson, and doing an in-depth interview with Fox News' Tucker Carlson, Ye closed out his very eventful week by having social media posts deleted on both Twitter and Instagram, purportedly on grounds of anti-Semitism. His accounts on both platforms have reportedly been locked, and many celebrities are now calling out Ye's hateful language.
This all started on Friday, when Ye shared private messages allegedly from Diddy to his Instagram. In the messages, Diddy appeared to ask Ye to meet and "stop playing these internet games." In his response, Ye accused Diddy of working for "the Jewish people." He wrote in part, "Ima use you as an example to show the Jewish people that told you to call me that no one can threaten or influence me." As reported by NBC News, he captioned the since-deleted post, "Jesus is Jew." The rapper was quickly accused of anti-Semitism by fans and various organizations, as his comment played into the stereotype and conspiracy theory that Jews control the media, and the post was removed from his page. A spokesperson from Meta confirmed to NBC News that Instagram had deleted content from Ye's page and restricted the account for violations of rules and guidelines, but did not specify what rules he had broken.
Undeterred by his Instagram exile, Ye moved over to Twitter, where he posted a photo of Mark Zuckerberg and himself apparently doing karaoke. "How you gone kick me off instagram," he wrote in part. There, Ye continued to publicize anti-Semitic tropes. "I'm a bit sleepy tonight but when I wake up I'm going death con 3 On JEWISH PEOPLE," he wrote. "The funny thing is I actually can't be Anti Semitic because black people are actually Jew also You guys have toyed with me and tried to black ball anyone whoever opposes your agenda [sic]." The tweet has since been deleted after being flagged for violating Twitter rules, though his follow-up tweet — "Who you think created cancel culture?" — remains. A spokesperson for Twitter later confirmed that his account had been locked.
The Anti-Defamation League quickly called Ye's comments "dangerous" in its own Twitter statement. Meanwhile, celebrities have taken to their still-active social media accounts to denounce Ye's statements. Everyone from former Ye ally John Legend to politician Alexandria Ocasio-Cortez have spoken out. "There is absolutely no room in this country or world for antisemitism," Ocasio-Cortez tweeted in part. "It is important to see how harmful + dangerous Kanye's words are - not only to our Jewish brothers, sisters, & siblings, but also to our collective society at large." Though some on Twitter extended a bit of sympathy to Ye given his history with mental illness, others, like writer Roxane Gay, made clear that mental illness and anti-semitism don't go hand in hand. "Anti-semitism is not a symptom of mental illness," she tweeted on Monday. "He is a bigot."
Sharing a screenshot of his tweet with her followers, Jamie Lee Curtis wrote, "Words matter. A threat to Jewish people ended once in a genocide. Your words hurt and incite violence." On Monday, Curtis appeared on the Today show and explained why she felt it was important to speak out. "If we aren't reacting, who are we?" she said. "What does it say about people who aren't reacting? Who woke up and read that and thought, 'Oh, what're we having for breakfast?'" She added that she hoped "he gets help."
After initially appearing excited at West's return to Twitter, Elon Musk — who may be on the verge of buying the app — addressed the situation on Monday, writing, "Talked to ye today & expressed my concerns about his recent tweet, which I think he took to heart."
This post has been updated.