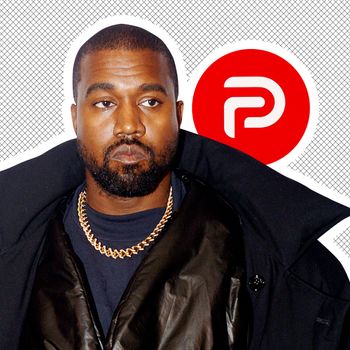 Photo-Illustration: by The Cut; Photos: Getty Images
What is a man to do once he's been locked out of Twitter and Instagram after posting antisemitic messages? If you're Ye, formally known as Kanye West, the answer is simple: You buy Parler. On Monday, a week after the rapper, fashion designer, and Donda Academy founder was locked out of his social-media accounts, Ye announced his new purchase.
News of the deal, which has not yet been finalized, comes after a controversial weekend for the rapper. During an appearance on the podcast Drink Champs, Ye spoke about antisemitic conspiracies and promoted Candace Owens's documentary accusing Black Lives Matter of being a scam. In one particularly headline-grabbing moment, he repeated Owens's entirely unsubstantiated claim that George Floyd died of a fentanyl overdose. Many have pointed out that Ye, who has a history of mental-health struggles and has been open about having been diagnosed with bipolar disorder, appears to be exhibiting symptoms of mania.
Parler, a self-declared "uncancellable free speech platform," was founded in 2018 and marketed as a Twitter without moderators, which basically meant it was touted as a social-media platform where hate speech and violent threats would be able to flourish unregulated. The app is best known for being the social media of choice for Donald Trump supporters who stormed the U.S. Capitol on January 6, 2021, with many uploading videos and exchanging messages on the app that day. This led to it being temporarily banned from the Google Play Store, Amazon, and other tech companies. It has since returned to the Google Store and Apple after reportedly implementing new moderation practices.
In a statement, Parler praised Ye for "taking a bold stance against his recent censorship from Big Tech, using his far-reaching talents to further lead the fight to create a truly non-cancelable environment." Ye added, "In a world where conservative opinions are considered to be controversial we have to make sure we have the right to freely express ourselves." Meanwhile, Parlement Technologies CEO George Farmer said this new ownership would "change the world and change the way the world thinks about free speech."
Farmer happens to be married to Owens, who recently solidified her relationship with Ye, appearing alongside him in matching "White Lives Matter" T-shirts at his Yeezy fashion show in Paris. It was apparently at the fashion show that Owens and Ye first discussed a potential deal to buy Parler, Farmer told The Wall Street Journal. Farmer noted that, after Ye was locked out of other social-media accounts, buying Parler became "a very attractive solution to his issues of being censored."
According to his official Parler profile, Ye joined the social-networking site Monday. At the time of publication, he had 5,000 followers.