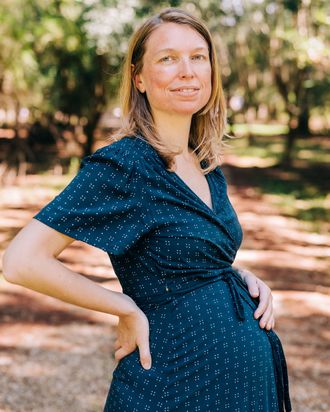 Photo: Katie Darling for Louisiana
A new campaign ad from Katie Darling, a Democrat running for Congress in Louisiana, starts off normally enough. There are shots of her daughter walking in the woods, chickens running around the family's farm, and her husband driving with a visibly pregnant Darling in the passenger seat. It soon becomes clear they aren't just heading to a checkup. Darling is running for office and about to give birth on-camera.
"These days, I worry about storms that are stronger and more frequent because of climate change, about our kids' underperforming public schools," Darling says in a voice-over. "And about Louisiana's new abortion ban, one of the strictest and most severe in the country," she continues as they pull up to a hospital and she's helped into a wheelchair. "We should be putting pregnant women at ease, not putting their lives at risk."
What follows are artful shots of the nurses — "They're saints," she says — and of Darling breathing through contractions until, finally, a crying baby is placed on her chest. It's a rare moment of intimacy not often found in political ads, one that focuses on the candidate and what she stands for as opposed to inciting fear or attacking the other side of the aisle.
Before entering the race to represent Louisiana's First Congressional District, Darling had never run for public office. That's a stark contrast to her opponent, Republican Steve Scalise, who has held the seat for 14 years. Should he be reelected, Scalise, who's been supportive of abortion bans in the state, could have the power to help bring Senator Lindsey Graham's proposed national 15-week abortion ban to a vote in the House of Representatives. (Although he has not come out in support of the bill, Scalise has signaled openness to the legislation.)
An abortion trigger law immediately took effect in Louisiana when the Supreme Court overturned Roe v. Wade in June. Despite multiple legal challenges, abortions are currently banned in the state except in cases that threaten the life of the pregnant person or when the fetus is nonviable. But the list of exact medical conditions needed to justify an abortion under the trigger law is incomplete, forcing many women to leave the state for medical care.
Darling is running for office to keep the government away from people's personal medical choices, starting with this groundbreaking ad. "Every individual should have the choice to do whatever is best for themselves and for their bodies and for their families," she tells the Cut. "And I don't think I get to decide what that is."
What made you want to run for Congress?
I was seven months pregnant this summer, when they overturned Roe v. Wade, and I had a high-risk pregnancy. I was very concerned about what would happen to me if I had a complication during my pregnancy, and my first reaction was that I needed to move somewhere where I would be safe. Once I calmed down, I started to think about how to regain our reproductive rights, and I called up the Democratic Party to see how I could support other candidates. That's how I ended up being the candidate in Louisiana's First Congressional District race.
In your ad, you mention a family farm and real roots in the district. It must have been really frightening to consider moving.
We really didn't want to leave. If we didn't do the work to stop dangerous legislation like the anti-abortion laws in Louisiana and elsewhere, eventually we won't have a safe place to move. We've got to ensure that everybody has access to reproductive-health services.
Only a handful of women have given birth while in Congress. Was it daunting to share your own pregnancy as a politician?
Over the years, at other times when I considered running, I thought about all the obstacles women have when considering running for office, from being a primary caregiver or needing to work. Women have additional obstacles because of our reproductive capabilities and our roles in society and in a lot of family structures. I got into this race wanting to bump up against those challenges and bring awareness to them and start to normalize women in office, women being pregnant, women having children and caring for those children while also being a representative, and the need for child care and support so that we can have more female representatives in office. It's important that we make that space for more women to run.
What motivated you to share your birth in the ad?
The race I'm in is very competitive, and I knew that we would need national support. What's happening in Louisiana, that story needs to be told so that we can elect pro-choice individuals to office. I knew that one thing I could contribute was my story. We knew we were going to do some kind of ad, and we knew we were going to focus on reproductive freedom and the fact that I was pregnant. But the timing worked out so that I could share the birth of my son.
It's important for folks to see how pregnancy and birth is a medical event that occurs in a hospital with doctors. I am the one in the hospital bed, not the legislators in Baton Rouge or Washington. It's me. It's my family. It affects us, and we are the people who should be deciding what goes on in that hospital room, not folks on the outside.
Sharing my birth definitely required some vulnerability, but I didn't have reservations about it because I'm so committed to the cause.
At the end of the ad, you say you're running because you want to create a better world for both your daughter and your son. Why do you think it's important to include everyone in the conversation about reproductive rights?
The folks that have been involved in my campaign and the constituents that I've spoken to are all genders. A very diverse group has spoken up about the impact of abortion rights because even if they themselves are not pregnant or don't have the ability to be pregnant, someone close to them can and has been. So this legislation impacts a large group of people.
What have you heard from your constituents about how the Supreme Court decision has affected their health care?
Most of what I hear on the campaign trail are stories of ectopic pregnancies, stories of complicated births and procedures. And people will have tears in their eyes talking about their own personal story, their loved one's personal story, and saying, "My loved one wouldn't be here today" or "I wouldn't be here today without access" to D&C, to an abortion, to immediate surgery that was needed to save their life.
There's also the widely shared story of a woman in Baton Rouge who had to travel out of state because she had a nonviable pregnancy. And, unfortunately, she had to share one of the most private and intimate moments of her life publicly to make people aware of the harmful impact of this legislation. Women and pregnant people are having to share these moments because of this legislation, and these should be private and personal moments for these individuals.
You're running against a longtime representative who has a lot of support from Republican voters in your district. Why are you the person voters need to send to Congress?
Steve Scalise has been the representative in the district for quite some time, and Louisiana is still ranking 50 out of 50 in quality of life. Why don't we give somebody else a shot at actually improving the quality of life here? That's why I'm running my campaign on three issues: reproductive freedom, education, and storm mitigation. We just had Hurricane Ida, our education system ranks at the bottom, and our maternal-mortality rate is high. And instead of improving access to health care and reducing the maternal-mortality rate and sending resources to Louisiana to help people, our representative is voting against the Women's Health Protection Act and voting against bills that send resources home.
Regardless of party, I think every constituent wants better schools, a more sustainable environment so that we are safe during hurricane season, and we don't want women at risk during pregnancy or birth. Those are all things that we can find common ground on.
What is the message you want to send to the women of Louisiana who are watching you right now?
Now is the time for us to stand together and to jump into these campaigns and into office so that our voices can be heard. Now is the time for us to show up and represent ourselves and each other in office.
This interview has been edited and condensed for length and clarity.