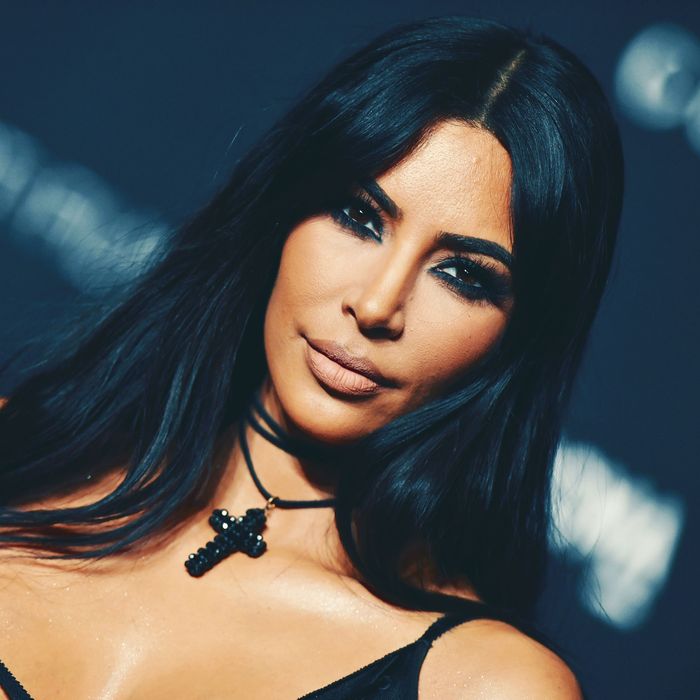 Photo: Axelle/Bauer-Griffin/FilmMagic
I sure hope Kim Kardashian's kids aren't easily scared, because her Halloween decorations are truly terrifying. On Wednesday, the reality star shared a walk-through of her decorations on Instagram, and they have to be seen to be believed.
The video, which was, of course, shot after the sun had set, starts outside her home. "I decided to do, like, a skeleton theme," she says, as she zooms in on two massive tree structures made of skeletons. Rib cages and skulls are clearly visible, and the skeleton trees are illuminated by lights coming from below. I assume they are fake, but Kardashian did once say that she would "eat poop" to look younger, so who am I to say? Next, she gives fans a close-up of five cloaked figures standing in a circle, appearing to be performing some sort of ritual. Or, as she describes them: "These creepy people who are having a bonfire." But by far the most Kardashian decorations in her front yard are the zombie hands. "I had a molding party and they were all molded — these are my kids' hands, my nieces' and nephews' hands, you can see some of our friends' hands," she says, as she shows various plaster hands reaching out from the soil under the skeleton trees. She even had one made of her own hand — with her nails — and her personal chef's, whose hand is complete with a giant butcher knife.
But wait, there's more! If you make it through the skull-covered archway and the front door, there's "a really creepy situation going on." Kardashian's monochromatic home already feels haunted on a regular day, but the influencer has taken it up a notch for spooky season. The hallways appear to be draped with white fabric in a spiderweb pattern, and the walls are lined with at least a dozen mummies — some are even hanging from the ceiling. (Again, hopefully fake.) It is true nightmare fuel, and it's made worse by the sounds of the scary movie her kids are watching in the background.
I hope she has some seriously strong nightlights. Can you imagine waking up in the middle of the night and going to get a glass of water in this? No, thank you.