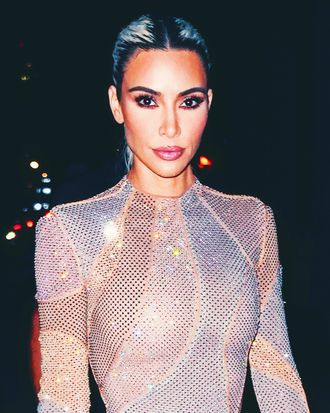 There is not much Kim Kardashian won't promote on Instagram — no matter how much hot water she lands in. Whatever backlash she got for pushing appetite-suppressant lollipops, however, does not come close to the latest fallout from her many advertising side gigs.
On Monday, October 3, the SEC revealed that Kim had been charged with violating federal securities laws for illegally promoting cryptocurrency on Instagram. Per the announcement, Kim plugged EMAX tokens, a "crypto asset security offered and sold by EthereumMax," without stating how much she was paid to promote them. (Even though she has been studiously learning U.S. law for the past three years, Kim hasn't yet passed the baby bar, which might explain this oversight.) The SEC confirmed that Kim settled the case and paid a total of $1.26 million, which included a penalty fee and the estimated profits she'd made off of the post — plus interest.
If you saw Kim's crypto promo last year and thought, Hmm, no thank you, I'm right there with you — but apparently, she managed to sway some people. Her involvement in EthereumMax's promotion first came under scrutiny in January, when she and boxer Floyd Mayweather were named in a class-action lawsuit accusing EthereumMax of scamming investors with a "pump and dump" scheme enabled by "false or misleading statements" from celebrities.
Kim and Mayweather were far from the first celebs to hop on the crypto promotion train — Larry David, LeBron James, and Matt Damon have all appeared in some form of cryptocurrency advertising, and earlier this year, the Oscars' moment of silence for Ukraine appeared to be sponsored by crypto.com. In Monday's press release, SEC chair Gary Gensler urged people not to listen to celebrity crypto endorsements, saying, "This case is a reminder that when celebrities or influencers endorse investment opportunities, including crypto asset securities, it doesn't mean that those investment products are right for all investors."
Unfortunately for Kim, this news happens to coincide with the arrival of her new Serial-esque podcast, The System. The latest development in her criminal-justice-reform battle, the podcast examines the case of Kevin Keith, an Ohio man serving a life sentence for allegedly committing a triple homicide. At least Kim's repertoire includes some worthy causes. Maybe she could promote the podcast on Instagram instead?