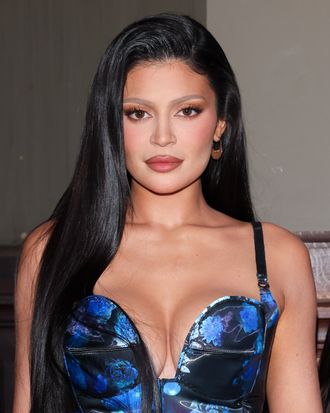 Photo: Pierre Suu/Getty Images
Try as I might to ignore it, the time has come for me to admit that, unfortunately, bleached brows are a lasting 2022 trend. How do I know? Just a month after Kim Kardashian debuted her freakishly fluffy bleached brows on the cover of Interview magazine, her little sister, Kylie Jenner, has hopped on the bleached-brow train. And given that Kendall Jenner previously wore bleached brows to the Met Gala, it's only a matter of time before all the other Kardashians follow suit. And once the Kardashians do it, well, it's game over for the rest of us non-bleached-brow girlies.
Kylie showed off her light brows while attending Coperni's Spring 2023 show at Paris Fashion Week. Unlike Kim, Kylie decided to keep her hair dark, creating a striking — if not slightly unnerving — contrast. Upon close inspection, it also looks like she might not have actually bleached her brows, but painted over them in a light wash of color. I'm honestly not sure which is worse.
To be fair to Kylie, she looks fine. The absence of strong visible brows makes her face structure stand out nicely, and at least she didn't copy Kim's fluffy brow look. But there's just something unnatural about bleached brows that I can't get behind. It's like skinny eyebrows — all I can think when I see them is, "Where did their real eyebrows go?"
Kylie later posted more photos of her light brows, which seemed to melt into her skin and disappear in a series of Instagram pics showing the reality star lying in bed wearing nothing but a black bra, matching panties, and thigh-high leather boots. "Slay sleep repeat," she wrote. I hope she's not planning on repeatedly bleaching her brows, though, because that sounds like a one way ticket to skin irritation and brow damage.