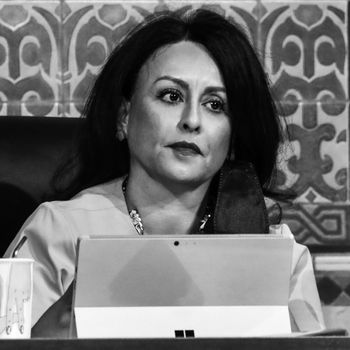 Photo: Irfan Khan/Los Angeles Times via Getty Imag
Los Angeles City Council President Nury Martinez resigned on Wednesday, amid national outrage over racist comments she made during a meeting in October 2021. Martinez had already given up her leadership position, but after protesters packed a council meeting for the second day in a row, she capitulated to public demands for her and two other colleagues — Gil Cedillo and Kevin de Léon — to step aside.
"My only goal as Council president has been to champion a families-first agenda that we can all be proud of," she said in her statement, according to the New York Times. "While I leave with a heavy heart, know that I wish you all the best and I have faith in your strength to unite this city." Martinez, the Council's first Latina president, said that she hoped she had inspired "all the Latina girls across this city" to "dream beyond that which you can see."
During the leaked conversation — in which the councilmembers discussed redistricting parts of the city so as to cut into historically Black areas and consolidate support in their existing districts — Martinez mocked the Indigenous Oaxacan community, calling them "little short dark people." She also made racist remarks about the young Black son of fellow councilmember Mark Bonin, who is white. After de León reportedly called Bonin the "fourth Black member" of the council, Martinez accused Bonin of using his son as "an accessory" and claimed the child had acted out during a 2017 Martin Luther King Jr. Day celebration, when he was 2 years old. "They're raising him like a white kid," Martinez said. "I was like, This kid needs a beatdown. Let me take him around the corner and then I'll bring him back." She also described him as "parece changuito," which the L.A. Times translated as "like a monkey."
Bonin and his husband, Seran Arian, released a statement on Sunday after the recordings were leaked, calling Martinez's comments "vile, abhorrent, and utterly disgraceful." They called on Martinez to resign as council president and leave office entirely. "Any parent reading her comments will know she is unfit for public office." In their statement, Bonin and Arian also called the taped conversation about redistricting "a coordinated effort to weaken Black political representation in Los Angeles."
Martinez officially resigned as council president on Monday and announced that she would be taking a "leave of absence," but remained a sitting member of the council. She released a statement apologizing for her comments, saying, "I am truly ashamed. I know this is the result of my own actions." She continued, "As someone who believes deeply in the empowerment of communities of color, I recognize my comments undercut that goal. Going forward, reconciliation will be my priority. I have already reached out to many of my Black colleagues and other Black leaders to express my regret in order for us to heal."
De León also released an apology, as reported by ABC News. "These were comments made in the context of this meeting that are wholly inappropriate; and I regret appearing to condone and even contribute to certain insensitive comments made about a colleague and his family in private," he said in part, adding that he had reached out to Bonin privately and admitted that he "fell short of the expectations we set for our leaders." Cedillo, who was present during the conversation, apologized for not objecting to Martinez's comments. "While I did not engage in the conversation in question, I was present at times during this meeting last year," Cedillo said. "I should have intervened."
Both Cedillo and de León attempted to attend the L.A. City Council meeting on Tuesday, causing outrage among protesters who had gathered to speak to the council. They left before Bonin addressed the council. "There are a lot of people who are now asking for forgiveness," Bonin said. "First you must resign and then ask for forgiveness."
The call for resignations was echoed by many throughout the lengthy public-comments section of Tuesday's meeting, with constituents demanding the removal of de León, Cedillo, and Martinez. It also came from outside Los Angeles, with New York Rep. Alexandria Ocasio-Cortez writing in an email blast that the politicians were "not equipped to lead" and even President Joe Biden calling on the trio to step down. So far, only Martinez has — and she did so just after California Attorney General Rob Bonta announced that his office would investigate the redistricting proposal discussed, as a potential violation of the Voting Rights Act.
This article has been updated.