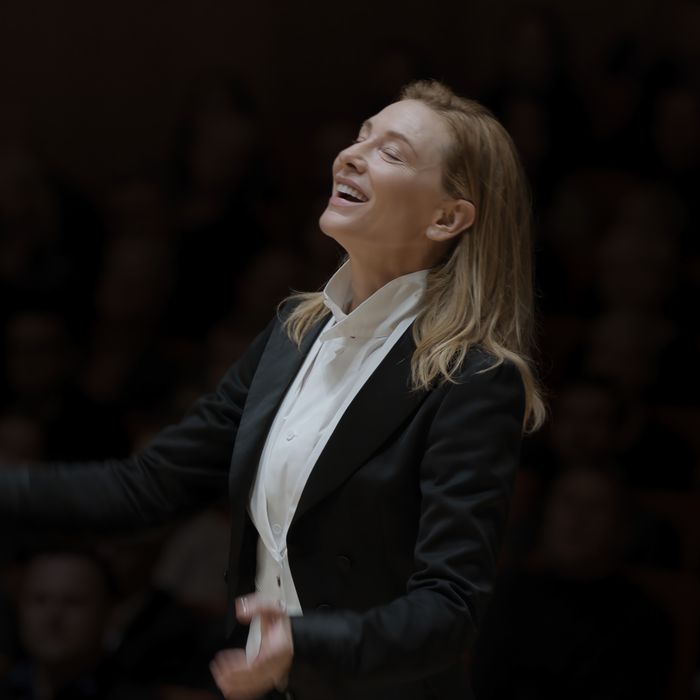 Photo: Courtesy of Focus Features
When I left the theater after watching Tár for two hours and 38 minutes, I immediately fumbled for my phone. I couldn't wait to see actual footage of the story I had just seen and was so ready for my Wikipedia deep dive to sate me during my ride home. But when I frantically typed "Lydia Tar?" into Google as I waited for my train, I was greeted with a confusing and upsetting realization: Lydia Tár is not real.
Written and directed by Todd Field, Tár stars Cate Blanchett as the titular world-renowned, EGOT-winning composer and conductor who embarks on her latest career milestone: recording Mahler's Symphony No. 5 with the Berlin Philharmonic. We meet Lydia at the height of her career — something we learn immediately because the film opens on a live New Yorker Q&A with Adam Gopnik (who is, naturally, playing himself). He ticks off the long list of accolades associated with Tár, while her assistant, Francesca (Noémie Merlant), watches from the crowd, reciting every last word.
If you have been in the room for an event like this, everything about the scene feels right, from the way Gopnik and Tár discuss her gender and sexuality to the laughter cues from the audience. Immediately following the conversation, a fan rushes up to Lydia and is quickly shooed away by her assistant so she can carry on to the next event. If this opening scene alone doesn't plant you firmly into reality, later scenes are sure to do so. In one, we witness Lydia belittling a BIPOC Gen-Z Juilliard conducting student for not wanting to perform Bach. A very successful individual storming into your college classroom and surprising you with negative rhetoric that seems somewhat incongruous with the genius you thought you knew is something I've experienced in my own life almost too regularly.
We then peer into Lydia's marriage with her first violinist, Sharon Goodnow (Nina Hoss), and the depiction of the sly corruption of those who uphold harmful power dynamics feels dangerously alive. There are also a few name-drops of real-life disgraced composers and some moments when Lydia internally grapples with the consequences of her own indiscretions. Through Blanchett's impeccably taut performance, Lydia Tár unfolds as a three-dimensional frigid bitch. She is talented, cruel, and most of all, believable.
When my surprise subsided after learning what I had just seen was fiction, I was in shock. I had spent nearly three hours watching Lydia's life unravel with the assumption that there was more to the story and that later I would have all my lingering questions answered.
My main question was, What the hell did I just watch? The film's final 30 minutes depict Lydia's swift fall from grace, and while there are concrete moments when the audience can see this happening, as when her daughter, Petra, is taken away from her or when her assistant ghosts her in the wake of a scandal involving a former protégée, the moment we find out Lydia has been utterly disgraced feels as if it comes out of nowhere. As we watch the final orchestra performance of Mahler's Fifth begin, Lydia, dressed in a suit and tie, storms out to the conducting post and tackles the man who took her spot.
This moment is perhaps the film's most realistic, and I itched to Google it later, hoping there would be actual videos of the time a dishonored conductor had attacked her replacement. I wanted to understand the politics behind Lydia's removal from the Berlin Philharmonic and how her successor was decided. And what of her marriage and daughter? From this moment, her decline moves even faster, taking us to an unidentified Southeast Asian country that welcomes Lydia as a conductor. And while I was left to assume she had simply taken over a smaller orchestra, the film ends on a note I have not stopped thinking about: Lydia at the podium, the music crescendoing, and the camera panning to an audience dressed like video-game characters. Would this not leave you with a million lingering questions?
While Tár herself isn't real, there are plenty of versions of her out there who are, and I couldn't help but feel this trickery might have been the movie's intent in the first place. I had fallen right into the trap, and now I was left to suffer.
Tár has been marketed as a biopic of sorts. Even if you haven't seen the trailer, the film's description on Letterboxd — "set in the international world of classical music, centers on Lydia Tár, widely considered one of the greatest living composer/conductors and first-ever female chief conductor of a major German orchestra" — is enough to make you believe Tár is based on a true story. The description was later added to a Wikipedia page dedicated to "Lydia Tár," but ahead of the film's October 28 wide release, that page has now been placed under a broader page for the movie as a whole. Was this some sort of marketing sleight of hand or just a mistake I stumbled upon? Am I the only one who noticed this? I couldn't be, right? I thought other people had to be stuck in that same cycle of questioning: Wait, this has to be real. Or is it? She's not a real person?
Of course, I'm not alone. Many viewers have mistaken Tár for a real person, but very few have been brave enough to publicly admit they had been duped by the film and its marketing team. While the plot is fairly predictable, one could argue that watching Lydia's moments of cruelty make witnessing her fall that much more gratifying, and the audience certainly feels a bit of Schadenfreude by the film's end. But watching the world Field built come crumbling down isn't as satisfying as it would have been if Lydia were real.
Instead, I'm left with nothing but my thoughts and a handful of Twitter confidantes to commiserate with. No matter how many Tár tweets exist, since I saw it a few weeks ago I've still found myself thinking about the movie nonstop with an unresolved notion running through my brain. After those final credits roll, you can't Google what really happened to Tár because there is no Tár. You're alone with her from here on — a maddening thought indeed.