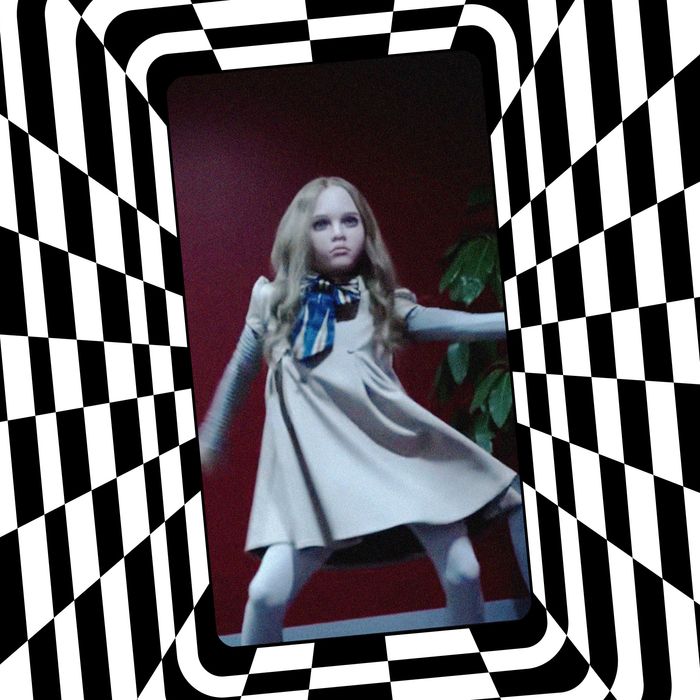 Photo-Illustration: by The Cut; Photo: Universal Pictures
To quote Taylor Swift quoting Madeleine Albright, "There is a special place in hell for women who don't help other women." Thus, it is my obligation as well as my honor to pledge allegiance to cinema's latest and most murderous it girl, M3gan.
Last week, Blumhouse dropped a trailer for the upcoming horror film M3gan. The movie follows 8-year-old Cady (Violet McGraw of The Haunting of Hill House), who goes to live with Gemma (Allison Williams of Girls, Get Out, and Peter Pan Live!) after both her parents die — as horror-movie parents are wont to do. Cady is Gemma's niece, which we learn after Gemma says, "You are my niece." Unfortunately, Gemma is soon overwhelmed by her work as a roboticist — hold for applause — and the sudden responsibility of parenting Cady. So she decides to slay two pretty birds with one bedazzled stone and gift Cady her latest robot creation: an AI friend called M3gan, an acronym for her government name, Model 3 Generative Android. (In many ways, this movie is a documentary about women in STEM.) M3gan, the character, was immortalized in memes within an hour of the trailer's debut.
The people behind this movie know exactly what they're doing. Case in point: M3gan's wardrobe. When we first meet M3gan, she's wearing Mary Janes and a pussy-bow shirt. Later, she's in a double-breasted jacket and round, rimless sunglasses. (Bella Hadid who?) As Vulture points out, M3gan bears a slight resemblance to Renesmee of Twilight fame. Some have said she looks like a yass-ified Annabelle or a possessed American Girl doll. To others (me), she is a My Size Barbie who was taught the phrase "serve cunt." To all, she is already an exalted queer icon. This is, in great part, due to a brief dance sequence in the trailer. Yes, M3gan can dance. Obviously. Have you seen her? She is popping her animatronic ass, shooting people with nail guns, and chasing after meanies on all fours.
M3gan has already established herself online both in fan edits and her own social-media presence. Her primary platform? Bullying fellow evil doll Chucky. "Send this to a dickhead who deserves it," the Chucky account recently tweeted alongside a GIF of the doll giving the double finger. M3gan responded with the mirror emoji. Chucky offered a "word to the wise: don't fk with the chuck." M3gan replied, "lol chucky plsss." But M3gan is making friends. Maybe you've heard of them? Megan Thee Stallion and Halle Berry.
I cannot wait to see what grotesque shenanigans this little girlboss gets herself into. Live love lacerate, hun! The movie comes out in theaters on January 13. In the meantime, you may honor thy M3gan by perfecting her trailer choreography and bullying Chucky on Twitter.