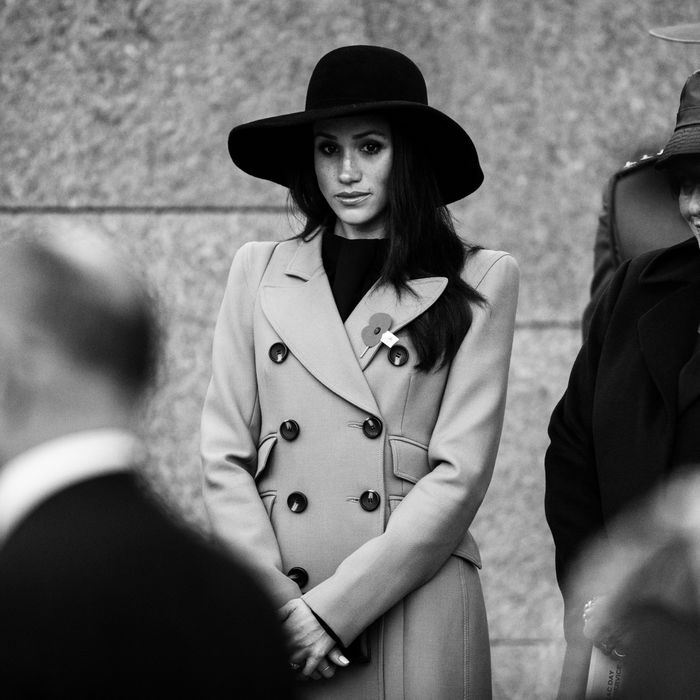 Photo: WPA Pool/Getty Images
For the newest installment of her Archetypes podcast, Meghan Markle invited actors Constance Wu, Jenny Slate, and Deepika Padukone to speak with her about mental health — specifically the word crazy — and how it has affected their lives. During the conversations, Markle revealed how she finally asked for help and discussed the importance of being free to experience her emotions.
The Duchess of Sussex has previously opened up about her struggles with depression and suicidal ideation, which she and her husband, Prince Harry, cited as one of the many reasons they decided to leave their posts as working members of the royal family. "I just didn't want to be alive anymore," Markle said in a 2021 interview with Oprah Winfrey about a time in January 2019 when she was pregnant with Archie. "That was a clear and real and frightening and constant thought." At the time, she and Harry told Oprah they tried to seek help within the Firm (the royal-family apparatus) but were unsuccessful.
On Archetypes, Markle opened up about how she took the first step to finding help for herself. "My husband found a referral for me to call," she told Padukone, a Bollywood star who has publicly spoken about her depression. "And I called this woman. She didn't know I was even calling her." The woman, presumably a mental-health professional, was running errands when she received the call. "She was checking out at the grocery store. I could hear the little beep beep, and I was like, 'Hi,' and I'm introducing myself … and saying I need help." Markle continued, saying the woman "could hear the dire state that I was in," and she stressed the importance of taking that first step to ask for help. "I think it's for all of us to be really honest about what it is that you need and to not be afraid to make peace with that, to ask for it," she said.
Markle spoke to Wu about the importance of allowing oneself to feel any and all emotions. While recounting her own low point three years ago when she attempted suicide, Wu began to cry. "I hate that I always cry over it. It's like there's certain things you go through in your life that you're like, Why do I still cry about this?" she said. Markle comforted her and admitted to being a bit envious of Wu's ability to express her emotions so freely. "I would love to cry this much, but I'm conditioned to still have some — a different kind of composure," she said, adding that sometimes she looks at her toddlers and thinks, "Oh my God, I want to do that. I want to feel so deeply."
New episodes of Archetypes are released every Tuesday.