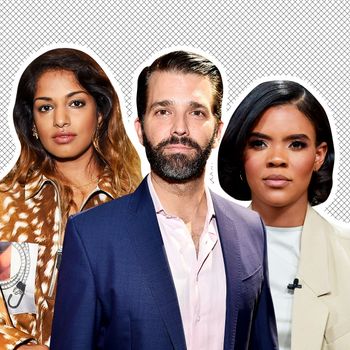 Photo-Illustration: by The Cut; Photos: Getty Images
Forget the undead. The scariest things you'll see this Halloween are all about the living — or at least their tweets. Twitter has been exceptionally awful the last few days, with everyone from Candace Owens to Donald Trump Jr. to actual Nazis making the rounds. Truly a cursed holiday.
After her attempts to defend Ye after his antisemitic speech went viral, Candace Owens is back, and this time she's brought M.I.A. with her. The British rapper and vaccine skeptic teamed up with the former Fox News personality to give fans "a scary picture for Halloween." It might look like just a photo of the two women meeting in what appears to be a makeshift studio (note the boom mic and chair in the background), but this image is definitely cursed. M.I.A. shared the photo on Twitter with the hashtag "#Freespeech" and was retweeted by the official Candace Owens Podcast page, so it sounds like fans (lol) can expect an interview soon.
If this unholy union isn't enough cursed Halloween content for you, there's more! Donald Trump Jr. decided to use the holiday as an opportunity to … mock an 82-year-old man who was attacked with a hammer in the middle of the night. As a conspiracy theory about Nancy Pelosi's husband, Paul Pelosi, having a romantic relationship with his alleged attacker made the rounds, Trump Jr. decided to share a meme making fun of the assault. "Got my Paul Pelosi Halloween costume ready," the tweet reads, alongside a photo of a pair of boxer briefs and a hammer. "The internet remains undefeated," he added. "Also if you switch out the hammer for a red feather boa you could be Hunter Biden in an instant."
Unfortunately, the cringe doesn't stop there. In perhaps the most cursed Halloween 2022 moment of all, a man dressed as a literal Nazi attempted to get a drink at Fanelli Cafe in Manhattan. The bartender swiftly asked him to leave. Matt Bernstein (@mattxiv) shared video of the incident on Twitter, writing, "I have no words."
Worst of all, on top of all this, we have to suffer through Elon Musk's disastrous Twitter takeover. A cursed day indeed.