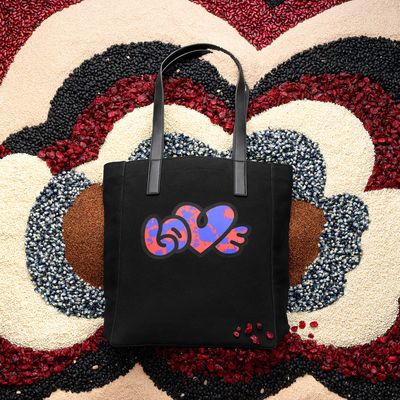 Photo: Courtesy of Michael Kors
After the monthlong global parade that is fashion month, after runway after runway of collection after collection, fashion can, at times, begin to feel frivolous. What's the point of all of this? Sometimes, fashion simply exists for the sake of it.
Other times, though, fashion does good. Case in point: Michael Kors's Watch Hunger Stop initiative. In a new campaign, the brand has partnered with Olivia Culpo and the multimedia artist Bonny Guo, better known as NYSometimes, to launch a limited-edition tote and pouch to benefit the United Nations World Food Programme. The launch, dubbed Love Makes The World Go Round, is this year's iteration of Kors's long-standing partnership with the World Food Programme, an annual initiative that has garnered support from and featured celebrities like Kate Hudson, Halle Berry, and Lupita Nyong'o. Since 2013, Michael Kors has provided 29 million school meals to children in food-insecure regions of the world.
The campaign features two items, both designed by Guo: a black tote, inscribed with the word "love," and a white canvas pouch with the phrase "food is love" emblazoned across. All profits from sales will be donated.
Alternatively, an Instagram filter by Michael Kors called "Share Your Heart" can be found on the company's Instagram page and used on social media posts across the app. Each use of the filter will trigger a donation worth 50 meals to the World Food Programme.
Tonight, Kors is hosting the God's Love We Deliver 2022 Golden Heart Awards in New York. This year's celebration, hosted by Billy Porter, will include honorees like Jessica Alba, Bella Hadid, Huma Abedin, and Karen Pearl.
"We're all connected more than ever," Kors said, "but we still need a reminder that love makes the world go round."