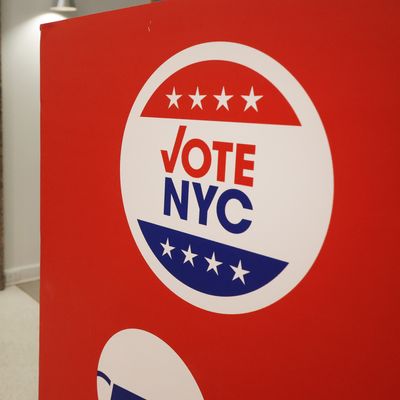 Photo: Spencer Platt/Getty Images
Breaking news: A man running for Congress apparently thinks the best way to show support for legalizing sex work is to release a sex tape. Yes, really. The man is Mike Itkis, a self-described liberal independent running in New York's 12th District against current representative Jerry Nadler. Itkis is a long-shot candidate, who was relatively unknown until this week, when news of his porn video, Bucket List Bonanza co-starring professional adult film star Nicole Sage, went viral.
The video was reportedly originally released on Pornhub in July and filmed in two separate parts — one in July of 2021, and one in October of 2021. It's all part of Itkis's "sex-positive approach." According to the candidate, he basically had to release a sex tape, which he called a "conversation piece" in an interview with City and State. How else could he, a cyber operations expert, have possibly shown solidarity with sex workers? "If I would just talk about it, it wouldn't demonstrate my commitment to the issue," he told the outlet. "And the fact I actually did it was a huge learning experience, and it actually influenced items on my platform." What is on his "sex positive" platform, you ask? Well, according to his site, not much. Itkis states that he opposes "the conservative idea that sex should only happen between a man and a woman who are married to each other," and supports "the right to NOT become a parent in case of pregnancy."
This alls ounds fine reasonable — until you get to the "Abortion rights for women" section. There, his campaign takes a turn from sexually liberal to getting men out of paying child support, "Men should not be required to support biological children without prior agreement," reads the only bullet point under "Abortion rights for women." This seems to be the crux of his pro-choice beliefs. As reported by Business Insider, Itkis expanded on this belief on his Pornhub page, writing, "If a woman should have a choice regarding whether or not she becomes a parent as a result of unplanned sexual activity, men should also have the same choice."
The odds that this sex tape will help Itkis get elected to Congress seem slim, but the tape did certainly up his public profile. He was even mentioned on Saturday Night Live's "Weekend Update." Some might say that's better than getting elected to the House of Representatives.