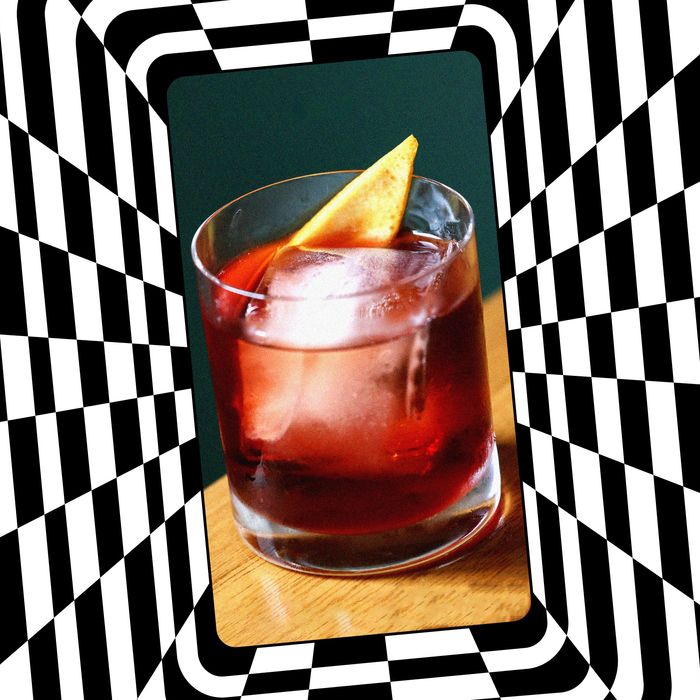 Photo-Illustration: by The Cut; Photos: Getty Images
If you have plans today, no, you don't. Your only obligation is to watch this video of Emma D'Arcy talking about their favorite drink and report back to me. Feast your loins on this, you little freaks:
The clip, posted to TikTok courtesy of HBO Max, features a conversation between D'Arcy and their House of the Dragon co-star Olivia Cooke. Because not even the stars can escape corny workplace icebreakers, the two are reading pre-written questions from a dragon egg. When Cooke asks D'Arcy their drink of choice, they begin "Negroni." Cooke says she was going to say the same thing, but D'Arcy is not done. "Sbagliato," they continue, clarifying, "With prosecco in it." To which Cooke appropriately replies, "Ooh, stunning."
Categorically speaking, negronis are erotic. Sexy cocktail academic Stanley Tucci has long proven this to be true. In its most basic form, a negroni consists of Campari, sweet vermouth, and gin. Specifying sbagliato, which roughly translates to "mistaken" or "wrong," means the gin is swapped out for prosecco. If we're being pedantic, ordering a negroni sbagliato with prosecco in it would be redundant. Unless you're Emma D'Arcy. Then, you can order a drink however you want. After all, it is D'Arcy's delivery paired with the seductive-sounding drink that makes the clip — how do I put this … very horny.
This is not a drink order, it's a marriage proposal. Negroni sbagliato with prosecco in it. Even written down it looks sexy, like the cleanest smut. It's what it feels like when your crush's name lights up your phone screen or a warm breeze brushes the small of your back. It's even the current description for Spotify's "Sad Girl Starter Pack" playlist, which is to say, the clip and its audio have since taken on a life of their own.
If you're interested in more of the lore (i.e., what is Olivia Cooke's favorite drink?), the full five-minute video of Cooke and D'Arcy's conversation is on YouTube. For the record, Cooke's drink of choice, aside from a negroni, is a gin martini with a twist. Both Cooke and D'Arcy say they also enjoy "a pint," in case you really want to flesh out your negroni-sbagliato universe.
If you're too shy to order the drink at a bar — asking for a negroni sbagliato is technically flirting — here's how to make a negroni sbagliato … with prosecco in it:
Add equal parts Campari and sweet vermouth (about 1.5 ounces of each) to a glass with ice.

Stir to combine. Practice saying sbagliato a few times.

Strain into your drinkware of choice (champagne flute, lowball glass, a rinsed out coffee mug, etc.) and top it off with your sparkling wine of choice.

Just kidding, you have no choice. It must be prosecco.

Add a twist of orange and enjoy with your favorite clip of Emma D'Arcy saying, "Negroni sbagliato with prosecco in it."